October brings more than falling leaves and pumpkin spice lattes for GeForce NOW members. Get ready for nearly 60 new games to stream, including Forza Motorsport and 16 more PC Game Pass titles.
Assassin's Creed Mirage leads 29 new games to hit the GeForce NOW library this week. In addition, catch a challenge to earn in-game rewards for World of Warship players.
Leap Into the Cloud
It's not an illusion — Ubisoft's Assassin's Creed Mirage launches in the cloud this week. Mirage was created as an homage to the first Assassin's Creed games and pays tribute to the series' well-loved roots.
Join the powerful proto-Assassin order — the Hidden Ones — as a 17-year-old street thief named Basim Ibn Is'haq as he learns to become a master assassin. Stalk the streets of a bustling and historically accurate ninth-century Baghdad — the perfect urban setting to seamlessly parkour across rooftops, scale tall towers and flee guards while uncovering a conspiracy that threatens the city and Basim's future destiny.
Take a Leap of Faith into a GeForce NOW Ultimate membership and explore this new open world at up to 4K resolution and 120 frames per second. Ultimate members get exclusive access to GeForce RTX 4080 servers in the cloud, making it the easiest upgrade around.
No Tricks, Only Treats
Don't be spooked — GeForce NOW has plenty of treats for members this month. More PC Game Pass games are coming soon to the cloud, including Forza Motorsport from Turn 10 Studios and Xbox Game Studios and the Dishonored series from Arkane and Bethesda.
Catch some action (with a little stealth, magic and combat mixed in) with the Dishonored franchise. Dive into a struggle of power and revenge that revolves around the assassination of the Empress of the Isles. Members can follow the whole story starting with the original Dishonored game, up through the latest entry, Dishonored: Death of an Outsider, when the series launches in the cloud this month.
Jump into all the action with an Ultimate or Priority account today, for higher performance and faster access to stream over 1,700 games.
Check out the spooktacular list for October:
Come Sail Away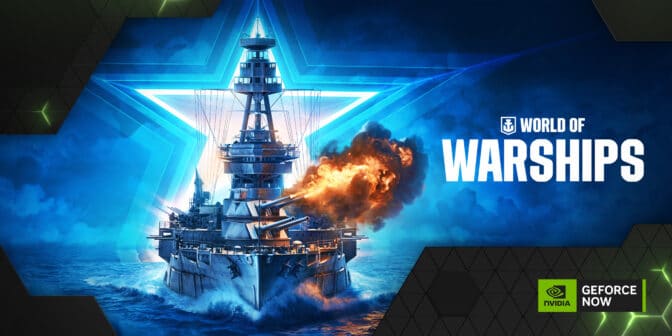 World of Warships is launching a new in-game event this week exclusive to GeForce NOW members. From Oct. 5-9, those streaming the game on GeForce NOW will be prompted to complete a special in-game challenge chain, only available from the cloud, to earn economic reward containers and one-day GeForce NOW Priority trials. Aspiring admirals can learn more about these challenges on the World of Warships blog and social channels.
Those new to World of Warships can activate the invite code "GEFORCENOW" in the game starting today to claim exclusive rewards, including a seven-day Premium World of Warships account, 300 doubloons, credits and economic boosters. Once 15 battles are completed, players can choose one of the following tech tree ships to speed up game progress: Japanese destroyer Isokaze, American cruiser Phoenix, German battleship Moltke or British aircraft carrier Hermes.
The leaves may be falling, but new games are always coming to the cloud. Dive into the action now with 29 new games this week:
Surprises in September
On top of the 24 games announced in September, an additional 45 joined the cloud last month:
Halo Infinite and Kingdoms Reborn didn't make it in September. Stay tuned to GFN Thursday for more updates.
What are you planning to play this weekend? Let us know on Twitter or in the comments below.
Predict the game you'll be playing in the cloud most this October… ☁️👇

— 🌩️ NVIDIA GeForce NOW (@NVIDIAGFN) October 4, 2023