Want to play awesome PC games for free without having to buy an expensive gaming rig?
This GFN Thursday takes a look at the 90+ free-to-play PC games — including this week's Fortnite Season 8 release and the Epic Games Store free game of the week, Speed Brawl, free to claim Sept. 16-23 — all streaming on GeForce NOW.
And of course, no GFN Thursday would be complete without diving into the 10 new games joining the GeForce NOW library this week.
Free for All
There's never been a better time to be a PC gamer. Now, some of the greatest games around don't cost a dime. GeForce NOW supports nearly 100 of the most-played free-to-play titles available, providing hours of action, competition and victory.
It's easy to get started. Members can connect to popular PC game stores, like Steam and Epic Games Store, using their accounts to stream titles like Fortnite and Destiny 2. That means members are playing the full PC version of these popular games (and more) across devices including Mac, Chromebook, SHIELD TV, Android devices, iPhones and iPads. And, since gamers are using the same accounts as on their local PC, the progress always carries over.
Looking for another way to expand your game collection? GeForce NOW members can build their library with many of the Epic Games Store free games of the week. Over 30 have been added to the service in the past year, with more on the way. It's a great way to experience the best of PC gaming, even on a tight budget.
Once claimed, Epic Games Store free games stay in your library, whether you're playing on GeForce NOW or on a local PC.
Endless Options
To get started, here are a few recommendations from GeForce NOW's ever-expanding library.
Execute your best strategy and teamwork in games with thrilling competition like League of Legends, Dota 2 and Paladins. Rush the objective in Counter-Strike: Global Offensive or Team Fortress 2, or team up for competition in Rocket League.
High-fantasy open-world MMORPGs are also available, with Runescape offering an evolving world of challenges, skills and quests. Or visit a vast world full of danger and opportunity in Albion Online, where you can form alliances and face off in intense PvP combat.
Ready for battle? Unleash your inner battlemage and master elemental magic in Spellbreak, or enter the battleground of the gods in SMITE.
Seeking something sci-fi? Create the perfect assassin, tank, support or stealth Warframe and engage in futuristic ninja combat using unique abilities like invisibility, teleportation and mind control in a cooperative action game, appropriately named Warframe. And with spooky season fast approaching, celebrate Halloween with friends in SCP Secret Laboratory and Deceit.
To find even more games instantly available to stream, jump over to the free-to-play section of the GeForce NOW app.
Press Play to Start the Weekend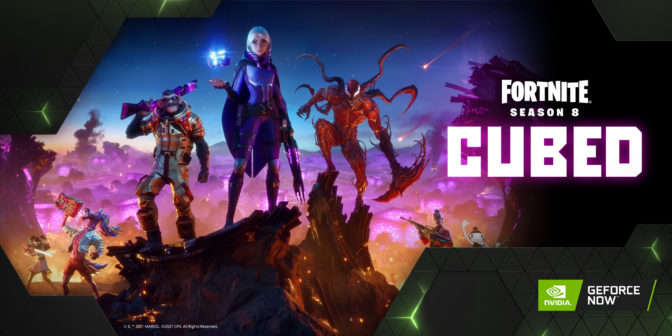 Looking for the perfect way to spend the weekend? The battle between the Aliens and the Imagined Order has come to an explosive end. In its wake a new conflict has taken shape… a cubed shape, specifically. The destruction of the Alien Mothership has released the Cubes, and these Cubes pose an even greater threat to the Island than the Aliens ever could as the Cubes wreak havoc and spread a dark, malevolent reality called "The Sideways." Jump into Fortnite Season 8, fight monsters in the Sideways, get powerful loot and participate in the war effort.
Need even more gaming? Check out the 10 titles joining the GeForce NOW library this week:
Honey, I Joined a Cult (day-and-date release on Steam, September 14)
Eastward (day-and-date release on Steam, September 16)
WRC 9 FIA World Rally Championship (day-and-date release on Steam, September 16)
Gamedec (day-and-date release on Steam and on Epic Games Store, September 16)
Speed Brawl (free on Epic Games Store, September 16)
Aragami 2 (day-and-date release on Steam, September 17)
Aragami (Steam)
Assassin's Creed III (Ubisoft Connect)
PULSAR: Lost Colony (Steam)
Verdun (Steam and Epic Games Store)
And finally, a question:
You're stranded on an island with just GeForce NOW and a free game in the GFN library of your choice, what game is it? 🏝️

— 🌩️ NVIDIA GeForce NOW (@NVIDIAGFN) September 15, 2021
Share your best desert-island games on Twitter or in the comments below.