Entrepreneurs are cultivating generative AI from the west coast of Africa to the eastern edge of the Arabian Desert.
Gen AI is the latest of the big plans Kofi Genfi and Nii Osae have been hatching since they met 15 years ago in high school in Accra, Ghana's capital that sits on the Gulf of Guinea.
"We watched this latest wave of AI coming for the last few years," said Osae, a software engineer who discovered his passion for machine learning in college.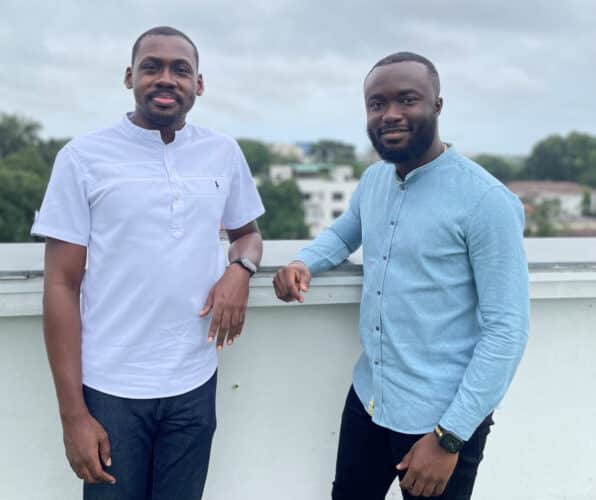 So, late last year, they expanded Mazzuma — their mobile-payments startup that's already processed more than $150 million in transactions — to include MazzumaGPT.
The large language model (LLM) trained on two popular blockchain languages so it can help developers quickly draft smart contracts, a Web3 market that International Data Corp. projects could hit $19 billion next year.
Thousands of Hits
In its first month, 400 developers from 70 countries used the LLM that sports 175 billion parameters, a rough measure of a model's size and strength.
It's the latest success for the pair that in 2018 made Forbes' list of 30 top entrepreneurs in Africa under 30.
"Given the high growth and large demographics, there are big opportunities in this region," said Genfi, who started his first company, an Apple device reseller, when he was 19.
Osae nurtures that potential as founder and chair of the 100+ member AI Association of Ghana. "I think we're on a trajectory to leapfrog progress elsewhere," he said.
LLMs Speak Arabic
About two years ago and 6,000 miles to the northeast, another pair of entrepreneurs launched a generative AI business in the Persian Gulf emirate of Dubai, home of the Burj Khalifa, the world's tallest building.
Yakov Livshits already had about a dozen active startups when AI researcher Eli Braginskiy, a friend with family ties, came to him with the idea for MetaDialog. The startup built the first LLM to support both Arabic and English, a 7-billion-parameter model trained on one of the world's largest Arabic/English datasets.
"We call it Baby, because we're proud of it, and we're building a larger, 40-billion parameter model now," said Braginskiy.
"Our Baby LLM is currently integrated in one of the biggest governments in the region, and we're talking with three other governments interested in using it, too," said Livshits.
With more than 3 million people in just 13 square miles, Dubai is a vibrant hub for the region.
"The way governments in the Middle East think about AI and advanced tech in general is very bold — they want to move fast, so we're training custom models in different languages and will present them at the GITEX conference" said Livshits, who lived in Russia, Israel and the U.S. before moving to Dubai.
In February, Saudi Arabia alone announced a $2.4 billion startup fund to help diversify the nation's economy.
Corporations Want Custom LLMs
In Abu Dhabi, just a hundred miles down the coast, Hussein Al-Natsheh leads a team of engineers and data scientists at Beyond Limits training and fine tuning LLMs. One is already drafting documents for a large energy company and verifying they comply with its standards.
Beyond Limits also works on models for energy companies, utilities and other customers that will index and search corporate documents, draft marketing materials and more.
"Companies need their own LLMs trained on their own data which is confidential, so we have machines reading their data, not us," said Al-Natsheh, a native of Amman, Jordan, who, prior to joining Beyond Limits, worked on Salma, one of the first Arabic speech assistants.
Drilling for Data
Now that data is the new oil, Beyond Limits is developing toolkits to extract it from unstructured files — corporate emails, PowerPoint and other sources — so it can help companies train custom LLMs approaching 70 billion parameters in size.
The toolkits can help address the lack of data samples from the many Arabic dialects. Indeed, a report from the UAE government on 100 top gen AI uses called for more work on Arabic, a language spoken by nearly half a billion people.
The good news is governments and large companies like G42, a regional cloud service company, are pouring resources into the problem. For example, Beyond Limits was able to create its regional headquarters in Dubai thanks to its last funding round, much of which came from G42.
A Big Boost from Inception
All three companies are members of NVIDIA Inception, a free program that helps startups working on cutting-edge technologies like generative AI.
As part of Inception, Beyond Limits had access to libraries in NVIDIA NeMo, a framework for building massive gen AI models, and which cut training time in one case from five days to one.
"NVIDIA software makes our work much easier, and our clients trust NVIDIA technology," said Al-Natsheh.
As part of Inception, Mazzuma got access to cloud GPU services to accelerate its experiments and introductions to potential investors.
"That really gave us a boost, and there's a lot of assurance that comes from working with the best people and tools," said Genfi.
Treating Partners Well
For its part, MetaDialog trained its Baby LLM on 440 NVIDIA A100 Tensor Core GPUs using a service operated by MosaicML, an Inception member recently acquired by Databricks.
"I've built many startups, and no company treats its partners as well as NVIDIA," said Livshits.
At top: From left to right, Nii Osae, Hussein Al-Natsheh, Eli Braginskiy, Yakov Livshits and Kofi Genfi.