When Megan Gray, CEO of Moment AI, first tested one of her company's services — a tool using AI to determine facial signs indicating a driver may have fallen asleep or suffered a medical issue — it didn't work.
"The technology worked on our CTO, who is a white male. But then I tried it, and it couldn't detect that my eyes were closed," Gray said. "It didn't work on me as an African-American woman." This is just one example of how a lack of diversity in the field of AI affects the technologies that are created.
At GTC DC, this week's Washington edition of the GPU Technology Conference, a range of events focused on sharing ideas on how workplaces can become more inclusive, and how researchers can improve their AI technology to avoid bias.
One of Forbes' top conferences for women in tech, this year's GTC DC was the most diverse yet. Over 20 percent of its 3,500 registered attendees were women.
The conference also featured an inaugural reception celebrating attendees from historically black colleges and universities and the Black in AI and LatinX in AI community groups.
As he opened the reception, Kevyn Orr, partner-in-charge at Jones Day, said, "You are the first generation that has the opportunity to make sure that development, that research and that algorithms are appropriately inclusive."
'Who's Like Me?': Finding Diverse Role Models
GTC DC kicked off with the Women's Early Career Accelerator, a day-long, invitation-only training and networking event attended by nearly 60 graduate students and early-career professionals.
Catherine Ordun, a senior data scientist at Booz Allen who presented the keynote at the accelerator, was honest about the challenges of being a woman in the field of AI.
"You'll find yourself asking, 'Who's like me?' And the truth is, there's not a lot. Only 12 percent of people who do AI are women," said Ordun, referencing a WIRED survey.
Events like the accelerator are helping to change that. After Ordun's address, participants spent the day completing the NVIDIA Deep Learning Institute's "Fundamentals of Deep Learning for Computer Vision" workshop, taught by Alex Qi, an enterprise solutions architect at NVIDIA.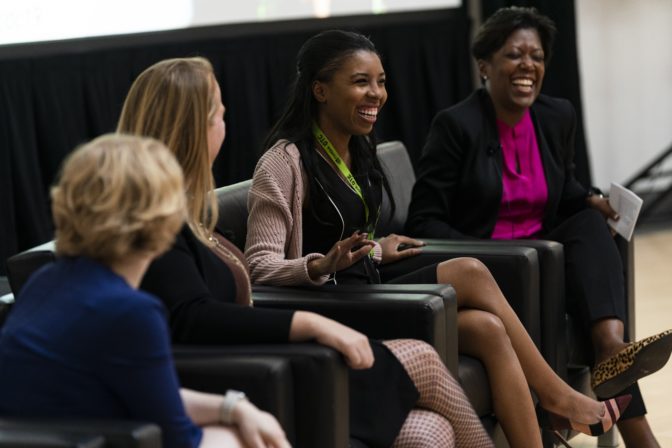 GTC DC also featured the third annual Women in AI Breakfast, hosted by Dell Technologies. Over quiche and coffee, a panel of experts in research, law and more discussed AI ethics.
Emily Tait, an intellectual property partner at Jones Day, provided a legal perspective on how companies can counter issues like the one Gray described. "The best companies are creating dedicated personnel and policies and cultures around diversity." From there, they're able to come up with more robust algorithms and identify biases in their technology.
And nearly 75 people filled out the eighth floor of the Ronald Reagan Building and International Trade Center to attend the Black and Latinx Communities Reception, sponsored by Jones Day.
The reception recognized the 50 students that were selected from historically black colleges and universities, Black in AI and LatinX in AI. They received full passes to DLI courses and the entirety of GTC DC.
Addressing a Changing Workforce
NVIDIA Senior Director of Corporate Social Responsibility Tonie Hansen moderated a panel of executives from government, nonprofits and business. They shared examples of how educational institutions, trade associations and companies can help employees prepare for modern jobs that incorporate AI and data science.
Andrew Ko, the managing director for global education at AWS, provided a corporate perspective and gave examples of career programs implemented by Amazon that help employees reskill.
Another panelist was former chief of staff for U.S. Representative Alma Adams and founder of diversity innovation house HBCU House Rhonda Foxx. She gave insight on how the federal government can help support HBCUs — historically black colleges and universities — which produce 47 percent of all black women engineers.
"With emerging technology and AI, we are on the precipice of the fourth revolution," she said. "We all need to lean in right now and make sure there's diversity of thought at the table as we move forward in these technological advances."