Editor's note: This post is part of our weekly In the NVIDIA Studio series, which celebrates featured artists, offers creative tips and tricks, and demonstrates how NVIDIA Studio technology improves creative workflows. We're also deep diving on new GeForce RTX 40 Series GPU features, technologies and resources, and how they dramatically accelerate content creation.
3D and animation extraordinaire CG Geek completed an ambitious design challenge this week In the NVIDIA Studio — building a massive, sci-fi-inspired 3D world in only three days. The creation of the world, dubbed The Fullness of Time, was fast-tracked by his GeForce RTX 4090 GPU.
72 Hours to Build a Sci-Fi World
Animator and visual effects artist CG Geek teaches aspiring artists how to get started on his popular YouTube channel. He also shares tutorials on Blender, his favorite 3D app because "it's open source, and the community is always challenging one another to push limits even further," he said.
To see how far those limits could be pushed, CG Geek kicked off a timed design challenge last week as part of CES, putting together a fully rendered and animated project in only three days — powered by NVIDIA Studio technologies and his GeForce RTX 4090 GPU.
The artist polled his community on Instagram, Twitter and YouTube for a genre to use as a starting point for the project.
Sci-fi was the clear winner, so he envisioned what a far-future city skyline would look like. The first step was to populate the space with futuristic 3D buildings and skyscrapers.
CG Geek formed simple shapes in Blender, scaling them to match the sizes of real-world buildings. He then added materials and reflections to create beautifully textured structures before adding geometry, or geo nodes, a recently added feature in Blender and a crucial aspect of 3D modeling.
Geo nodes virtually eliminate procedural workflows. The traditional process of constructing objects follows a linear pattern, with one tool used after the next and each step only reversible by manual undo operations. Geo nodes allow for non-linear, non-destructive workflows and the instancing of objects to create incredibly detailed scenes using small amounts of data.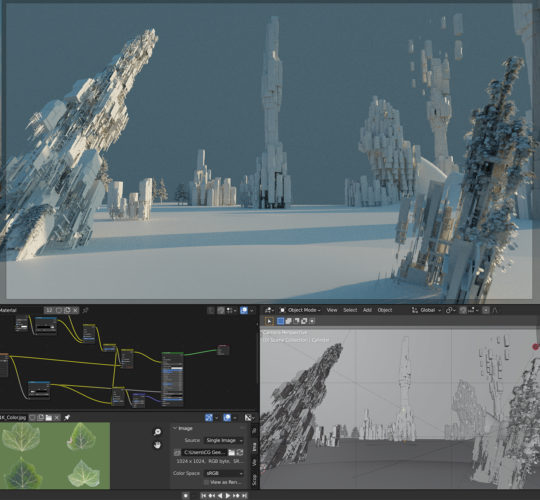 CG Geek scanned objects using his iPhone to create realistic 3D models from photos. He then used Adobe Photoshop to apply detailed textures, one of 30 GPU-accelerated features made possible by his GeForce RTX 4090 GPU. The RTX-accelerated Super Resolution feature, which uses AI to upscale images with higher quality, was especially useful for exporting textures across the entire piece, CG Geek said.
CG Geek added fine details like ivy and realistic wear and tear to his sci-fi buildings until he reached the desired look.
His process used during the challenge is covered in a tutorial on building detailed, low-poly sci-fi buildings in a matter of minutes:
CG Geek's RTX 4090 GPU enables him to use Blender Cycle's RTX-accelerated, AI-powered OptiX ray tracing in the viewport for interactive, photorealistic movement within such a detailed environment. This virtually eliminates wait times, allowing him to create at the speed of his imagination.
The artist quickly and easily applied realistic textures for the sand and water as well as animations. Final renders were delivered quickly with RTX-accelerated OptiX ray tracing in Blender Cycles.
It took CG Geek just 21 hours to build the futuristic metropolis and 10 hours to render it at 4K resolution.
"Currently, NVIDIA stands alone at the top of high-performance GPUs for 3D tasks like Blender," he said. "For real-time editing workflows, nothing comes close to beating the RTX 4090 GPU in speed."

View more of CG Geek's work and tutorials.
Five-to-Nine Hustle, Powered by NVIDIA Studio
Nine to five o'clock is when people typically have a job, classes or other responsibilities. For many artists, it's from five to nine that the real creativity kicks in and inspirational juices start flowing.
More than ever, creators are turning their passions into opportunities and monetizing their side hustles. NVIDIA Studio is celebrating these entrepreneurs and helping them learn, explore and take their creative endeavors to the next level:
With technology and resources — the latest advances in GPU-acceleration and AI-powered features help get the job done faster, plus Studio Drivers add creative app optimization and reliability to systems.
With education — hundreds of select tutorials, free to the public and created by creative professionals, offer everything from quick tricks and tips to multipart, in-depth series to elevate and expand the skill sets of content creators.
With inspiration — experience the creative journeys of interdimensional Studio artists, moving storytellers and esteemed streamers across creative fields in 3D animation, video editing, graphic design, photography and more.
Begin your side hustle journey with NVIDIA Studio.
#NewYearNewArt Challenge 
The latest NVIDIA Studio community challenge has kicked off: #NewYearNewArt.
A new year means new art! 🎉🖼️

Join our Jan-Feb #NewYearNewArt challenge by sharing any new or relatively new art you've created for a chance to be featured on our channels!

Be sure to tag #NewYearNewArt and thanks to @AOi__Pan for sharing their new art. 🙌 pic.twitter.com/lXiFLROhQh

— NVIDIA Studio (@NVIDIAStudio) January 10, 2023
With a new year will come new art, and we'd love to see yours! Use the hashtag #NewYearNewArt and tag @NVIDIAStudio to show off recent creations for a chance to be featured on our channels.
Access tutorials on the Studio YouTube channel and get updates directly in your inbox by subscribing to the Studio newsletter.