Gamers wanted better graphics. GPUs delivered. Those GPUs became the key to the world-changing AI revolution. Now gamers are reaping the benefits.
At GDC 2023 in San Francisco this week, the gaming industry's premier developers conference, NVIDIA made a series of announcements, including new games and game development tools that promise to accelerate innovations at the intersection of neural networking and graphics, or neural graphics revolution.
DLSS 3 harnesses modern AI — built on GPU-accelerated deep learning, a form of neural networking — as a powerful gaming performance multiplier. DLSS allows games to render 1/8th of the pixels, then uses AI and GeForce RTX Tensor Cores to reconstruct the rest, dramatically multiplying frame rates, while delivering crisp, high-quality images that rival native resolution.
It's just one example of how gamers are benefiting from the advancements in AI supercomputing showcased at this week's NVIDIA GTC technology conference, which is running concurrently with GDC. And game developers are adopting DLSS at a break-neck pace.
DLSS complements ground-breaking advancements in ray tracing — a technology long used by filmmakers — to bring richer, more immersive visual experiences to gamers in real time.
Thanks, in part, to DLSS, real-time ray tracing, considered by many to be impossible in 2017, exploded onto the gaming scene with the debut of NVIDIA RTX in 2018. Ray tracing is now everywhere in games.
At GDC, game developer CD PROJEKT RED announced Cyberpunk 2077 will activate full ray tracing, also called path tracing, with the upcoming technology preview of Ray Tracing: Overdrive Mode in Cyberpunk 2077.
Cyberpunk 2077, previously an early adopter of ray tracing, becomes the latest modern blockbuster title to harness real-time path tracing following  Minecraft, Portal and Quake II.
New DLSS 3 AAA Games Coming

During GDC, NVIDIA also announced the addition of DLSS 3 support for even more popular AAA games, including Diablo IV, Forza Horizon 5 and Redfall. 
Diablo IV, the latest installment of the genre-defining Diablo franchise with multiple games, will launch on June 6 with DLSS 3, with ray tracing coming post-launch.
Forza Horizon 5, named the best open-world racing game of all time, will update to DLSS 3 on March 28. 
Redfall, Bethesda's highly anticipated, open-world, co-op first-person shooter from Arkane Austin is launching on May 2 with DLSS 3, with ray tracing coming post-launch.
DLSS is now available in 270+ games and apps, and DLSS 3 is multiplying performance in 28 released games and has been adopted 7x faster than DLSS 2 in the first six months of their respective launches.
DLSS Frame Generation Now Publicly Available for Developers
NVIDIA announced DLSS Frame Generation is now publicly available for developers to integrate into their games and applications.
The public release of DLSS Frame Generation plug-ins will allow even more developers to adopt the framerate-boosting technology.
DLSS Frame Generation is now available via NVIDIA Streamline, an open-source, cross-vendor framework that simplifies the integration of super-resolution technologies in 3D games and apps.
For all the details, dig into our full coverage on GeForce News.
Unreal Engine 5.2 Integration to Speed Up DLSS 3 Adoption
At GDC, NVIDIA and Epic announced the integration of DLSS 3 into the popular Unreal Engine game engine.
Unreal Engine is an open and advanced real-time 3D creation tool that gives game developers and creators the freedom and control to deliver cutting-edge 3D content, interactive experiences and immersive virtual worlds.
A DLSS 3 plug-in will debut in UE 5.2, making it more straightforward for any developer to accelerate the performance of their games and applications, further accelerating the adoption of DLSS.
Cyberpunk 2077: A Showcase for What's Next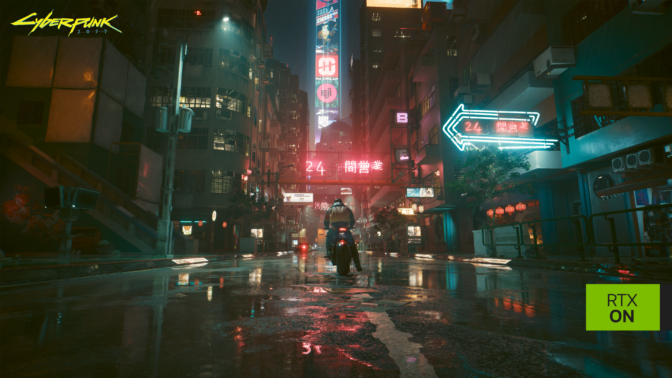 CD PROJEKT RED showcases a technology preview of path tracing with Cyberpunk 2077.
Path tracing, also known as full ray tracing, allows developers to create cinematic experiences. Simulating the physics of light, using ray tracing as part of a neural graphics system, it's capable of photorealism in 3D settings for more dynamic lighting and shadows.
GeForce gamers will be able to activate full ray tracing with the upcoming technology preview of Ray Tracing: Overdrive Mode on April 11.
These advancements are anchored in NVIDIA RTX technologies. To bring these incredible effects to life, CD PROJEKT RED and NVIDIA have worked hand in hand to integrate NVIDIA DLSS 3 and introduce new optimizations for this entirely new, fully ray-traced pipeline.
NVIDIA Shader Execution Reordering helps GPUs execute incoherent workloads boosting performance; NVIDIA Real-Time Denoisers have been used to improve performance and image quality.
As a result, with full ray tracing, now practically all light sources cast physically correct soft shadows. Natural colored lighting also bounces multiple times throughout Cyberpunk 2077's world, creating more realistic indirect lighting and occlusion.
More to Come
Cyberpunk 2077 is a case study of how GPUs have unlocked the AI revolution and will bring great experiences to PC gamers for years to come.
An expanding game roster, game engine support and continued improvements in performance and image quality are securing NVIDIA DLSS as a landmark technology for the neural graphics revolution in PC gaming.