Training generative AI models just got easier.
NVIDIA DGX Cloud AI supercomputing platform and NVIDIA AI Enterprise software are now available in Oracle Cloud Marketplace, making it possible for Oracle Cloud Infrastructure customers to access high-performance accelerated computing and software to run secure, stable and supported production AI in just a few clicks.
The addition — an industry first — brings new capabilities for end-to-end development and deployment on Oracle Cloud. Enterprises can get started from the Oracle Cloud Marketplace to train models on DGX Cloud, and then deploy their applications on OCI with NVIDIA AI Enterprise.
Oracle Cloud and NVIDIA Lift Industries Into Era of AI
Thousands of enterprises around the world rely on OCI to power the applications that drive their businesses. Its customers include leaders across industries such as healthcare, scientific research, financial services, telecommunications and more.
Oracle Cloud Marketplace is a catalog of solutions that offers customers flexible consumption models and simple billing. Its addition of DGX Cloud and NVIDIA AI Enterprise lets OCI customers use their existing cloud credits to integrate NVIDIA's leading AI supercomputing platform and software into their development and deployment pipelines.
With DGX Cloud, OCI customers can train models for generative AI applications like intelligent chatbots, search, summarization and content generation.
The University at Albany, in upstate New York, recently launched its AI Plus initiative, which is integrating teaching and learning about AI across the university's research and academic enterprise, in fields such as cybersecurity, weather prediction, health data analytics, drug discovery and next-generation semiconductor design. It will also foster collaborations across the humanities, social sciences, public policy and public health. The university is using DGX Cloud AI supercomputing instances on OCI as it builds out an on-premises supercomputer.
"We're accelerating our mission to infuse AI into virtually every academic and research disciplines," said Thenkurussi (Kesh) Kesavadas, vice president for research and economic development at UAlbany. "We will drive advances in healthcare, security and economic competitiveness, while equipping students for roles in the evolving job market."
NVIDIA AI Enterprise brings the software layer of the NVIDIA AI platform to OCI. It includes NVIDIA NeMo frameworks for building LLMs, NVIDIA RAPIDS for data science and NVIDIA TensorRT-LLM and NVIDIA Triton Inference Server for supercharging production AI. NVIDIA software for cybersecurity, computer vision, speech AI and more is also included. Enterprise-grade support, security and stability ensure a smooth transition of AI projects from pilot to production.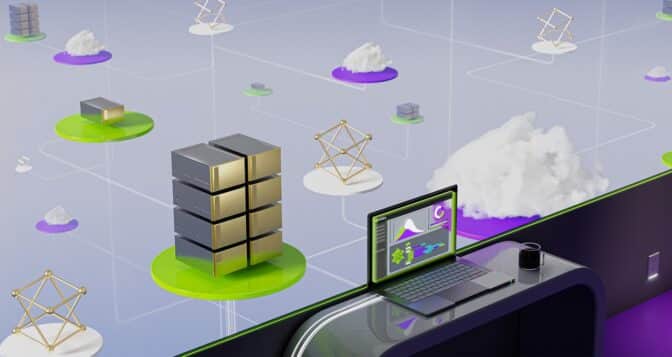 AI Supercomputing Platform Hosted by OCI
NVIDIA DGX Cloud provides enterprises immediate access to an AI supercomputing platform and software.
Hosted by OCI, DGX Cloud provides enterprises with access to multi-node training on NVIDIA GPUs, paired with NVIDIA AI software, for training advanced models for generative AI and other groundbreaking applications.
Each DGX Cloud instance consists of eight NVIDIA Tensor Core GPUs interconnected with network fabric, purpose-built for multi-node training. This high-performance computing architecture also includes industry-leading AI development software and offers direct access to NVIDIA AI expertise so businesses can train LLMs faster.
OCI customers access DGX Cloud using NVIDIA Base Command Platform, which gives developers access to an AI supercomputer through a web browser. By providing a single-pane view of the customer's AI infrastructure, Base Command Platform simplifies the management of multinode clusters.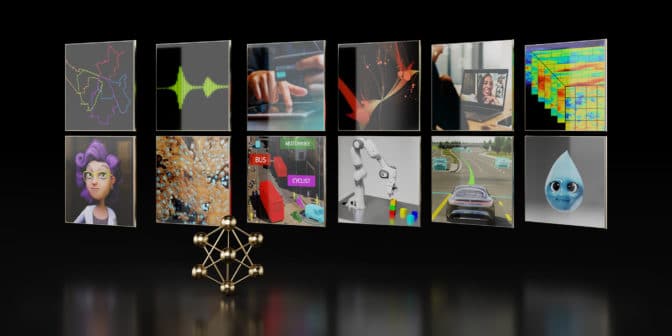 Software for Secure, Stable and Supported Production AI
NVIDIA AI Enterprise enables rapid development and deployment of AI and data science.
With NVIDIA AI Enterprise on Oracle Cloud Marketplace, enterprises can efficiently build an application once and deploy it on OCI and their on-prem infrastructure, making a multi- or hybrid-cloud strategy cost-effective and easy to adopt. Since NVIDIA AI Enterprise is also included in NVIDIA DGX Cloud, customers can streamline the transition from training on DGX Cloud to deploying their AI application into production with NVIDIA AI Enterprise on OCI, since the AI software runtime is consistent across the environments.
Qualified customers can purchase NVIDIA AI Enterprise and NVIDIA DGX Cloud with their existing Oracle Universal Credits.
Visit NVIDIA AI Enterprise and NVIDIA DGX Cloud on the Oracle Cloud Marketplace to get started today.