AI, the most powerful technology of our time, demands a new generation of computers tuned and tested to drive it forward.
Starting today, data centers can boot up a new class of accelerated servers from our partners to power their journey into AI and data analytics. Top system makers are delivering the first wave of NVIDIA-Certified Systems, the industry's only servers tested for modern workloads.
These systems speed AI thanks to NVIDIA's latest GPUs riding NVIDIA Mellanox networks. They spin up machine learning techniques that unearth insights from growing mounds of corporate data, gems that traditional systems miss.
Dell Technologies, GIGABYTE, Hewlett Packard Enterprise, Inspur Electronic Information and Supermicro are all shipping certified servers today. NVIDIA is collaborating with top OEMs around the world to drive AI forward across every industry.
The first systems off the line using NVIDIA A100 Tensor Core GPUs include:
Dell EMC PowerEdge R7525 and R740 rack servers
GIGABYTE R281-G30, R282-Z96, G242-Z11, G482-Z54, G492-Z51 systems
HPE Apollo 6500 Gen10 System and HPE ProLiant DL380 Gen10 Server
Inspur NF5488A5
Supermicro A+ Server AS -4124GS-TNR and AS -2124GQ-NART
They all carry the NVIDIA-Certified Systems badge that gives customers confidence they're buying systems that meet NVIDIA's best design practices. That means they can tackle the toughest tasks in machine learning, data analytics and more.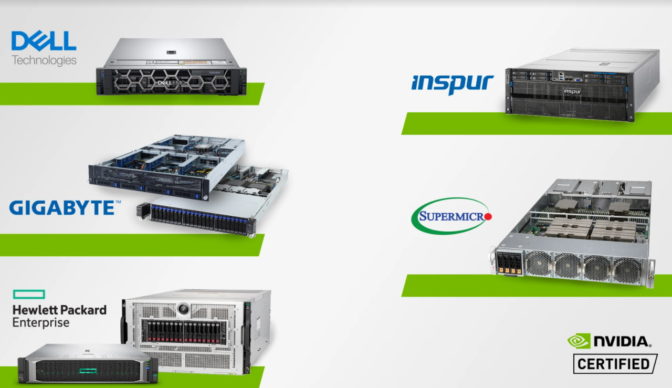 A Tipping Point for Enterprise AI
The systems arrive as leading corporations are getting traction in AI.
American Express is using the latest AI models for real-time fraud detection. Ford taps generative adversarial networks to generate data it needs to test self-driving cars. And Dominos applies AI to improve predictions of when orders will be ready for the 3 billion pizzas it delivers every year.
They are among many companies plugging into a powerful new form of computing, born on the web and now spreading into sectors from retail and logistics to banking and healthcare.
Gartner estimates 37 percent of all organizations have AI in production today and predicts that will double to 75 percent by 2024.
Scaling a Big Data Mountain
Companies seek strategic insights hidden in a rising mountain of data. Walmart, for example, processes more than 2.5 petabytes of data every hour.
AI models to sift through that data have grown in size by nearly 30,000x in just five years, driving the need for accelerated computing. And the diversity of models and workloads using them continues to expand, so businesses need the flexibility of GPUs.
The rising tide of data and the expanding AI models to sift through it are spawning an exponential increase in network traffic both in the data center and at the network's edge. To cope, companies need a secure, reliable and high-speed infrastructure that scales efficiently.
Acing the Test for AI
NVIDIA-Certified Systems deliver the performance, programmability and secure throughput enterprise AI needs. They combine the computing power of GPUs based on the NVIDIA Ampere architecture with secure, high-speed NVIDIA Mellanox networking.
To pass the certification, the systems are tested across a broad range of workloads, from jobs that require multiple compute nodes to tasks that only need part of the power of a single GPU.
The systems are optimized to run AI applications from the NGC catalog, NVIDIA's hub for GPU-optimized applications.
NGC is also the home for an expanding set of software development kits that bring AI to vertical markets such as healthcare (Clara) and robotics (Isaac). In addition, it holds frameworks that help companies get started in emerging use cases like recommendation systems (Merlin) and intelligent video analytics (Metropolis).
Specifically, NVIDIA-Certified Systems must pass tests on:
Deep learning training and inference
Machine learning algorithms
Intelligent video analytics
Network and storage offload
The tests focus on real-world use cases. They use popular AI frameworks and containers, all available in the NGC catalog.
As a result, NVIDIA-Certified Systems let every company access the same hardware and software behind some of the most powerful AI computers on the planet.
All of the world's largest cloud service providers and eight of the world's top 10 supercomputers are powered by NVIDIA technology. And NVIDIA-based systems lead in AI benchmarks such as MLPerf.
A Peek Under the Hood
NVIDIA-Certified Systems include powerful data center servers with as many as eight A100 GPUs and high-speed InfiniBand or Ethernet network adapters. Others are mainstream AI systems tailored to run AI at the edge of the corporate network.
OEMs certify the systems using NVIDIA Mellanox cables, switches and network cards such as ConnectX-6 InfiniBand or Ethernet adapters and BlueField-2 DPUs. In addition to high throughput at low latency, these adapters support multiple layers of security from a hardware root of trust at boot time to connection tracking for applications.
Every system was certified using either an NVIDIA Mellanox 8700 HDR 200G InfiniBand switch or the Mellanox SN3700 Ethernet switch.
All NVIDIA-Certified Systems are available with enterprise support across the full software stack, including support for open source code. That's because we want to ensure enterprises across all vertical markets can quickly enjoy the benefits of AI.
With the latest systems from Dell Technologies, GIGABYTE, HPE, Inspur Electronic Information, and Supermicro, every company can start its own journey to enterprise AI.
To date, 14 servers from six systems makers are certified and ready to provide accelerated computing. They are among 70 systems from at least 11 system makers engaged in the program.
Stay tuned for news of more NVIDIA-Certified Systems from more partners.