Editor's note: This post is part of our weekly In the NVIDIA Studio series, which celebrates featured artists, offers creative tips and tricks, and demonstrates how NVIDIA Studio technology improves creative workflows. We're also deep diving on new GeForce RTX 40 Series GPU features, technologies and resources, and how they dramatically accelerate content creation.
The Portal: Prelude RTX gaming mod — a remastering of the popular unofficial Portal prequel — comes with full ray tracing, DLSS 3 and RTX IO technology for cutting-edge, AI-powered graphics that rejuvenate the legendary mod for gamers, creators, developers and others to experience it anew.
Nicolas "NykO18" Grevet, a software engineer behind Portal: Prelude, collaborated with modder David "Kralich" Driver-Gomm to create the project — which launched today as a free download on Steam — using NVIDIA RTX Remix. The free modding platform enables users to quickly create and share RTX mods for classic games. Learn about the duo's workflow this week In the NVIDIA Studio.
Plus, this month, graphics card partners will begin to offer the 16GB version of the GeForce RTX 4060 Ti GPU, featuring the state-of-the-art NVIDIA Ada Lovelace architecture that supercharges creative apps and productivity while delivering immersive, AI-accelerated gaming with ray tracing and DLSS 3. The GPUs are well-suited for working in larger 3D scenes, editing videos in up to 12K resolution and running native AI foundation models.
All of this is backed by the July NVIDIA Studio Driver, which supports these latest updates and more, available for download today.
In addition, the NVIDIA Studio #StartToFinish community challenge is in full swing. Use the hashtag to submit a screenshot of a favorite project featuring its beginning and ending stages for a chance to be featured on the @NVIDIAStudio and @NVIDIAOmniverse social channels.
A Portal Into Creativity
Portal: Prelude's storyline revolves around what's called the Genetic Lifeform and Disk Operating System, or GlaDOS, an AI created by Aperture Science, the fictional scientific research corporation key to the original game's plot.
With extra chapters, test chambers, challenges and an extended storyline, the most popular Portal mod of all time was recognized by Mod DB with a "Mod of the Year" award. Check out the original game trailer below.
"Modders have to wear many hats — they're simultaneously level designers, 2D artists, scripters, writers, web developers, quality-assurance analysts and so much more," said Grevet. "This demands resilience and adaptability."
Grevet and Driver-Gomm transformed Portal: Prelude's older, lower-resolution assets into new, high-resolution assets using RTX Remix. Both creators used a GeForce RTX 40 Series GPU, which enabled full ray tracing and DLSS 3.
The duo first gathered 360-degree screenshots of entire scene levels with RTX Remix.
Next, they used a component of RTX Remix called RTX Remix Runtime to capture game scenes and replace assets during playback while adding RTX technology to the game, including NVIDIA Reflex for low-latency responsiveness.
"We could take virtual, in-game 3D screenshots of a level and all of its assets, load the captures in RTX Remix, and literally replace every single asset, texture, geometry and light with up to 100x higher fidelity using open-source 2D and 3D formats." — Nicolas "NykO18" Grevet
"We played with AI upscaling a lot," said Grevet. "It was tremendously helpful in cutting down on early work and enabled sharper focus on the hero assets that required more hands-on treatment, like characters and non-playable character models, as well as large, predominant textures."
These higher-resolution assets in the OpenUSD format were brought into NVIDIA Omniverse, a platform for connecting and building 3D tools and applications, through the Blender Connector. This allowed the team to use their 3D app of choice for modeling new geometry and beveling out edges, all in real time, with full ray-traced fidelity for ultra-photorealistic lighting and shadows.
"Some assets were practically modeled from scratch, whereas others — like pipes — mostly just had their edges beveled out so they were higher poly and smoother," said Driver-Gomm.
The team then UV unwrapped the assets, which is the process of opening a mesh to make a 2D texture that can blanket a 3D object for the precise application of textures and materials.
Grevet and Driver-Gomm then moved to Adobe Substance 3D Painter and Sampler to create high-quality physically based render models. This means images were rendered modeling lights and surfaces with real-world optics. GPU-accelerated filters sped up and simplified material creation, while RTX-accelerated light and ambient occlusion baked assets in seconds.
With all assets in place, the team used RTX Remix to swap older ones with these newer, higher-fidelity models. But the creators weren't ready to rest on their laurels just yet — RTX Remix allowed them to relight every single level with realistic, path-traced lighting.
The final result of Portal: Prelude RTX is "light-years ahead of what I could do on my own," said Grevet. "Having the opportunity to remaster these levels in the way I'd intended for them to look and behave was a nice cherry on top."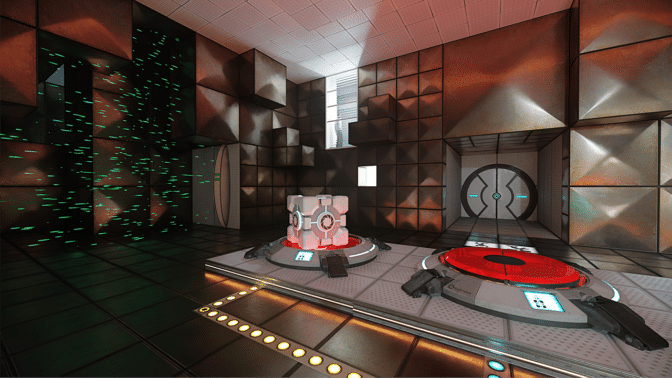 "The RTX Remix tool is insanely powerful and almost comes across as magic to me," said Grevet. "The ability to capture any part of a game, load it in a 3D tool and chip away at it as if this was being done using the original game's level editor is insane."
Pick up Portal: Prelude RTX for free for Portal owners on Steam.

Check out Grevet and Driver-Gomm on Twitter.
Follow NVIDIA Studio on Instagram, Twitter and Facebook. Access tutorials on the Studio YouTube channel and get updates directly in your inbox by subscribing to the Studio newsletter.