With the development of autonomous driving technology moving at the speed of light, it can be hard to stay current on what's at the cutting edge. But at the GPU Technology Conference, you'll find the latest in AI technology at every turn, making it the crucial pit stop for anyone interested in the future of driverless vehicles.
GTC — which runs March 18-21 in San Jose — is the premier AI event for virtually every industry, bringing together experts and ideas from robotics, healthcare, computing, gaming, automotive and more.
Attendees will get a first look at new, innovative driving technologies from NVIDIA, as well as updates on some of the company's most recent products, including DRIVE AutoPilot, the world's first Level 2+ automated driving system, and the latest advancements in our DRIVE Software suite. We also recently detailed the DRIVE Constellation simulation platform ecosystem and its application for third-party autonomous vehicle validation.
Conference goers can also listen to the industry's foremost leaders in exclusive sessions, receive hands-on deep learning training from AI experts, and experience the newest autonomous vehicles on the show floor.
Hear From Industry Trailblazers
From new approaches for vehicle design to new business models enabled by self-driving technologies, the transportation industry is rapidly transforming with the help of AI. This year's GTC speakers will delve into these topics and more, lending valuable insight into the road ahead for self-driving cars and trucks.
Here's a sneak preview of some of the 25+ presentations on autonomous driving at GTC 2019: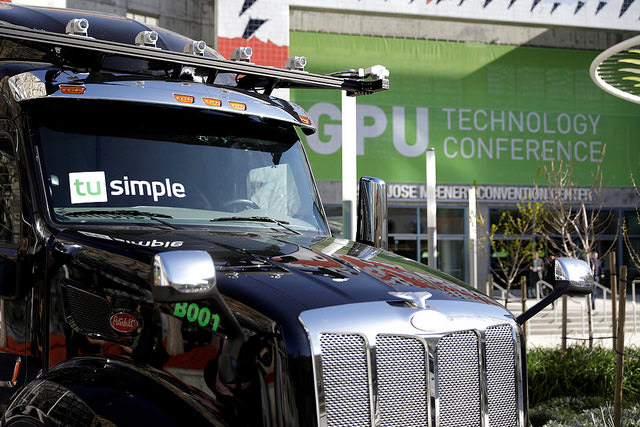 Experience AI in the Car
The GTC show floor is the place to see and explore what's coming down the automotive technology pipeline. Attendees can check out upcoming electric vehicles as well as the latest development cars from automakers, trucking companies and startups.
Learn From the Best
GTC also offers the opportunity for developers to hone their AI skills with hands-on training led by NVIDIA experts. This year's automotive labs will cover topics such as object detection in urban traffic, integrating third-party sensors into the DRIVE AGX platform, and building the entire perception stack on DRIVE AGX.
Within a span of a week, conference attendees will get a 360-degree view of self-driving from the cloud to the car — an invaluable experience in a lightning-fast industry. Register for GTC here before it sells out.