Keeping our streaming media player — and our customers — on the cutting edge, we released Monday our 20th software upgrade for SHIELD TV, SHIELD Experience Software Upgrade 7.1.
Since its launch in 2015, we've worked to make SHIELD the best media streamer. And we've tried to deliver on the requests of our passionate fanbase without asking them to buy new hardware year after year. We want SHIELD to be the only device you need for living room entertainment.
The result has been 20 feature-rich software updates, making SHIELD one of the best-supported consumer electronics devices.
At its heart is an incredibly advanced Tegra X1 processor. Its capabilities allow our world-class software team to continue to introduce new experiences.
Over the years, users have received new streaming, gaming and smart home features, as well as three operating system upgrades, including a revamped UI with Android 8.0 Oreo.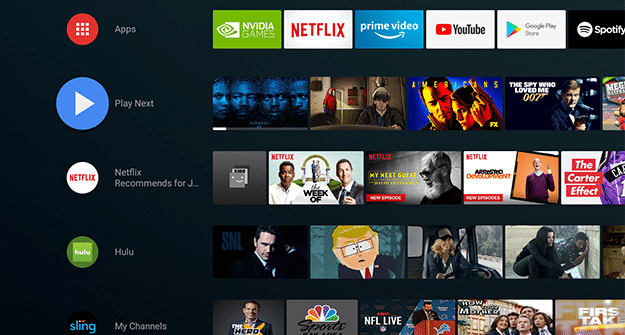 SHIELD was the first streaming media player to deliver 4K HDR in many top apps, like Netflix and Prime Video. Now it's the home to the largest 4K library of any media streamer.
It's become the best device for Plex users as SHIELD has the capability to watch and record live TV, while serving entertainment libraries as both a Plex client — at up to 4K HDR with Dolby Atmos and DTS-X surround pass-through — and Plex Media Server.
SHIELD powers an immersive YouTube experience with YouTube TV, YouTube 360 and YouTube Kids. And we've continually improved the experience with deep search integration, direct play media controls using your voice, and 4K resolution at 60 frames per second.
Gaming on the big screen improved dramatically as the new GeForce NOW beta streamed your library of PC games from NVIDIA servers to the living room. In an instant, SHIELD now accesses a growing list of PC games: Fortnite, Dota 2, Counter-Strike: Global Offensive, PLAYERUNKNOWN'S BATTLEGROUNDS, Monster Hunter: World, Tom Clancy's Rainbow Six Siege and over 300 more.
Android gamers have been able to download and play games from their favorite franchises like Tomb Raider, Borderlands, Doom, Resident Evil and Metal Gear Solid.
And for local casting, GeForce GTX graphics card owners upgraded to 4K HDR with GameStream.
SHIELD became the center of the smart home with a series of AI capabilities that transform home entertainment. It joins the first hands-free Google Assistant integration for TV with SmartThings Hub technology integration, turning SHIELD into a hub that can connect to thousands of smart home devices.
The addition of Google Assistant brought voice command and visuals for Google services like Photos and Calendar. So, besides being able to say things like, "Turn on the lights" or "Play Stranger Things," you can say, "Show me my photos from Egypt" or "what time is my first meeting?"
Your TV, only smarter, with SHIELD, your Google Assistant and Samsung SmartThings.
As SHIELD is an open platform, we've added Amazon Prime Video and Amazon Music (via Cast). Support for iTunes Movies via the Movies Anywhere app and iTunes Music via Google Music Manager means iOS users can bring their libraries to SHIELD.
Whether you're 4K HDR binge-watching the new seasons of The Crown or Orange is the New Black on Netflix, shooting for that illustrious victory royale in Fortnite, or checking the traffic on your way out the door, there are lots of reasons to be a member of the SHIELD fan club.
And SHIELD TV only promises to get better. Current and new owners alike can expect more fantastic upgrades on the world's best streaming media player.