They say everything is bigger in Texas. And it's especially true when it comes to spectacular holiday light shows, thanks to a decade-long rivalry between two Austin-based NVIDIA engineers.
John Storms and Lee Franzen festoon their respective homes with elaborate decorations played out in thousands of lights — Santa in a sleigh pulled by galloping reindeer, rows of glistening trees, and gigantic snowflakes. And it's all synchronized to music.
For Franzen, a senior program manager, planning lasts throughout the year, beginning just as the lights from the previous year's show come down in January. He flips the switch on his new show just before Thanksgiving with an opening party that thrills neighbors who come out in force to watch the display begin.
Storms, a compiler verification manager, is a veteran holiday decorator — channeling the lighting-display enthusiasm, though not the bumbling, of Clark Griswold in the 1989 classic movie "Christmas Vacation." Instead of using energy-sucking incandescent bulbs, he has long used hyper-efficient LED lights. An authority on the engineering behind lighting shows, Storms lectures on software programming at events for holiday show enthusiasts.
While Storms got his start as a child, helping to decorate the family home where they liked to "go all out," Franzen's enthusiasm for show stopping decorating came later, inspired in part by Storms' ambitious light shows.
With their backgrounds in engineering, each developed their own styles. Franzen likes a musical mix to sync his show to, while Storms picks one song. They share a similar taste in decor, with glittering trees and swirling snowflakes. What brings them together is their smart use of NVIDIA technology that takes their show from static to spectacular.
Dialing Up the Dazzle
Constructing the displays takes place over the summer, and each year they include something new. This year, Franzen attached a 12-by-12-foot RGB matrix holding a couple of thousand pixels to an exterior wall to showcase NVIDIA's logo in sparkling (and brand-appropriate) green lights. The matrix panels are the same as you'll see on the giant displays around New York's Times Square and bring big city dazzle into a suburban neighborhood.
Franzen also upgraded the gear powering his show this year, deploying two NVIDIA GeForce GTX 1080 Ti GPUs for his light display as they increase the speed and smoothness of the rendering simulations he uses to get lights and songs synced properly. With 100,000+ lights, there's a lot to coordinate.
"Everything is so fast," he says. "You 'write' a picture of your house on a simulator tool with each light fixture represented and can use the software to see how it looks. This way you can preview songs and shows. And this year, as we added so many more pixels, I knew I'd need more power."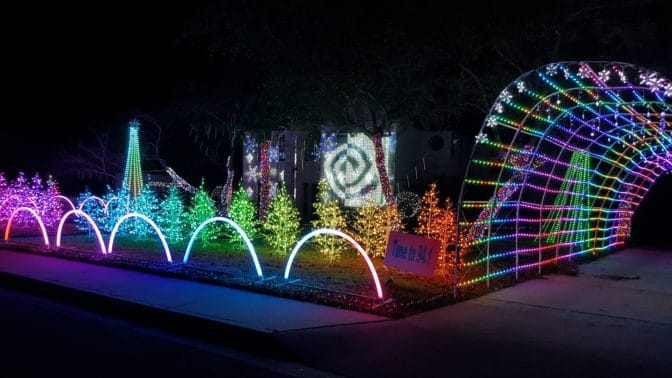 Prize-Winning Light Shows
This year, Storms used NVIDIA Quadro M1000M graphics on a PC to coordinate the sequence and render his lights, which include 6,300 individual color-controlled pixels and several thousand regular LED lights. Storms says he stopped counting lights several years ago after surpassing 25,000.
Music is a key factor in the complex sequencing, and this year the neighborhood light show contest where Storms lives was being judged by a local Girl Scout troop. Aiming to please the crowd with something they'd love, he synced the light show to "Baby Shark" and snagged first place.
Franzen, who involves his neighborhood in the annual "lights-on" party, kicks off fundraising to help local communities. With hundreds of families turning up for the show, he gathered nearly 200 cans of food for a food bank and hundreds of toys that are shared with families in need and nearby hospitals.
While Franzen's holiday decorations often include a 20-foot inflatable Santa, with a 14-foot inflatable deer next to him, Storms has a sleigh pulled by herd of reindeer across his lawn and more than a dozen sparkling mini-trees in front of two giant trees decorated with strings of lights and dangling snowflakes.
For more, see John Storms' "Listen to Our Lights" YouTube channel.