It was a classic NVIDIA swarm.
Three dozen specialists scattered across three continents and several organizations jumped on a big, high-profile job with a short deadline.
Their shared mission: Create a real-time recommendation system for GTC, NVIDIA's biggest event of the year. They had about four months to deliver code to help more than 60,000 virtual attendees find which of 650 sessions they'd most enjoy.
And they had a magic wand called NVIDIA Merlin, a set of software libraries that helps some of the world's largest cloud services suggest everything from restaurants to retirement plans their customers would like.
An Engine of Online Commerce
Recommendation systems, aka recsys, are "pretty much everywhere" these days, said Angel Martinez, a Tampa-based machine-learning specialist who built such AI models for banks before joining NVIDIA last year.
"They narrow down product choices for users bombarded by a ton of information online," said Martinez (left).
Using Merlin, a kind of recsys LEGO kit, the job wasn't hard for Martinez. A math whiz in school, he got a degree in economics, but found a career in AI more stimulating.
"I was going to be an actuary because they use a lot of math, but that work is kind of cut-and-dry, compared to AI where people are still discovering new things," he said.
Early Doubts and Misstarts
At first, the cross-functional team of web and AI experts, data scientists and test engineers weren't sure where to start or if they could finish in time.
They considered gathering data from back-end servers, but that wasn't fast enough to deliver real-time results. Carl Hancock (below), who helps optimize NVIDIA's websites from a home office outside Salt Lake City, found a faster way, gathering data from browsers at the front end.
Martinez and others harmonized datasets that had evolved over more than a dozen years of past GTC events. Luckily, they could tap NV-CDP, NVIDIA's GPU database of user email and web interactions that's key for serving up personalized content.
Another team created an API to link the AI model to web software. Still others tested the various parts as they came together.
A Global Relay Race
"It felt like a giant relay race," said Hancock, who joined the company from Adobe less than 18 months ago. "You might wait a week for another team to do its work, then pass it back, then everyone would be waiting on you," he said.
"For me, this was a unique collaboration across orgs and teams," said Benedikt Schifferer, a Berlin-based member of the Merlin team who helped define the architecture of the GTC model.
A turning point came one day when Schifferer tested the team's work. No surprise, he sought recommendations for sessions on recsys.
Light at the Tunnel's End
As hoped, the code served up sessions under the category of recommenders. But it also served up sessions from other categories that contained significant content on the subject. It worked.
By March 7, the team of teams enabled "powered by Merlin" recommendations on the GTC home page, session pages and a handful of other key landing sites. In the first week alone, they served up more than 20,000 recommendations.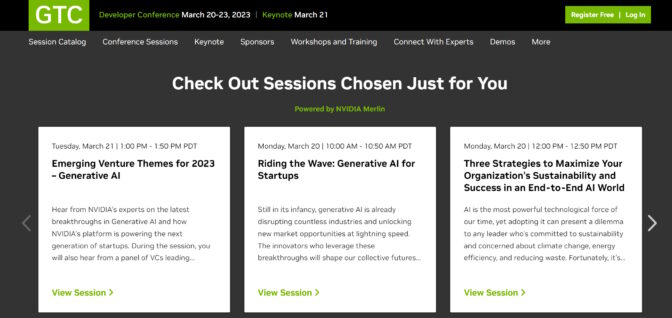 Members of the team described their work and more in a GTC session (DLIT51219), Building Session-Based Recommendation Models With NVIDIA Merlin.
In a sign of how vital the technology is, companies including Alibaba, LinkedIn, Meta, Target and Uber also gave GTC talks on their use of recsys.
It's a skill spreading through NVIDIA, now. For example, the digital marketing group already uses an email system developed for GTC last fall.
"It won't be long before they'll be building more recommenders of their own," said Even Oldridge, who leads the Merlin team from his office in Vancouver, Canada.
More Magic to Come
Thanks to this project, the team has some new ideas for ways it can make Merlin easier for more companies to implement. "We'd like to provide a ready-to-run kit for specific use cases," said Schifferer.
Hancock sees the work on Merlin for GTC as just the start of what's possible for NVIDIA's website.
"One of the objectives of my team is to use the site to showcase our technology, so potential customers can see it in action," he said.