When Julien Trombini and Guillaume Cazenave founded video-analytics startup Two-i four years ago, they had an ambitious goal: improving the quality of urban life by one day being able to monitor a city's roads, garbage collection and other public services.
Along the way, the pair found a wholly different niche. Today, the company's technology — which combines computer vision, data science and deep learning — is helping to prevent deadly accidents in the oil and gas industry, one of the world's most dangerous sectors.
Initially, Trombini and Cazenave envisioned a system that would enable civic leaders to see what improvements were needed across a municipality.
"It would be like having a weather map of the city, only one that measures efficiency," said Trombini, who serves as chairman of Two-i, an NVIDIA Metropolis partner based in Metz, a historic city in northeast France.
That proved a tall order, so the two refocused on specific facilities, such as stadiums, retirement homes and transit stations, where its tech helps with security and incident detection. For instance, it can alert the right people when a retirement home resident falls in a corridor. Or when a transit rider using a wheelchair can't get on a train because of a broken lift.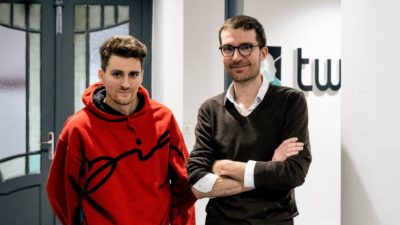 More recently, the company was approached by ExxonMobil to help with a potentially deadly issue: improving worker safety around open oil tanks.
Together with the energy giant, Two-i has created an AI-enabled video analytics application to detect when individuals near a danger zone and risk falling and immediately alert others to take quick action. In its initial months of operation, the vision AI system prevented two accidents from occurring.
While this use case is highly specific, the company's AI architecture is designed to flexibly support many different algorithms and functions.
"The algorithms are exactly the same as what we're using for different clients," said Trombini. "It's the same technology, but it's packaged in a different way."
Making the Most of Vision AI
Two-i's flexibility stems from its reliance on using the NVIDIA Metropolis platform for AI-enabled video analytics applications, leveraging advanced tools and adopting a full-stack approach.
To do so, it relies on a variety of NVIDIA-Certified Systems, using the latest workstation and data center GPUs based on the high-performance NVIDIA Ampere architecture, for both training and inference. To shorten training times further, Two-i is looking to test its huge image dataset on the powerful NVIDIA A100 GPU.
The company looks to frequently upgrade its GPUs to ensure it's offering customers the fastest possible solution, no matter how many cameras are feeding data into its system.
"The time we can save there is crucial, and the better the hardware, the more accurate the results and faster we get to market," said Trombini.
Two-i taps the CUDA 11.1 toolkit and cuDNN 8.1 library to support its deep learning process, and NVIDIA TensorRT to accelerate inference throughput.
Trombini says one of the most compelling pieces of NVIDIA tech is the NVIDIA TAO Toolkit, which helps the company keep costs down as it tinkers with its algorithms.
"The heavier the algorithm, the more expensive," he said. "We use the TAO toolkit to prune algorithms and make them more tailored to the task."
For example, training that initially took up to two weeks has been slashed to three days using the NVIDIA TAO Toolkit, a CLI- and Jupyter Notebook-based version of the NVDIA train, adapt and optimize framework.
Two-i has also started benchmarking NVIDIA's pretrained models against its algorithms and begun using the NVIDIA DeepStream SDK to enhance its video analytics pipeline.
Building on Success
Two-i sees its ability to solve complicated problems in a variety of settings, such as for ExxonMobil, as a springboard to swinging back around to its original smart city aspirations.
Already, it's monitoring all roads in eight European cities, analyzing traffic flows and understanding where cars are coming from and going to.
Trombini recognizes that Two-i has to keep its focus on delivering one benefit after another to achieve the company's long-term goals.
"It's coming slowly," he said, "but we are starting to implement our vision."