Playfully blending art and technology, underground animator Michael Wartella has teamed up with artificial intelligence to breathe new life into The White Stripes' fan-favorite song, "Black Math."
The video was released earlier this month to celebrate the 20th anniversary of the groundbreaking "Elephant" album.
Wartella is known for his genre-bending work as a cartoonist and animator.
His Brooklyn-based Dream Factory Animation studio produced the "Black Math" video, which combines digital and practical animation techniques with AI-generated imagery.
"This track is 20 years old, so we wanted to give it a fresh look, but we wanted it to look like it was cut from the same cloth as classic White Stripes videos," Wartella said.
For the "Black Math" video, Wartella turned to Automatic1111, an open-source generative AI tool. To create the video, Wartella and his team started off with the actual album cover, using AI to "bore" into the image.
They then used AI to train the AI and build more images in a similar style. "That was really crazy and interesting and everything built from there," Wartella said.
This image-to-image deep learning model caused a sensation on its release last year, and is part of a new generation of AI tools that are transforming the arts.
"We used several different AI tools and animation tools," Wartella said. "For every shot, I wanted this to look like an AI video in a way those classic CGI videos look very CGI now."
Wartella and his team relied heavily on archived images and video of the musician duo as well as motion-capture techniques to create a video replicating the feel of late-1990s and early-2000s music videos.
Wartella has long relied on NVIDIA GPUs to run a full complement of digital animation tools on workstations from Austin, Texas-based BOXX Technologies.
"We've used BOXX workstations with NVIDIA cards for almost 20 years now," he said. "That combination is just really powerful — it's fast, it's stable."
Wartella describes his work on the "Black Math" video as a "collaboration" with the AI tool, using it to generate images, tweaking the results and then returning to the technology for more.
"I see this as a collaboration, not just pressing a button. It's an incredibly creative tool," Wartella said of generative AI.
The results were sometimes "kind of strange," a quality that Wartella prizes.
He took the output from the AI, ran it through conventional composition and editing tools, and then processed the results through AI again.
Wartella felt that working with AI in this way made the video stronger and more abstract.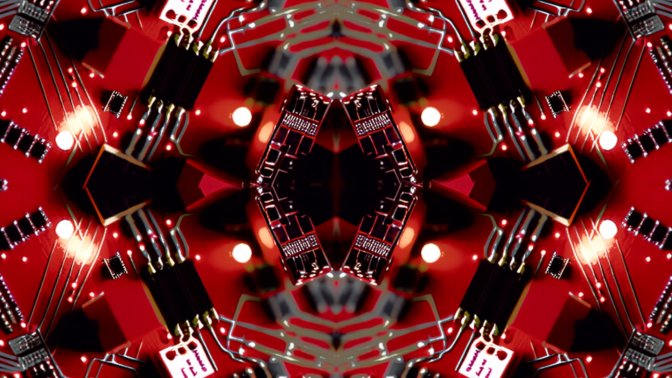 The video presents Jack and Meg White in their 2003 personas, emerging from a whimsical, dark cyber fantasy.
The video parallels the look and feel of the band's videos from the early 2000s, even as it leans into the otherworldly, almost kaleidoscopic qualities of modern generative AI.
"The lyrics are anti-authoritarian and punkish, so the sound steered this one in the direction," Wartella said. "The song itself has a scientific theme that is already a perfect fit for the AI."
When "Black Math" was first released as part of The White Stripes' critically acclaimed "Elephant" album, it grabbed attention for its high-energy, powerful guitar riffs and Jack White's unmistakable vocals.
The song played a role in cementing the band's reputation as a critical player in the garage rock revival of the early 2000s.
Wartella's inventive approach with "Black Math" highlights the growing use of AI — as well as lively discussion of its implications — among creatives.
Over the past few months, AI-generated art has been increasingly prevalent across various social media platforms, thanks to tools like Midjourney, OpenAI's Dall·E, DreamStudio and Stable Diffusion.
As AI advances, Wartella said, we can expect to see more artists exploring the potential of these tools in their work.
"I'm in full favor of people having the opportunity to play around with the technology," Wartella said. "We'll definitely use AI again if the song or the project calls for it."
The release of the "Black Math" music video coincides with the launch of "The White Stripes Elephant (20th Anniversary)" deluxe vinyl reissue package, available now through Jack White's Third Man Records and Sony Legacy Recordings.
Watch the "Black Math" music video: