Corporate
We're not going to tell you how to save the world. We are, however, going to recommend you use GPUs to do it. We're...
Read More
Supercomputing
An intriguing theme at NVIDIA's GPU Technology Conference this week is the GPU's impact on pushing the frontiers of neural networking closer to how...
Read More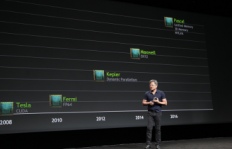 Corporate
During a keynote speech at our annual GPU Technology Conference in San Jose, Calif., NVIDIA CEO Jen-Hsun Huang updated our public GPU roadmap with...
Read More
Cloud
IBM is taking a big step in applying GPU technology to help solve some of the biggest enterprise IT challenges. At next week's GPU...
Read More
Corporate
Need a map? Don't bother asking for directions. Just send in the robots. Imagine sending a robot into a new environment – say, a...
Read More
Software
CUDA, the parallel programming model that unlocks the power of GPU acceleration, is growing fast. There are 275 CUDA-based applications tuned to run on...
Read More
Supercomputing
One of the world's leading researchers in how to mitigate brain deficits that accrue with age will be a featured speaker at next month's GPU Technology Conference, in...
Read More
Supercomputing
A lonely Ph.D. student at the University of California, Los Angeles, used math, GPUs — and a little hacking — to find true love. The tale...
Read More
Supercomputing
Weather forecasting. Tracking billions of tweets. Mitigating big-time financial risks. These burly applications gobble up computing power like an NFL linebacker plowing through a...
Read More
Supercomputing
When talk turned to skincare products at Supercomputering 2013 (SC13) – a gathering of some of the world's most sophisticated technologists – the audience...
Read More