We heard you like bundles, so we put a Valve bundle inside of our holiday SHIELD...
Read More
Mobile
Shortly after SHIELD tablet launched, we announced that Half-Life 2: Episode One was on its way, too. That day has...
Read More
Mobile
Reviewers are making their holiday lists of great gadgets for gift givers. And, invariably, they're naming our SHIELD tablet as one of the best...
Read More
Mobile
Just in time for your holiday shopping list, we're announcing Black Friday bundles for gamers everywhere. They feature the SHIELD tablet, the world's ultimate...
Read More
Gaming
We're announcing today new capabilities and new content for our SHIELD tablet, coming with a major software update. Android 5.0 Lollipop; a new bundle that includes...
Read More
Corporate
We filed patent lawsuits two months ago against Samsung and Qualcomm alleging that they've used our patented GPU technology without proper compensation to us....
Read More
Mobile
More storage. More connectivity. More fun. The new 32GB SHIELD tablet with 4G LTE gives you even more ways to game. And it can...
Read More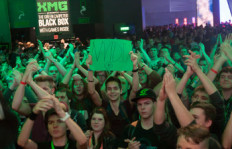 Gaming
Many wore NVIDIA t-shirts. Some wore the NVIDIA claw shaved into their hair. And one fan decided it was the perfect place to propose...
Read More
Gaming
The world's biggest gaming show is bigger than ever. Gamescom's organizers estimate the show will draw more than 375,000 this year. That's well over...
Read More
Mobile
Something amazing happened when we asked our quality assurance team to torture test the latest version of our DirectStylus technology on the new SHIELD...
Read More