Mobile
More storage. More connectivity. More fun. The new 32GB SHIELD tablet with 4G LTE gives you even more ways to game. And it can...
Read More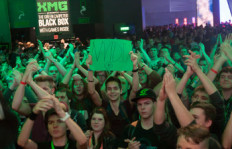 Gaming
Many wore NVIDIA t-shirts. Some wore the NVIDIA claw shaved into their hair. And one fan decided it was the perfect place to propose...
Read More
Gaming
The world's biggest gaming show is bigger than ever. Gamescom's organizers estimate the show will draw more than 375,000 this year. That's well over...
Read More
Mobile
Something amazing happened when we asked our quality assurance team to torture test the latest version of our DirectStylus technology on the new SHIELD...
Read More
Mobile
Quicker than most anyone had thought possible, Android is becoming the largest computing platform in history. There are more than a billion active Android...
Read More
Gaming
Nope. We're not ending the life of SHIELD portable. Not by a long shot. SHIELD tablet and SHIELD portable are two separate products within...
Read More
Mobile
We all own tablets. But we all wish we could do more with them. That's why we built the SHIELD tablet, packing it with...
Read More
Gaming
In our ongoing effort to provide an unmatched gaming experience, today we're releasing new drivers that build on the DirectX11 industry standard to offer...
Read More
Gaming
NVIDIA SHIELD was designed to be the ultimate portable for serious gamers.  To achieve that mark, we engineered SHIELD with the most advanced and...
Read More
Mobile
Let's be clear up front. Sometimes you deserve the ticket. And no one — least of all the NVIDIAN caught by the Highway Patrol...
Read More