In a design win for NVIDIA that will bring a stunning level of graphics to a new generation of Mercedes-Benz compact cars, the luxury automaker Tuesday unveiled a new in-car infotainment system that uses AI to transform how drivers and passengers interact with their vehicles.
"We intend to revolutionize the way you interact with cars," Ola Källenius, member of the board of management of Daimler AG Group Research & Mercedes-Benz Cars Development, told a crowd of press, analysts and auto industry executives gathered at the silvery-gray Mercedes booth on the CES show floor.
By using AI and deep learning, Källenius promised a "revolution" in the way we interact with our cars. "This has nothing to do with the incremental improvements we have gotten used to in interacting with our cars," he said.
It's a project with ambitious aims.
"I want to build the world's most advanced cockpit of the future and it's going to have amazing computer graphics but most important is that it will have artificial intelligence so it can revolutionize the user experience," said NVIDIA CEO Jensen Huang at a gathering with a group of press following the announcement.
"All the key MBUX systems are built together with NVIDIA, and they're all powered by NVIDIA," Mercedes-Benz Vice President of Digital Vehicle and Mobility Sajjad Khan told the gathering of journalists following the event.
Following Through on 2017 Announcement
The announcement comes a year after Huang joined Mercedes-Benz execs on stage at CES 2017 and said that their companies were collaborating on an AI car that would be ready in 2018.
Huang said that the enormous speed of the project required a new workflow.
"Because of the complexity of work we're doing in such a short schedule, we decided to create a new type of working relationship, where our engineers and Mercedes-Benz engineers in Germany and Silicon Valley work together as one team," Huang told journalists after the Mercedes event. "Plus we work together with tier one (suppliers). As a result, we're able to take concurrent innovations, integrate them into a car, test it and get it to market."
Powered by NVIDIA graphics and deep learning technologies, the Mercedes-Benz User Experience, or MBUX, will deliver beautiful new 3D touch-screen displays. It can be controlled with a new voice-activated assistant that can be summoned with the phrase "Hey, Mercedes."
"The beauty of the system is something everyone agrees on, but intelligence makes it individualized," Khan said. "It's an intelligent learning system that adapts to the requirements of customers," remembering such details as the seat and steering wheel settings, lights and other comfort features.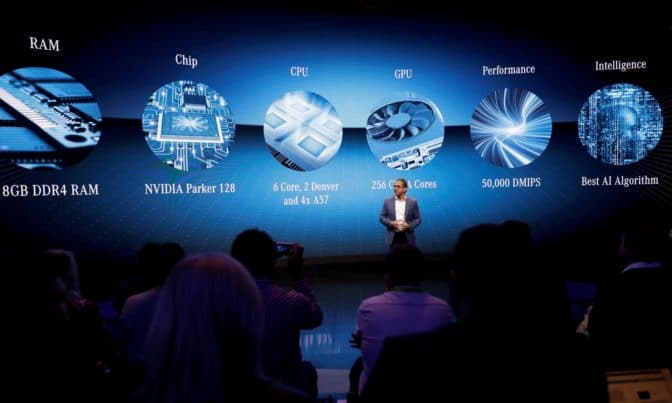 The MBUX announcement highlights the importance of AI to next-generation infotainment systems inside the car, even as automakers are racing put AI to work to help vehicles navigate the world around them autonomously.
Using AI to Personalize Driving Experience
The new infotainment system aims to use AI to adapt itself to drivers and passengers — automatically suggesting your favorite music for your drive home, or offering directions to a favorite restaurant at dinner time. It's also one that will benefit from "over-the-air" updates delivering new features and capabilities.
Huang told journalists that Mercedes-Benz selected NVIDIA because of the graphics and AI performance of its processor, which delivers real-time 3D animation, zero lag on the beautiful touch screen, and silky smooth graphics. It also has additional capacity to enable further features to be added over time in over-the-air updates.
"This is the world's most powerful in-vehicle system in production," Huang said.
Debuting next month in the new A-Class, MBUX will power dramatic wide-screen displays that provide navigation, infotainment and other capabilities, touch-control buttons on the car's steering wheel, as well as an intelligent assistant that can be summoned with a voice command.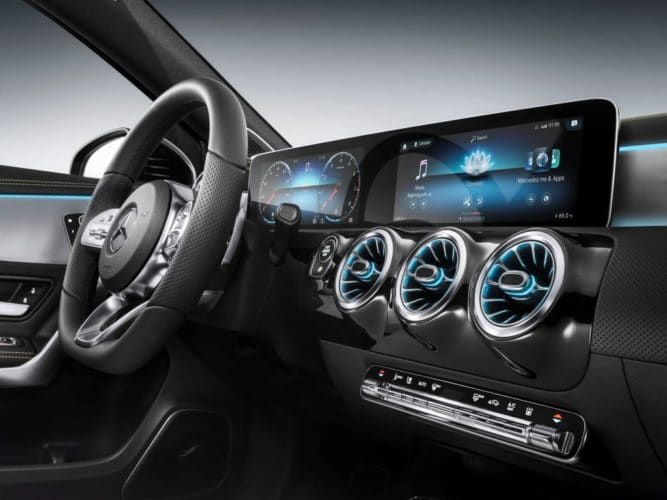 It's an interface that can change its look to reflect the driver's mood — whether they're seeking serenity or excitement — and understand the way a user talks.
"We have created a user experience like you have never seen in a car before: it is intuitive, simple and unexpected, and at the same time it's very beautiful and sensual," Mercedes Chief Design Officer Gorden Wagener told the crowd. "In other words, it's the'hottest and coolest operating system ever."
But MBUX goes beyond just beautiful displays, explained Khan.
When speaking to a voice recognition system, no longer will we have to issue robotic commands, such a "check weather Las Vegas," Khan said.
"No one speaks like that," Khan said.
"Instead you can simply ask 'Hey. Mercedes, can I wear my flip-flops tomorrow?'" he said. "You can just go ahead and have a chat with your car almost like you do with the people riding along with you."
The system is available in 23 different languages, and will be constantly updated to make sure it's up to date with the latest slang, Khan said.
Making Cars Feel More Human
Summing up, Källenius explained that Mercedes is aiming to use technology to make its cars feel more human. "We want a symbiosis of amazing technology and great design that makes people feel at ease," Källenius said.
MBUX will debut next month in the automaker's sleek new A-class compact, eventually rolling out across Mercedes-Benz's entire next generation of compact cars.
It's the latest in what is expected to be a long line of great collaborations between NVIDIA and Mercedes-Benz.