Walk into a store. Grab your stuff. And walk right out again, without stopping to check out.
In just the past three months, California-based AiFi has helped Choice Market increase sales at one of its Denver stores by 20 percent among customers who opted to skip the checkout line.
It allowed Żabka, a Polish convenience store chain, to provide faster checkout for morning train commuters.
It helped pro-racing team Penske and Verizon run a dinky 200-square-foot store at the Indy500, so race fans could quickly get back to the action.
And on Wednesday AiFi announced an expanded partnership with Loop Neighborhood to introduce its computer vision, camera-only platform into stores in California, starting with two Bay Area locations.
AiFi, a member of the NVIDIA Inception accelerator for AI and deep learning startups, has moved out of the proof-of-concept stage and into stores across the world.
Its technology makes shopping more convenient and helps retailers better understand their customers.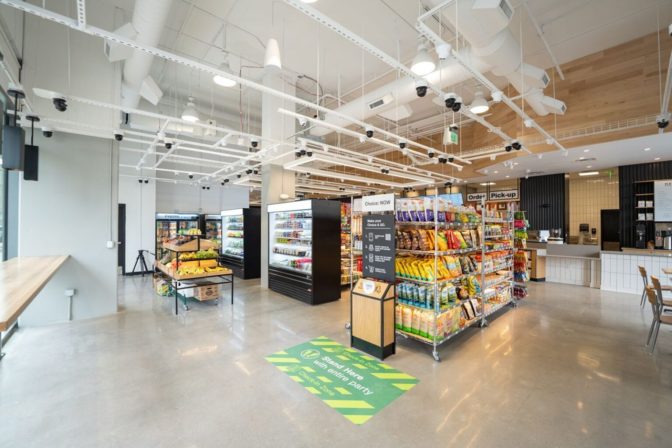 "Retailers can now get as much information about physical shopping habits as online stores are getting from ecommerce," said AiFi CEO and co-founder Steve Gu, a veteran of Apple and Google.
AiFi's ability to analyze shopper habits is even more impressive because its stores don't need to buy costly sensors and RFID tags.
Instead, the company uses real-time image recognition and edge AI powered by NVIDIA GPUs to recognize the items shoppers select and charge them, usually through an app linked to the customer's credit card.
It's not an easy task in busy stores stocked with many hundreds of items, but the five-year-old company's technology now achieves an accuracy rate of 99 percent.
To date, more than 15 stores worldwide are putting the company's technology to work. Those stores are already serving satisfied customers who return again and again.
At Choice Market, 60 percent of shoppers who tried the checkout-free option used it again within a month. Twenty percent came back three times.
The computer-vision-powered system uses NVIDIA Metropolis for smart video analytics. It works smoothly alongside the store's traditional checkout system, and is integrated with the Choice Now app, where customers can shop checkout-free, and place online orders and arrange pickups.
AiFi is revolutionizing retail operations with AI. At the Indy500 auto race earlier this year, Penske Entertainment's nano-store allowed fans to buy snacks, beverages and merchandise with an app. No need to stop and swipe a credit card.
This speed translates well to any kind of store where people need to slip in and out in a hurry. Żabka partnered with AiFi to open its first public autonomous store in Poznan, Poland, quickly drawing huge amounts of foot traffic from commuters going to and from a nearby train station.
With AiFi integrated with the Żappka App, which has over 5 million users, harried commuters could hustle out the door with a newspaper and a morning coffee.
More stores equipped with AiFi's technology are coming. In France, the company is working with Carrefour on what the retailer calls its "Flash LabStore," a frictionless store at its headquarters in Massy.
And in the UK, Britain's fourth-largest supermarket, Morrisons, is working with AiFi to test out a store with no checkout.
These stores represent a growing number of collaborations with major retailers that see AiFi's combination of AI and computer vision as the key to a brick and mortar retail renaissance that will ultimately put more goods in front of more customers, in more places.
Learn more about NVIDIA's AI platform powering intelligent retail stores.