Meet Paige Frank: Avid hoopster, Python coder and robotics enthusiast.
Still in high school, the Pittsburgh sophomore is so hooked on AI and robotics, she's already a mentor to other curious teens.
"Honestly, I never was that interested in STEM. I wanted to be a hair stylist as a kid, which is also cool, but AI is clearly important for our future!" said Paige. "Everything changed in my freshman year, when I heard about the AI Pathways Institute."
The initiative, known as AIPI for short, began in 2019 as a three-week pilot program offered by Boys & Girls Clubs of Western Pennsylvania (BGCWPA). Paige was in the first cohort of 40 youth to attend AIPI, which also included Tomi Oalore (left) and Makiyah Carrington (right), shown above.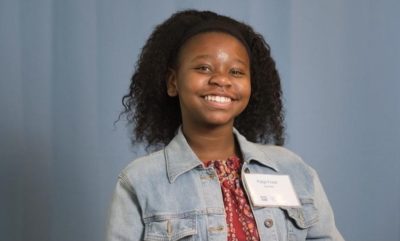 Building on the success of that program, NVIDIA and BGCWPA this week have entered into a three-year partnership with the goal of expanding access to AI education to more students, particularly those from underserved and underrepresented communities.
Core to the collaboration is the creation of an AI Pathways Toolkit to make it easy for Boys & Girls Clubs nationwide and other education-focused organizations to deliver the curriculum to their participants.
"At first it was hard. But once we understood AI fundamentals from the AIPI coursework that the staff at BGCWPA taught and by using the NVIDIA Jetson online videos, it all began to come together," said Paige. "Learning robotics hands-on with the Jetson Nano made it much easier. And it was exciting to actually see our programming in action as the Jetbot robot navigated the maze we created for the project."
New AI Pathways to the Future
AI is spreading rapidly. But a major challenge to developing AI skills is access to hands-on learning and adequate computing resources. The AI Pathways Toolkit aims to make AI and robotics curriculum accessible for all students, even those without previous coding experience. It's meant to prepare — and inspire — more students, like Paige, to see themselves as builders of our AI future.
Another obstacle to AI skills development can be perception. "I wasn't that excited at first — there's this thing that it's too nerdy," commented Paige, who says most of her friends felt similarly. "But once you get into coding and see how things work on the Jetbot, it's real fun."
She sees this transformation in action at her new internship as a mentor with the BGCWPA, where she helps kids get started with AI and coding. "Even kids who aren't that involved at first really get into it. It's so inspiring," she said.
Boys & Girls on an AI Mission
Comprising 14 clubhouses and two Career Works Centers, BGCWPA offers programs, services and outreach that serve more than 12,000 youth ages 4-18 across the region. The AIPI is a part of its effort to provide young people with the tools needed to activate and advance their potential.
With support from NVIDIA, BGCWPA developed the initial three-week AIPI summer camp to introduce local high school students to AI and machine learning. Its curriculum was developed by BGCWPA Director of STEM Education Christine Nguyen and representatives from Carnegie Mellon University using NVIDIA's educational materials, including the Jetson AI Specialist certification program.
The pilot in 2019 included two local summer camps with a focus on historically underrepresented communities encompassing six school districts. The camp attendees also created a hands-on project using the award-winning Jetson Nano developer kit and Jetbot robotics toolkit.
"We know how important it is to provide all students with opportunities to impact the future of technology," said Nguyen. "We're excited to utilize the NVIDIA Jetson AI certification materials with our students as they work toward being leaders in the fields of AI and robotics."
Students earned a stipend in a work-based learning experience, and all of the participants demonstrated knowledge gained in the "Five Big Ideas in AI," a framework created by AI4K12, a group working to develop guidelines for K-12 AI education. They also got to visit companies and see AI in action, learn human-centered design and present a capstone project that focused on a social problem they wanted to solve with AI.
"With the support of NVIDIA, we're helping students from historically underrepresented communities build confidence and skills in the fields of AI, ML and robotics," said Lisa Abel-Palmieri, Ph.D., president and CEO of BGCWPA. "Students are encouraged to develop personal and professional connections with a diverse group of peers who share similar passions. We also equip participants with the vital knowledge and tools to implement technology that addresses bias in AI and benefits society as a whole."
From Summer Camp to Yearlong Program
Helping youth get started on a pathway to careers in AI and robotics has become an urgent need. Moreover, learning to develop AI applications requires real-world skills and resources that are often scarce in underserved and underrepresented communities.
NVIDIA's partnership with BGCWPA includes a funding grant and access to technical resources, enabling the group to continue to develop a new AI Pathways Toolkit and open-source curriculum supported by staff tools and training.
The curriculum scales the summer camp model into a yearlong program that creates a pathway for students to gain AI literacy through hands-on development with the NVIDIA Jetson Nano and Jetbot kits. And the tools and training will make it easy for educators, including the Boys & Clubs' Youth Development Professionals, to deliver the curriculum to their students.
The toolkit, when completed, will be made available to the network of Boys & Girls Clubs across the U.S., with the goal of implementing the program at 80 clubs by the middle of 2024. The open-source curriculum will also be available to other organizations interested in implementing AI education programs around the world.
As for Paige's future plans: "I want to strengthen my coding skills and become a Python pro. I also would like to start a robotics club at my high school. And I definitely want to pursue computer science in college. I have a lot of goals," she said.
Boys & Girls Club Joins AI Educators at GTC21
Abel-Palmieri was a featured panelist at a special event at GTC21 last week. With a record 1,600+ sessions this year, GTC offers a wealth of content — from getting started with AI for those new to the field, to advanced sessions for developers deploying real-world robotics applications. Register for free to view on-demand replays.
Joining Abel-Palmieri on the panel, "Are You Smarter Than a Fifth Grader Who Knows AI?" (SE2802), were Babak Mostaghimi, assistant superintendent of Curriculum, Instructional Support and Innovation for Gwinnett County Public Schools of Suwanee, Georgia; Jim Gibbs, CEO of Meter Feeder; Justin "Mr. Fascinate" Shaifer; and Maynard Okereke (a.k.a. Hip Hop MD) from STEM Success Summit.
Free GTC sessions to help students learn the basics of AI or brush up robotics skills include:
Jetson 101: Learning Edge AI Fundamentals (S32700)
Build Edge AI Projects with the Jetson Community (S32750)
Optimizing for Edge AI on Jetson (S32354)
Many GTC hands-on sessions are designed to help educators learn and teach AI, including: "Duckietown on NVIDIA Jetson: Hands-On AI in the Classroom" with ETH Zurich (S32637) and "Hands-On Deep Learning Robotics Curriculum in High Schools with Jetson Nano" with CAVEDU Education (S32702).
NVIDIA has also launched the Jetson Nano 2GB Developer Kit Grant Program with a goal to further democratize AI and robotics. The new program offers limited quantities of Jetson Developer Kits to professors, educators and trainers across the globe.