From Walmart and Meijer to Domino's and Stitch Fix, innovative retailers and disruptive startups are using AI to streamline logistics and store operations, prevent shrinkage and deliver better shopping experiences both in stores and online.
Deep learning and machine learning algorithms can help cut operational expenses, increase revenue and improve decision making. Just look at the numbers: an Accenture report estimates that AI has the potential to create $2.2 trillion worth of value in retail and wholesale by 2035 by boosting growth and profitability.
We're working with over 170 retail startups that are using NVIDIA GPUs and software libraries to develop disruptive AI technologies. They're building AI applications that perform real-time compute in stores for loss prevention, stockout notification and optimizing product placement.
Four types of AI use cases have demonstrated the greatest business value to retailers so far.
1. Smart Stores
Asset Protection
Retail shrinkage is a hundred-billion-dollar challenge that affects retailers globally. On average, a typical retailer is losing 1.4-2 percent of its sales to shrinkage. For mass merchants, that can add up to billions of dollars.
Theft can happen in the blink of an eye, so it requires quick detection. Point-of-sale asset protection applications from startups such as Everseen, Graymatics, Malong, Signatrix and Third Eye Labs accurately detect ticket switching and mis-scans in real time using GPU-powered intelligent video analytics. They can detect shrinkage with up to 99 accuracy and immediately notify sales associates for intervention.
Store Analytics
Data analytics can help retailers gather intelligence regarding popular store aisles, customer dwell time, the number of unique visitors and customer demographics.
SkyREC, a retail data consulting company, uses NVIDIA Jetson systems to power its AI-based shopper analytics offering. Using it, retailers can understand shopper behavior with demographics, hot spots, cold zones and dwell points.
SkyREC customer Timberland reported 30 percent higher sales revenue due to precision marketing and better store merchandising.
Autonomous Shopping 
The convenience of grab-and-go stores, where customers can use their mobile phones for cashier-less checkout, is jumping in popularity.
Tracxpoint makes grab-and-go shopping carts. Malong and AiFi offer grab-and-go nano-stores. Standard Cognition and VAAK power fully autonomous stores. These autonomous shopping stores reduce costs while delivering a much better and faster shopping experience.
2. Streamline Operations
Store operations management is a fast-paced and complex process. Employees must balance multiple priorities, from accurate demand forecasting and inventory replenishment to faster check-out services, while providing the best customer experience. Yet, one study shows that Americans still wait a cumulative 300 million hours per year in checkout lines.
Software and robotics vendors like Bosa Nova, Fellow Robots and Standard Cognition notify associates of stock out. Companies like Anyvision notify associates when lines are getting long at checkout stands.
The retail giant Kroger is partnering with Nuro for autonomous parcel delivery, which could save people time while delivering goods on demand, safely and affordably. The Nuro R1 driverless delivery vehicle, powered by NVIDIA DRIVE for autonomous vehicle operations, is the focus of a pilot program by Kroger's Fry's Food Store in Arizona.
3. Logistics and Supply Chain Optimization
Logistics and supply chain optimization is another complex process. It includes such things as accurate and fast forecasting, warehouse logistics using computer vision and robots, and truck routing optimization for last-mile delivery.
The stakes are high. According to an Accenture report, for the average Fortune 100 company, a supply chain shortened by just one day frees up anywhere from $50 million to $100 million in cash flow.
The Walmart Labs data science team predicts demand for 500 million item-by-store combinations every week. By performing forecasting with the open-source RAPIDS data processing and machine learning libraries built on CUDA-X AI on NVIDIA GPUs, Walmart speeds up feature engineering 100x and trains machine learning algorithms 20x faster.
Watch how Walmart uses RAPIDS to develop better retail forecasting.
4. 360-Degree View of the Customer 
Understanding customer behavior has never been more critical for retailers looking to drive growth. The consulting firm McKinsey & Company assessed that AI has the potential to create over $600 billion in value, offering unprecedented profitability opportunities in labor-intensive sectors, such as retail.
Combining in-store analytics with online customer behavior enables retailers to better understand customers and their buying preferences and to offer promotions that can drive revenue and deliver better shopping experiences.
Criteo is piloting GPU-powered AI for data analytics to better understand buying habits and predictive search to enable retailers to propose the best products at the best time.
These are the top 10 AI applications for online shopping optimization, according to Gartner survey results.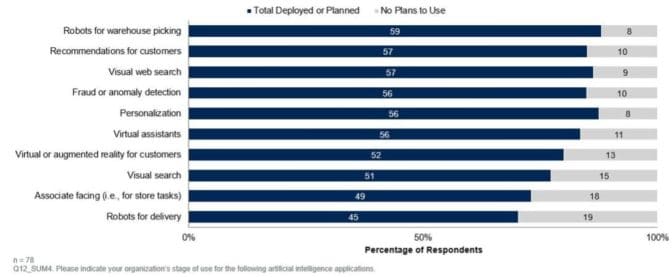 Retailers investing in and using AI can increase their competitiveness and profit margins. Those that don't will join the likes of Toys "R" Us, Blockbuster and others who missed the signs of market disruptions and changes in customer buying behaviors.
See how NVIDIA can help your journey to become a smart retailer using AI on our retail industry web page.