This is the second post in a multi-part series on artists working remotely. Read the first post here, and keep an eye out for additional spotlights in the weeks ahead.
Some of us have found ourselves surrounded in an unexpected work environment when sheltering in place. Finding the right work-life balance can be tricky, especially when you're trying to stay productive to meet deadlines and complete projects.
But with a little practice, you'll reach creative zen in no time. Whether it's by switching up your mornings or taking advantage of remote working benefits.
We asked a few amazing artists how they stay motivated while working remotely — check out some of their best practices that can help you stay inspired, motivated and productive.
Start Your Mornings Off the Right Way 
Now that you're not in the office, you don't have to stick to the routine office hours. Alina Ivanchenko, a 3D artist at Moonstudios, tries to build a schedule that best fits her needs for that day, and it starts with a little brush-up of her skills.
"Sometimes I'll go straight to work, but other times I'll do 40-minute speed painting or speed sculpting sessions to improve my 2D skills in the morning before moving on to my daily tasks," she said.
Ivanchenko has worked in the video game industry for over 10 years and is very familiar with working from home. She uses the MSI P65 Creator 654 with GeForce RTX 2070 graphics to get the speed and power she needs to create art, no matter where she's working from.
Annis Naeem has a similar approach to start his mornings at 7 a.m., except it's a different kind of exercise that gets him mentally prepared to start the day.
"As soon as I wake up, I do 20 pushups to force myself to get out of bed," Naeem said. "I have always had trouble getting up, so 20 pushups means I have to get out of bed immediately."
Naeem, a CG art director at Riot Games, said that without his strict routine, the days would go by too quickly. The exercise helps him get motivated so he can start creating, using his equally powerful Razer laptop with Quadro RTX 5000 graphics.
While some artists fire things up first thing in the morning, others keep a different set of hours. Like Kirill Chepizhko, a 3D artist and industrial designer who has been creating hard surface designs for the past decade. "We all know real artists don't work during the day. We crawl to our desks around 4 p.m. and work well past midnight … or am I the only one?"
"My setup consists of a 32-inch monitor, a 22-inch Cintiq, an old trusty RAT7 mouse, and keyboard," said Chepizhko. "That's about all I really need to get going." His PC includes two GeForce RTX 2080 Ti cards, NVLink and 64GB of RAM to get maximum performance for his creative workflows.
Keep Those Communication Lines Open
When working remotely, there are some days it can feel isolating. That's why regular communication — a sense of connection with others — is a necessary part of any day.
"Most of the time, I stay connected with my friends through chats, Google Hangout sessions and video calls," said Chepizhko. "I think video call meetings at least once a week are a must."
Artist Ben Mauro keeps in touch with his coworkers over apps like Microsoft Teams. Mauro is a senior concept designer and art director who has worked on films like Elysium and The Hobbit trilogy, as well as games from the Call of Duty and Halo franchises.
At home, having two machines set up — a PC and laptop — helps Mauro keep his apps and email open so that he can pick up right where he left off with his coworkers.
"We are connected through Teams while finishing assignments so there is still some level of interaction and camaraderie while at home, even if we aren't all in the office together," said Mauro.
One thing he learned from working remotely: "All those unnecessary meetings really could have been an email!" Mauro said.
Breaks from the Routine
It's easy to get lost in the workday. One minute you're getting started, the next it's nearly time for bed. It's important to find time for other outlets.
Chepizhko, whose digital creations include Star Wars, Transformers and the Halo franchises, takes his creativity to the kitchen. "Cooking is my second favorite thing to do after hard surface modeling," he said.
While cooking is no issue for Chepizhko, there is one thing he would've done differently before everyone started working remotely: "I wish I had a heads-up about it to stock up on coffee and snacks."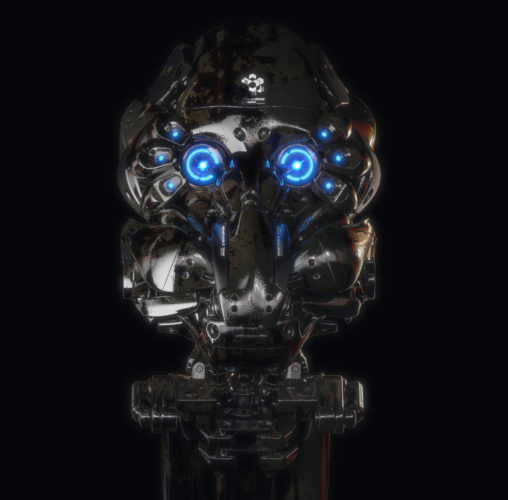 As for Ivanchenko, she actually snacks less now that she is working from home and continues to find ways to maintain a healthy lifestyle.
"I'm that person who reads all food labels and is super conscious about what I'm ordering in the restaurants. That hasn't changed since I went remote," she said. "I take a break to do cardio or exercise around 6 p.m. Don't try to treat it as a 10 a.m. to 7 p.m. office schedule. If you want to stop in the middle of the day to do exercise/yoga or be with loved ones, do it."
While Chepizhko and Ivanchenko turn to cooking, Mauro is using the extra time to work on personal projects, like his graphic novel HUXLEY.
"This is a great time for people to start working on that great story, game, film, book or idea they have been wanting to make, but never had the time," Mauro said.
Don't Be Afraid to Get Social (Media)
Everyone is practicing social distancing, but this doesn't mean we can't explore other ways to be social. Artists turn to social media to do things like stay updated on the latest news, take a quick break during busy work days or just keep in touch with friends, colleagues and fans.
What does Ivachenko do when she needs a little inspiration? "I scroll my Facebook feed," she said. "It's heavily curated and although I like a good meme, I also follow groups on history, costumes, illustrations, classical art and everything that has interested me outside of the CG world."
Chepizhko has a similar approach when it comes to connecting with other artists and keeping the work flowing.
"My favorite social media app is Instagram," he said. "It has been a huge help for discovering new talent, getting new friends and even getting work inquiries."
Mauro usually meets up with other artists at events like LightBox Expo or Comic Con, but now he tries to stay connected over social media. "A lot of my network comes from school, companies, and people I've worked with over the years," he said. "Keeping in touch on Facebook, Artstation, Instagram and Twitter helps a lot."
Appreciate the Little Things
Some folks might get caught up in just trying to get through the day, but that doesn't mean you can't take advantage of a few benefits that come from working remotely — like no more days stuck in traffic during rush hour.
"Not having to commute to the office has saved a lot of time everyday," said Mauro. "Also, I find it's easier to stay focused at home for longer periods of time. You can get 'in the zone' and stay there for longer, uninterrupted blocks of time."
And with extra downtime, you can have more opportunities to do the little things you enjoy.
"The ability to set my own schedule is what I like best about being remote," said Naeem. "Set your schedule and stick to it, because then you'll have time to go for that beautiful afternoon walk, or spend dinner time with your family."
Learn more about laptops that help you work, play and create and other remote work solutions from NVIDIA.