From conducting design reviews to fine-tuning the manufacturing floor, teams and professionals across industries are incorporating extended reality (XR) technologies to improve their workflows.
Now, people can experience the latest in XR by visiting Autodesk's Center of Excellence in Munich, Germany. Visitors will experience the speed and performance of NVIDIA RTX-powered Lenovo workstations and NVIDIA CloudXR technology, and how this powerful combination can enhance a team's work.
These experiences are all powered by NVIDIA RTX A6000 GPUs in Lenovo's ThinkStation P620, which offer a combination of speed, performance and massive memory that allows users to easily handle complex models in photorealistic, immersive environments.
"NVIDIA RTX and CloudXR technologies, combined with Autodesk software, are enabling developers to build and deliver the highest-fidelity visualizations for any immersive experience," said Danny Tierney, automotive design solution specialist at Autodesk. "And using the latest NVIDIA RTX professional GPUs, our customers can stream photorealistic graphics from anywhere — directly to their all-in-one XR headsets or handheld augmented-reality devices."
In addition to NVIDIA RTX and CloudXR, the Center of Excellence includes Lenovo ThinkStation P620, Lenovo Tab P12 Pro and Varjo XR-3 headsets.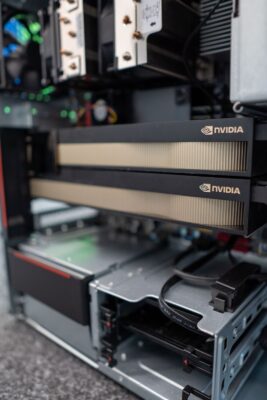 NVIDIA has worked with Autodesk to help users advance XR workflows in many ways, including with CloudXR and Autodesk VRED on Amazon Web Services, which helps teams collaborate on the same virtual models. This lets anyone deploy NVIDIA CloudXR and Autodesk VRED in the cloud to enter a photorealistic, immersive environment and seamlessly interact with large 3D models and scenes.
Autodesk VRED is also using NVIDIA DLSS, a neural graphics technology that multiplies performance using AI to create entirely new frames and display higher resolutions through image reconstruction. With DLSS, teams can smoothly experience the highest-fidelity XR environments.
At Autodesk University 2022, construction company Max Bögl demonstrated Autodesk VRED with NVIDIA CloudXR. The team created an augmented-reality version of a transport system, giving audiences the opportunity to interactively learn about Max Bögl's latest efforts in reducing emissions.
Learn more about NVIDIA XR technologies and register for NVIDIA GTC, a global conference for the era of AI and the metaverse, which takes place online March 20-23. Join to see how companies are using XR to improve design workflows and collaboration.
And don't miss the keynote address by NVIDIA founder and CEO Jensen Huang on Tuesday, March 21, at 8 a.m. PT.