The future of robotics will be on display at the Automatica trade show for smart automation and robotics, taking place this week in Munich, Germany.
Many of the show's demos, powered by NVIDIA and its partners, will feature easy-to-program and no-code robotics solutions that enable anyone to deploy robots in industrial settings.
Europe-based embedded computing distributor Silicon Highway (SHL), a member of the NVIDIA Partner Network, is collaborating with Germany-based robotics software company Wandelbots to demonstrate how an industrial robot communicates with its digital twin in NVIDIA Omniverse, a development platform for connecting and building metaverse applications. Visitors can try out this use case in NVIDIA Isaac Sim, a robotics simulation and synthetic data generation tool built on Omniverse.
Plus, the new Wandelbots Operating System combines virtual and physical robotics environments, helping companies to automate their processes. It's compatible with a wide range of robots, sensors and automation devices, which enables rapid robotics implementation. See the Wandelbots Operating System in action at SHL's Automatica booth 411 in hall B5.
Industrial solutions company Rebotnix's demo will highlight real-time occupational safety and security using an NVIDIA Jetson Orin NX module. Rebotnix will be joining SHL's booth at Automatica.
Also in the SHL booth, Rob Knight from therobotstudio.com will present his HOPE1 series elastic actuator arm, using a lightweight humanoid design integrated in Isaac Sim as a digital twin.
Germany-based robotics company Franka Emika is collaborating with NVIDIA to provide researchers and developers with NVIDIA tools that can seamlessly integrate with their existing robotics platforms. Franka Emika will feature a box-stacking demo in which a digital twin of a Franka Research 3 robot is represented in Isaac Sim alongside the real-world bot. See the demo at booth 421 in hall B4.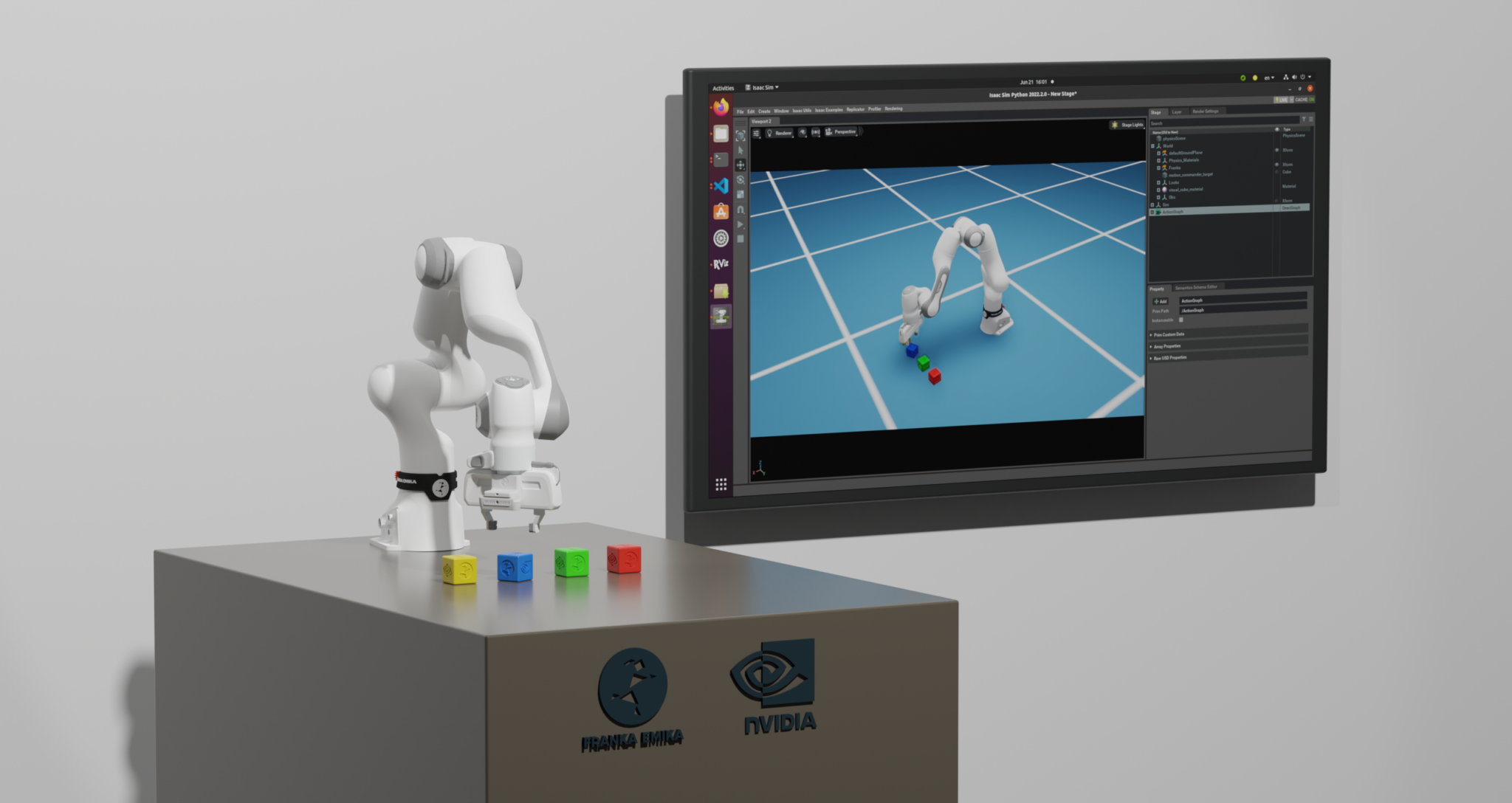 Check out these additional demos at the show:
More Robotics Advancements
Also at the SHL booth, watch a new demo of NVIDIA Isaac AMR, a recently unveiled platform that enables next-generation fleets of autonomous mobile robots, or AMRs, by offering advanced mapping, autonomy and simulation capabilities. Customers can now apply for early access to Isaac AMR.
In addition, robotics software company Cogniteam recently set up a multi-robot simulation scenario using its Nimbus platform and NVIDIA Isaac Sim. The setup offered capabilities such as local simulation tasks, remote access to simulation machines, global monitoring of simulation data and more — all accessible through a web browser. Read more in this technical blog.
Also using Isaac Sim, READY Robotics offers no-code software providing a drag-and-drop experience for anyone — even those without programming skills — to build and deploy robots. Learn more in this blog and in the video below.
Meet with NVIDIA representatives at SHL's booth 411 in hall B5 at Automatica, running June 27-30, and learn more about the NVIDIA Isaac robotics platform. 
Featured image courtesy of Wandelbots.