As the birthplace of the automobile, Germany — the location of next month's GTC Europe — is the ideal backdrop to map out the future of mobility and transportation.
Global automotive and tech leaders will gather at the event in Munich on Oct. 9-11 to share insights, engage in AI training and show off innovations in autonomous driving. The latest autonomous driving concepts will also be on display, with vehicle exhibitions and demos.
The show's more than 3,000 attendees will get a sneak peek from dozens of speakers, demos and hands-on classes into how autonomous driving technology will move from R&D to the Autobahn.
Hear from Experts on Autonomy's Front Line
From design to business strategy to engineering, GTC Europe speakers will give updates on their AV technology development and how they're preparing for deployment. A few session highlights:
Michael E. Hafner, head of automated driving at Daimler, will explore safety aspects in the development of autonomous vehicles.
Ivo Muth, vice president of user experience at Audi, will describe how advances in in-vehicle AI are influencing the development of automotive interiors.
Christian Schumacher, vice president of program management systems at Continental, will provide an overview of the supplier's autonomous driving strategy, as well as plans for using simulation for platform validation.
Stan Boland, CEO of Five AI, will detail how the robotaxi startup is developing its self-driving driving platform and its plans to deploy a shared autonomous vehicle fleet.
Gareth Rogers, head of design at BMW Group, will discuss how the automaker is using immersive VR in the design process for its next generation of vehicles.
See the Future on the Show Floor
With renowned automotive exhibitors showing production vehicles, prototypes and technology demos, all it takes is a walk across the GTC Europe show floor to see the future of transportation.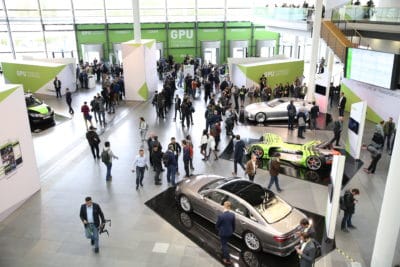 From high-tech luxury from automakers such as Porsche, Mercedes-Benz and Audi to innovators for new mobility solutions, including share2drive and Einride, autonomous vehicles of all shapes and sizes will be represented.
Driverless vehicles with a need for speed can also be found at the event — autonomous racing company Roborace will be exhibiting its Robocar racecar and DevBot racing development vehicle. Academic and research partners such as Fraunhofer and Virtual Vehicle will showcase their autonomous vehicles in live demos.
Learn from the Best
Take advantage of the AI resources at GTC Europe to learn more about deep learning for autonomous driving. NVIDIA will host a Deep Learning Institute lab at the conference focused on how to design, train and deploy deep neural networks for self-driving cars, with a focus on vehicle perception.
Register for GTC Europe and check out the upcoming stops on the 2018 GTC world tour in Israel and Washington, D.C.