Editor's note: This post is part of our weekly In the NVIDIA Studio series, which celebrates featured artists, offers creative tips and tricks, and demonstrates how NVIDIA Studio technology improves creative workflows. We're also deep diving on new GeForce RTX 40 Series GPU features, technologies and resources, and how they dramatically accelerate content creation.
A diverse range of artists, fashionistas, musicians and the cinematic arts inspired the creative journey of Pedro Soares, aka Blendeered, and helped him fall in love with using 3D to create art.
Now, the Porto, Portugal-based artist uses his own life experiences and interactions with people, regardless of their artistic background, to realize his artistic vision.
Enamored by Japanese culture, Blendeered sought to make a representation of an old Japanese temple, dedicated to an animal that has consistently delivered artistic inspiration — the mighty wolf. The result is Japanese Temple Set, a short animation that is the subject of this week's edition of In the NVIDIA Studio, built with Blender and Blackmagic Design's DaVinci Resolve.
In addition, get a glimpse of two cloud-based AI apps, Wondershare Filmora and Trimble SketchUp Go, powered by NVIDIA RTX GPUs, and learn how they can elevate and automate content creation.
Finally, the #SetTheScene challenge has come to an end. Check out highlights from some of the many incredible submissions.
Thank you to everyone who participated in the #SetTheScene challenge! 🎨🖌️

We were blown away by your creativity and artistic skill. ✨

Stay tuned next Monday for the launch of our next community challenge. 👀 pic.twitter.com/hARW2Z8glQ

— NVIDIA Studio (@NVIDIAStudio) July 3, 2023
An AI on the Future
Week by week, AI becomes more ubiquitous within the content creation workflows of aspiring artists and creative professionals. Those who own NVIDIA or GeForce RTX GPUs can take advantage of Tensor Cores that utilize AI to accelerate over 100 apps. For others yet to upgrade and seeking more versatility, NVIDIA is working with the top creative app publishers to accelerate their apps on RTX GPUs from the cloud.
Take the Wondershare Filmora app, which creators can use to capture and touch up video on their mobile devices. They can, for example, add photos and transform them into an animated video with the app's AI Image feature. Those with a PC powered by RTX GPUs can send files to the Filmora desktop app and continue to edit with local RTX acceleration, such as by exporting video at double the speed with dual encoders on RTX 4070 Ti or above GPUs.
With the Trimble SketchUp Go app, architects can design structures on any device — such as an iPad —  without loss in performance thanks to RTX acceleration in the cloud. Projects can be synced in the cloud using Trimble Connect, allowing users to refine projects on their RTX-powered PC using the SketchUp Pro app. There's even an Omniverse Connector for Trimble, enabling SketchUp Pro compatibility with all apps on NVIDIA Omniverse, a development platform for connecting and building 3D tools and applications.
Hungry Like the Wolf 
To gather inspiration, and reference materials, to fuel his Japanese temple project, Blendeered browsed Google, Pinterest and PureRef, a stand-alone app for creating mood boards. He sought wolf-inspired and Japanese open-source 3D assets to enrich the scene he envisions before modeling.
"Little details in the scene are a celebration of wolves, for example, the paintings on the ceiling and the statues," said Blendeered. "I did this scene with the goal of invoking calm and relaxing emotions, giving people a moment to breathe and catch their breath."
Work began in Blender with the block-out phase — creating a rough-draft level built using simple 3D shapes, without details or polished art assets. This helped to keep base meshes clean, eliminating the need to create new meshes in the next round, which required only minor edits.
Blender is the most popular open-source 3D app in the world as it supports the entirety of the 3D pipeline. Blendeered uses it to apply textures, adjust lighting and animate the scene with ease.
"Blender, my ultimate 3D app, captivates with its friendly interface, speed, power, real-time rendering, diverse addons, vibrant community, and the best part — it's free!" said Blendeered, whose moniker underscores his enthusiasm.
Aided by his NVIDIA Studio laptop powered by GeForce RTX graphics, Blendeered used RTX-accelerated OptiX ray tracing in the viewport for interactive, photoreal rendering for his modeling and animation needs.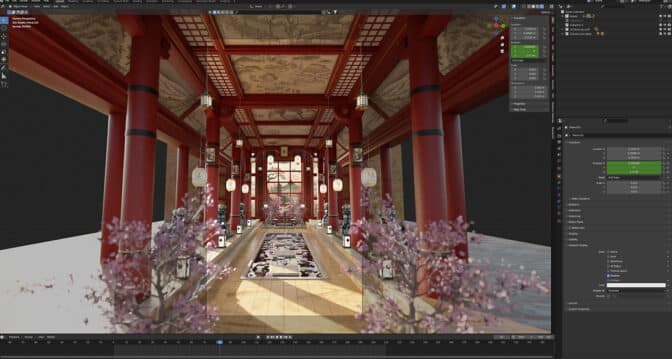 "GPU acceleration for real-time rendering in Blender helps a lot by allowing instant feedback on how scenes look and what needs to be changed and improved," said the artist.
With final renders ready, Blendeered accessed the Blender Cycles renderer and OptiX ray tracing to export final frames quickly, importing the project into DaVinci Resolve for post-production.
Here, his RTX card was put to work again, refining the scene with GPU-accelerated color grading, video editing and color scopes.
The GPU-accelerated decoder (NVDEC) unlocked smoother playback and scrubbing of high-resolution and multistream videos, saving Blendeered massive amounts of time.
Blendeered had numerous RTX-accelerated AI-effects at his disposal, including Cut Scene Detection for automatically tagging clips and tracking of effects, SpeedWarp for smooth slow motion, and seamless video Super Resolution. Even non-GPU-powered effects such as Neural Engine text-based editing can prove to be tremendously useful.
Once satisfied with the animation, Blendeered used the GPU-accelerated encoder (NVENC) to speed up the exporting of his video.
Reflecting on the role his GPU had to play, Blendeered was matter-of-fact: "I chose a GeForce RTX-powered system because of the processing power and compatibility with the software I use."
View Blendeered's portfolio on blendeered.com.
Follow NVIDIA Studio on Instagram, Twitter and Facebook. Access tutorials on the Studio YouTube channel and get updates directly in your inbox by subscribing to the Studio newsletter.