Editor's note: This post is part of our weekly In the NVIDIA Studio series, which celebrates featured artists, offers creative tips and tricks, and demonstrates how NVIDIA Studio technology improves creative workflows. We're also deep diving on new GeForce RTX 40 Series GPU features, technologies and resources, and how they dramatically accelerate content creation.
AI-powered technology in creative apps, once considered nice to have, is quickly becoming essential for aspiring and experienced content creators.
Video editor Patrick Stirling used the Magic Mask feature in Blackmagic Design's DaVinci Resolve software to create a custom effect that creates textured animations of people, this week In the NVIDIA Studio.
"I wanted to use 'Magic Mask' to replace subjects with textured, simplified, cut-out versions of themselves," said the artist. "This style is reminiscent of construction-paper creations that viewers might have played with in childhood, keeping the energy of a scene while also pulling attention away from any specific features of the subject."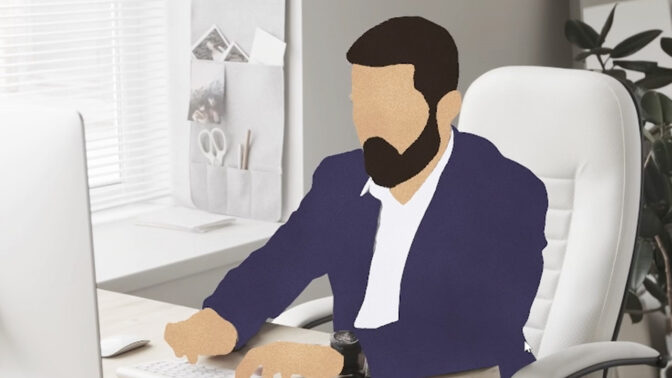 Stirling's original attempts to implement this effect were cut short due to the limitations of his six-year-old system. So Stirling built his first custom PC — equipped with a GeForce RTX 4080 GPU — to tackle the challenge. The difference was night and day, he said.
"I was able to find and maintain a creative flow so much more easily when I didn't feel like I was constantly running into a wall and waiting for my system to catch up," said Stirling.
"While the raw power of RTX GPUs is incredible, the work NVIDIA does to improve working in DaVinci Resolve, specifically, is really impressive. It's extremely reassuring to know that I have the power to build complex effects." — Patrick Stirling
The AI-powered Magic Mask feature, which allows quick selection of objects and people in a scene, was accelerated by his RTX 4080 GPU, delivering up to a 2x increase in AI performance over the previous generation. "The GPU also provides the power the DaVinci Neural Engine needs for some of these really cool effects," said Stirling.
Stirling opened a short clip within the RTX GPU-accelerated Fusion page in DaVinci Resolve, a node-based workflow with hundreds of 2D and 3D tools. Nodes are popular as they make video editing a completely procedural process — allowing for non-linear, non-destructive workflows.
He viewed edits in real time using two windows opened side by side, with original footage on the left and node modifications on the right.
Stirling then drew blue lines to apply Magic Mask to each surface on the subject that he wanted to layer. As its name suggests, Magic Mask works like magic, but it's not perfect. When the effect masked more than the extended jacket layer, Stirling drew a secondary red line to designate what not to capture in that area.
He applied similar techniques to the dress shirt, hands, beard, hair and facial skin. The artist then added generic colored backgrounds with Background nodes on each layer to complete his 2D character.
Stirling used Merge nodes to combine background and foreground images. He deployed the Fast Noise node to create two types of textures for the 2D man and the real-life footage, providing more contrast for the visual.
Stirling then added a color corrector to tweak saturation, his RTX GPU accelerating the process. He completed his video editing by combining the Magic Mask effect and all remaining nodes — Background, Merge and Fast Noise.
When it's time to wrap up the project, Stirling can deploy the RTX 4080 GPU's dual AV1 video encoders — which would cut export times in half.
Stirling encourages aspiring content creators to "stay curious" and "not ignore the value of connecting with other creative people."
"Regularly being around people doing the same kind of work as you will constantly expose new methods and approaches for your own creative projects," he said.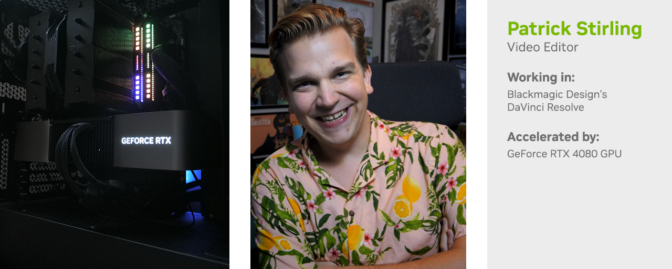 Check out Stirling's YouTube channel for DaVinci Resolve tutorials.
Follow NVIDIA Studio on Instagram, Twitter and Facebook. Access tutorials on the Studio YouTube channel and get updates directly in your inbox by subscribing to the Studio newsletter.