What began as two classmates getting their hands dirty at a farm in the French Alps has hatched a Silicon Valley farming startup building robots in Detroit and operating in one of the world's largest agriculture regions.
San Francisco-based FarmWise offers farmers an AI-driven robotic system for more sustainable farming methods, and to address a severe labor shortage. Its machines can remove weeds without pesticides — a holy grail for organic farmers in the Golden State and elsewhere.
FarmWise's robotic farming machine runs 10 cameras, capturing crops and weeds it passes over to send through image recognition models. The machine sports five NVIDIA GPUs to help it navigate and make split-second decisions on weed removal.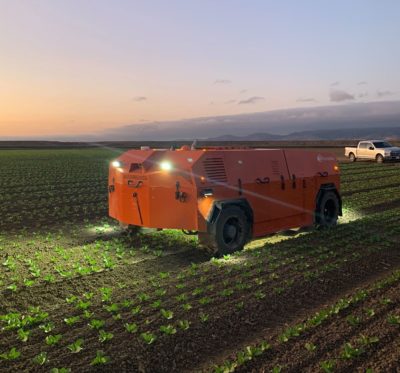 The company is operating in two of California's agriculture belts, Salinas and San Luis Obispo, where farms have its machines deployed in the field.
"We don't use chemicals at all — we use blades and automate the process," said Sebastien Boyer, the company's CEO. "We're working with a few of the largest vegetable growers in California."
AI has played an increasing role in agriculture as researchers, startups and public companies alike are plowing it for environmental and business benefits.
FarmWise recently landed $14.5 million in Series A funding to further develop its machines.
Robotics for Weed Removal
It wasn't an easy start. Boyer and Thomas Palomares, computer science classmates from France's Ecole PolyTechnique, decided to work on Palomares's family farm in the Alps to try big data on farming. Their initial goal was to help farmers use information to work more sustainably while also improving crop yields. It didn't pan out as planned.
The two discovered farms lacked the equipment to support sustainable methods, so they shelved their idea and instead packed their bags for grad school in the U.S. After that, the friends came back to their concept but with a twist: using AI-driven robotic machinery.
"We decided to move our focus to robotics to build new types of agriculture machines that are better-suited to take advantage of data," Boyer said. "Weed removal is our first application."
In April, FarmWise began manufacturing its farm machines. It tapped custom automotive parts maker Roush, which serves Detroit and has built self-driving vehicle prototypes for the likes of Google.
FarmWise for Labor Shortage
Farm labor is in short supply. A California Farm Bureau Federation survey of more than 1,000 farmers found that 56 percent were unable to hire sufficient labor to tend their crops in the past five years.
Of those surveyed, 37 percent said they had to change their cultivation practices, including by reducing weeding and pruning. More than half were already using labor-saving technologies. Not to mention that weeding is often back-breaking work.
FarmWise helps fill this void. The company's automated weeders can do the labor of 10 workers. And it can work 24/7 autonomously.
"We're filling the gaps of missing people, and those tasks that aren't getting done — and we're offering an alternative to chemical herbicides," said Boyer, adding that weed management is crucial for crop yields.
When farms can't get back-breaking weeding covered, they turn to herbicides as an alternative. FarmWise can help to reduce that. Plus, there's a financial incentive: medium-size California farms can expect to save as much as $500,000 a year on pesticides and other costs by using FarmWise, he said.
Training Autonomous Farming Machines
To help farmers, FarmWise AI recognizes the difference between weeds and plants, and its machines can make 25 cuts per second to remove weeds. Its NVIDIA GPU-powered image networks recognize 10 different crops and can spot the typical weeds of California and Arizona.
"As we operate on fields, we continuously capture data, label that data and use it to improve our algorithms," said Boyer.
FarmWise's weeding machines are geo-fenced by uploading maps of the fields. The onboard cameras can be used as an override for safety to stop the machines.
The 30-person company attracted recruits to its sustainable farming mission from SpaceX, Tesla, Cruise and Facebook as well as experts in farm machine design and operations, said Boyer.
Developing machines for farms, said Boyer, requires spending time in the field to understand the needs of farmers and translating their ideas into technology.
"We're a group of engineers with very close ties to the farming community," he said.