Imagine you're sitting in Discord chat, telling your buddies about the last heroic round of your favorite game, where you broke through the enemy's defenses and cinched the victory on your own. Your friends think you're bluffing and demand proof.
With GeForce NOW's content capture tools running automatically in the cloud, you'll have all the proof you need.
GeForce NOW members streaming with the native PC and Mac apps can take advantage of tools that let them customize the look of their game, compose the perfect in-game photo and even record every epic game-winning moment. And when you're ready to show your victory to the world, reviewing the clips and putting together the ultimate highlight reel is just a keystroke away.
Never Miss a Moment
NVIDIA Highlights enables automatic capture of key gaming moments, from clutch takedowns to match-winning plays.
Highlights is supported in popular GeForce NOW titles such as Apex Legends, Destiny 2 and Rocket League. NVIDIA works closely with these game developers to integrate Highlights and choose the variety of highlight types.
Furthermore, by developing smart pattern and image recognition technology in cloud servers, we can also detect key moments in additional GeForce NOW games. When one of those moments is detected, like a game-winning kill, Highlights saves the clips to your local hard drive for future review or sharing.
For the complete list of supported games, open the GeForce NOW app, click the search bar and search for "Highlights."
Turning on Highlights is easy: when members first launch a supported game, they're prompted to enable it and select the game-specific moments they want to capture.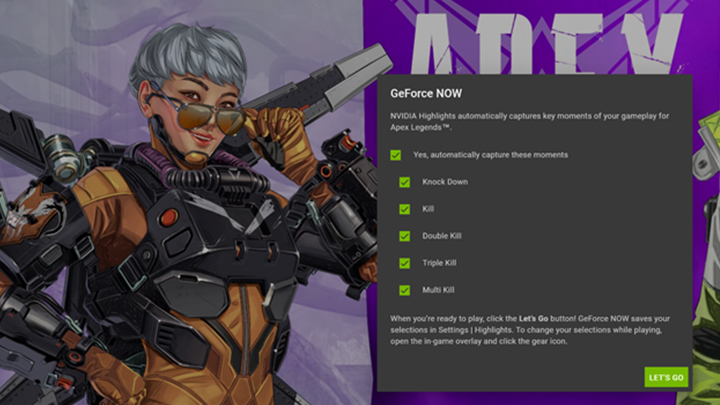 Selecting or deselecting these moments, and toggling Highlights on or off, can also be done from the GeForce NOW in-game overlay.
Hit the command Ctrl + G on PC, or Cmd + G on Mac, and the overlay will appear on the left hand side of the display.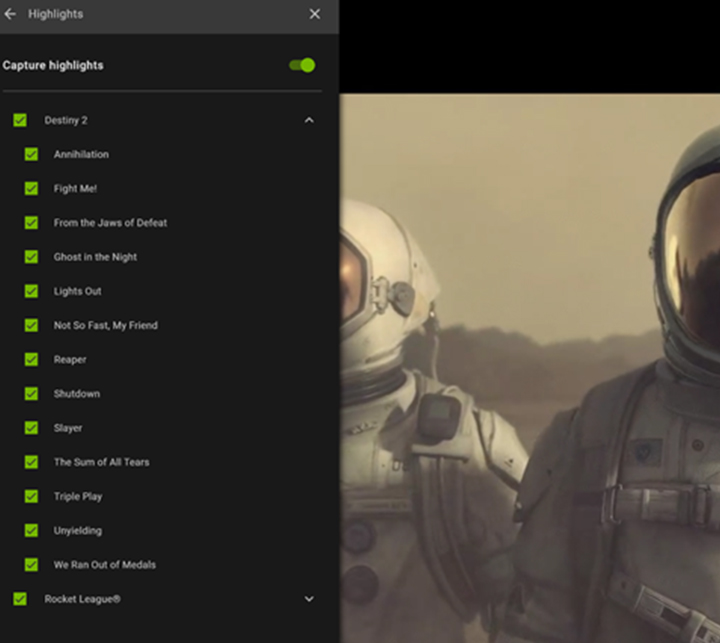 Want more control over clips? The in-game overlay also lets members manually record moments. All that's left is to start gaming! During gameplay when key moments happen, Highlights will automatically record them, giving gamers proof of bragging rights to share with friends.
Your Game, Your Look
Ever explore ancient Greece in Assassin's Creed Odyssey and think, "This would look gorgeous in a sepia tone"? Enter NVIDIA Freestyle: a collection of post-processing filters that lets members dramatically change how graphics look during sessions.
With Freestyle, members can control the brightness and contrast of games independent of in-game settings, which is perfect for when a dark, spooky game gets a little too intense. Filters can enhance blurry edges, add depth of field for a more cinematic moment, turn epic boss fights into watercolor-painted moments, apply HDR on the fly, and much more.
Want to add emojis to dramatic cutscenes? It's an option. We won't judge. That hard.
Nearly all GeForce NOW games support Freestyle and can be enabled in game through the overlay. Here, members can configure up to three preset styles using a variety of filters.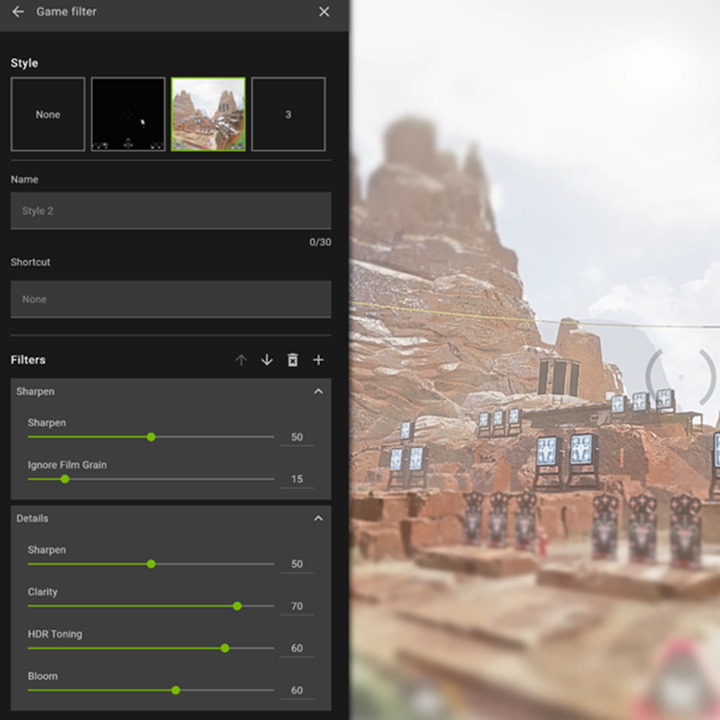 Capture vibrant screenshots with Freestyle filters by typing shortcut commands (Ctrl + 1 / Cmd + 1) or manually in the in-game overlay.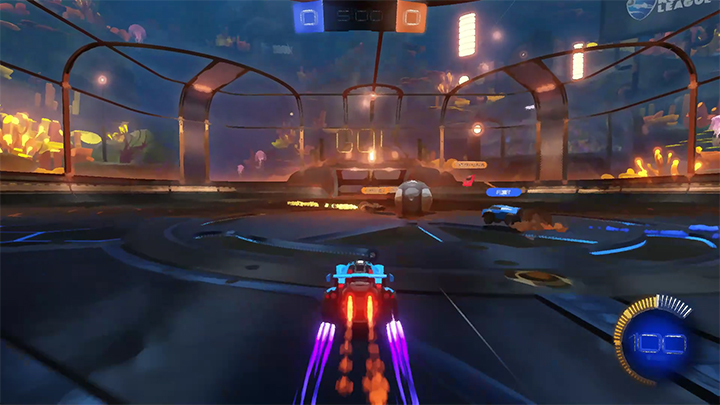 Titles that support both NVIDIA Highlights and Freestyle can capture gameplay video with filters turned on, for even more colorful and artistic videos.
The Perfect Highlight Reel
Using NVIDIA Highlights and existing video clips, members can create custom highlight videos to show off their favorite gaming moments with NVIDIA Montage.
To begin, open the GeForce NOW app, click the hamburger menu in the top-left corner of the screen and select Gallery. From there, select the video clips you want to use.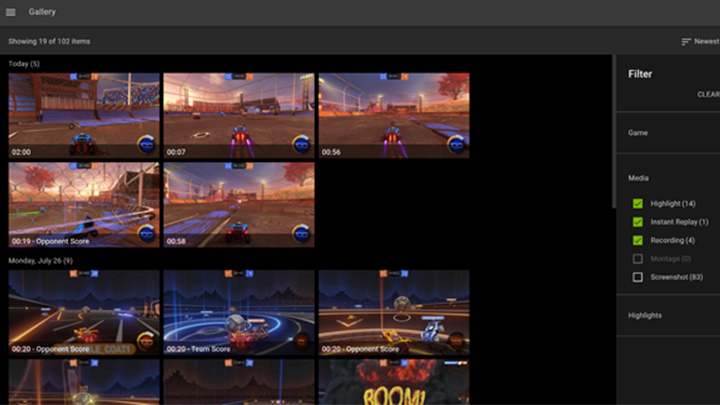 Once multiple videos are selected, click on the Montage button in the top right corner of the green bar. This will generate a preview where members can review the clips within the montage, remove unwanted sections, add a title and select animations.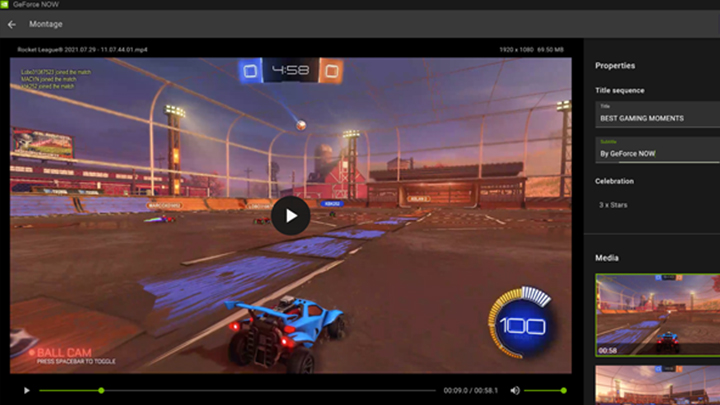 Once everything is set, click on Create to export the montage.
The exported video can be shortened by clicking on Edit, then using the editing arrows on the timeline to shorten as needed. Click Save once done and the montage will either save over the original or as a new clip.
That's it. The montage along with additional videos and screenshots are ready to be shared with friends.
The file location for all the great montages, and any other UGC that's been created, can be found by navigating to the in-game overlay, then clicking on the settings icon and selecting Files and disk space.
Get Into the Game … Overlay
Here members get a preview of recent user-generated content in the Gallery, record video, take screenshots, toggle the microphone and provide feedback.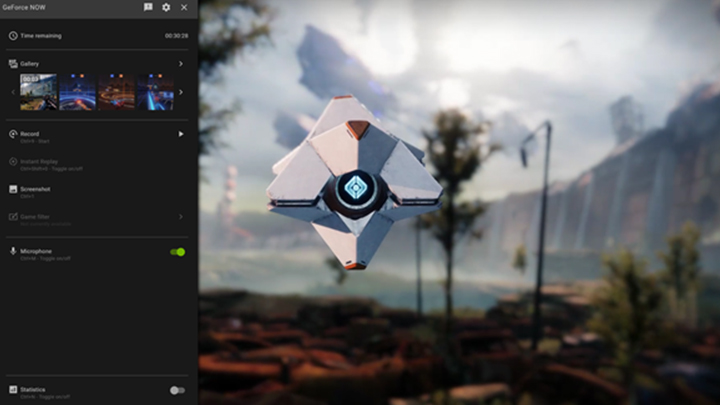 To further customize gameplay, click on the gear icon. Two of the most useful selections are Shortcut controls and Heads up display.
Shortcut controls gives gamers instant access to features like recording, capturing, game filters and more with a simple command. Most shortcuts are customizable.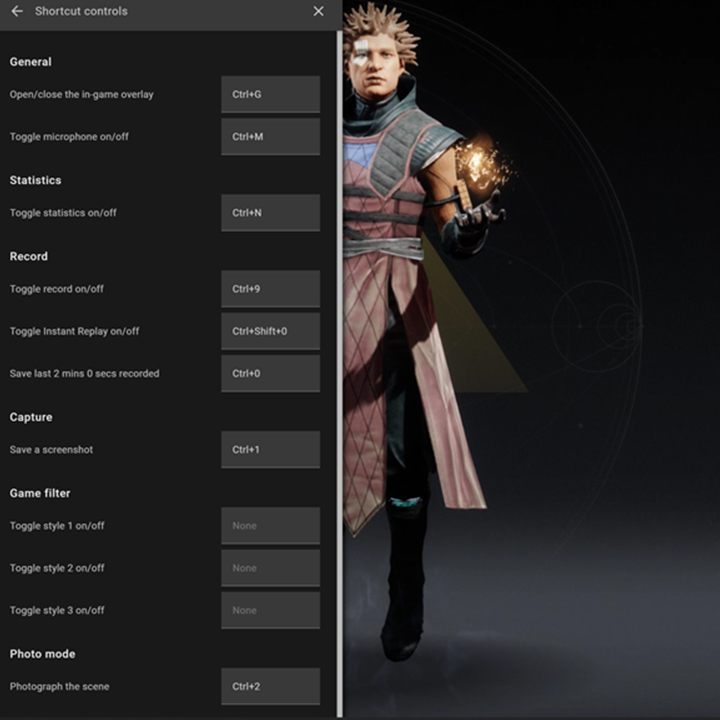 To change a shortcut, click inside the command field, type an alternative shortcut in and hit enter to save.
Meanwhile, Heads up display provides options to add more information to the heads up display, or HUD, during live gameplay.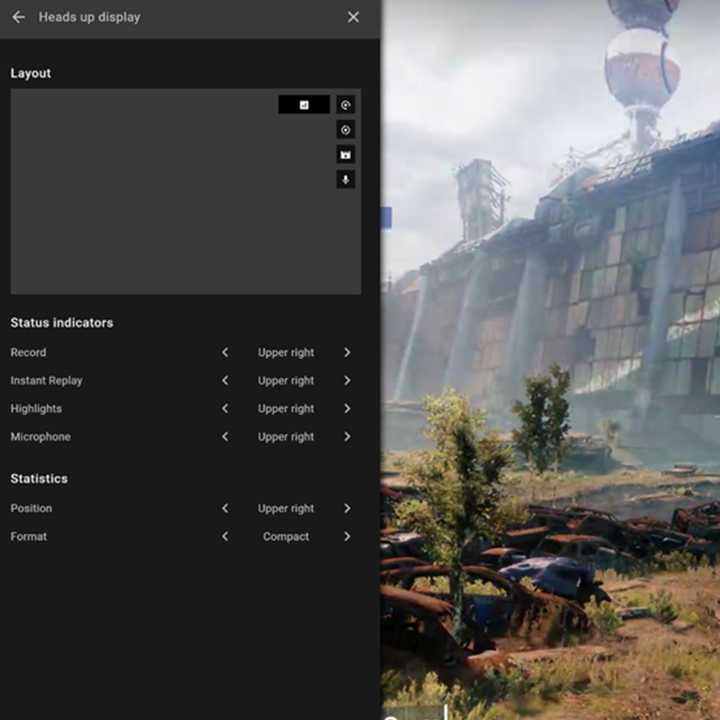 This includes options such as Record, where the user can see if recording is taking place; Microphone, showing if the microphone is on; and so on.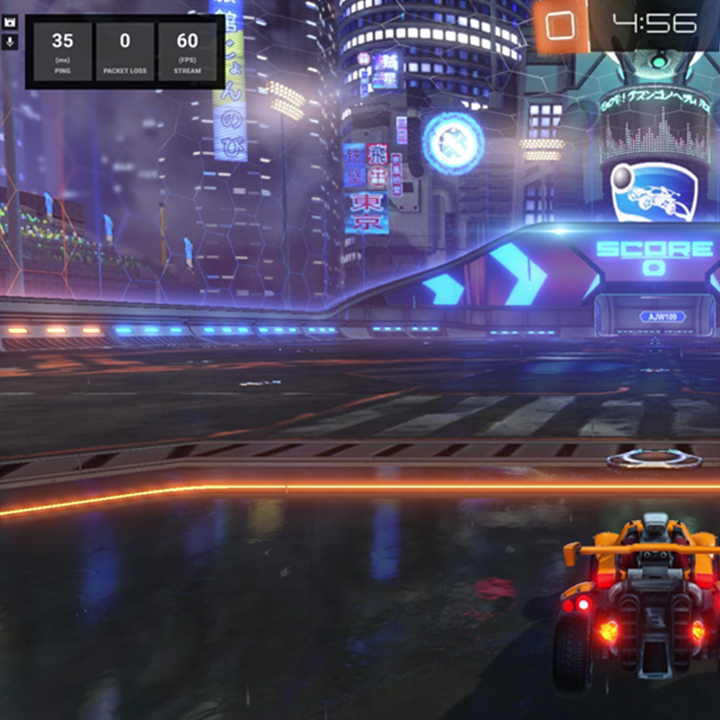 We recommend taking five minutes to explore all the unique customization options in GeForce NOW.
As GeForce NOW is in the cloud, all in-game overlay and content creation features are automatically updated behind the scenes and instantly accessible, with no setup required.
Now that you're a pro, what will you capture today?
Follow GeForce NOW on Facebook and Twitter and check out the GeForce NOW blog every GFN Thursday to stay up to date on the latest features and game launches.