The verdict is in: A GeForce NOW Ultimate membership raises the bar on gaming. Members have been tackling the Ultimate KovvaK's challenge head-on and seeing for themselves how the power of Ultimate improves their gaming with 240 frames per second streaming.
The popular training title that helps gamers improve their aim fully launches in the cloud this week alongside a limited-time discount on Steam. KovaaK's leads over 20 new games joining the GeForce NOW library this week.
Gamers Take Their Best Shot at QuakeCon
Droves of PC gaming fans converged at the GeForce NOW Lounge at QuakeCon over the weekend to take on the Ultimate KovaaK's challenge. Attendees were among the first to play a custom GeForce NOW KovaaK's demo — first on a free membership and then with 240 fps streaming on an Ultimate membership.
And it was clear just how much streaming from a GeForce RTX 4080 gaming rig changes the game. Over 58,000 sessions have been completed since the start of the challenge, and participants immediately saw their gaming scores improve by 1.6x just from playing on an Ultimate membership.
Attendees played for top placement on the QuakeCon leaderboard to win both bragging rights and some ultimate prizes. The top three slots on the leaderboard on each of the three days of the show, as well as the top overall slots were dominated by those using an Ultimate membership. Here's what a few of them they had to say about Ultimate:
"This [Ultimate Tier] is a lot smoother — the responsiveness is great." – David G.

"… there is so much clarity [with the Ultimate tier]" – Gordan M.
Raisy, a professional Quake champion player and second on the QuakeCon leaderboard, also weighed in on the Ultimate tier: "The smoother the gameplay, the better the experience."
And Garrett "KovaaK" Krutilla, the co-founder and director of FPS design from The Meta, the developer of KovaaK's, said: "The Ultimate membership provides a perfect place to train up on KovaaK's, with access to powerful GeForce RTX 4080 servers for 240 fps streaming and ultra-low latency from NVIDIA Reflex. The scores that top players are getting on Ultimate prove that NVIDIA has made cloud gaming completely viable for competitive gamers in the FPS space."
Members can still play the challenge at home. Each week, the leaderboard will reset for members to compete for the top three slots to win a six-month GeForce NOW Ultimate membership and a $100 Steam gift card. At the end of the challenge on Thursday, Sept. 21, the top three overall scorers will win:
First place: ASUS ROG Swift 240Hz monitor
Second place: ASUS Chromebook Vibe CX34 Flip
Third place: ASUS ROG Azoth and ROG Gladius III keyboard + mouse bundle
Upgrade to Ultimate today for the best performance in the cloud, up to eight-hour gaming sessions and exclusive access to RTX 4080 servers in the cloud.
Aiming for the Clouds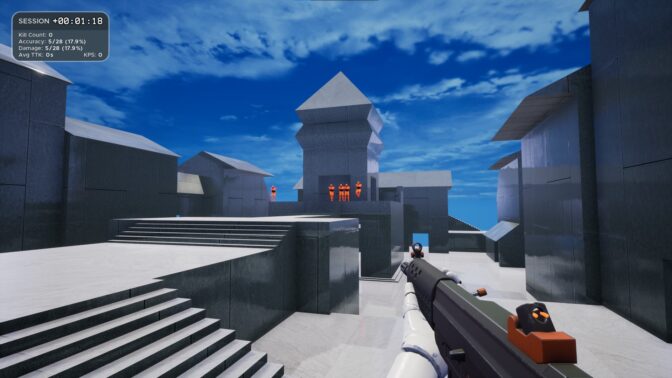 Members can now experience KovaaK's in its entirety, now available for members to stream from the cloud.
Dominate every first- and third-person shooter game by training with KovaaK's. Trusted by top pros, streamers and other gamers, the incredibly latency-sensitive aim trainer features over 175,000 player-created scenarios and shareable playlists, infinite customization options and cloned game physics. Members can even share their stats and achievements on KovaaKs.com.
The cherry on top: Members can level up with KovaaK's at a 30% discount until Thursday, Aug. 21. Grab it today and train for more competitive gaming in the cloud. Pair it with an Ultimate membership for a 240 fps advantage and get used to being called a human aimbot.
The Cloud Is Buzzing
A new week brings more games to buzz about.
Experience the mad and macabre in The Texas Chain Saw Massacre from Sumo Digital and Gun Interactive. Take on the role of a notorious Slaughter family member or one of their victims in this third-person, asymmetrical horror experience based on the iconic 1974 film. Victims must use their wits and stealth to stay out of the family's reach while Slaughter family players must track down and stop their guests from escaping. It launches day and date in the cloud this week.
Wayfinder is a new online action role-playing game from Airship Syndicate and Digital Extremes. Harness the power of a Wayfinder to control the chaos overrunning the world of Evenor. Wield a variety of unique abilities, from ebbing arcane magic and lethal melee to mystical tech. Wayfinders are stronger together, so grab a couple of buddies and stream together.
And Genshin Impact's new Version 4.0 is now available to stream. Say hello to the long-awaited Nation of Hydro region Fontaine — a whole new area for travelers to explore — as well as new characters, weapons, artifacts and more. Play it from the cloud without worrying about system specs or hard drive space.
Members can look forward to the 22 new games joining this week:
This week's Game On giveaway with SteelSeries includes Genshin Impact in-game rewards and three-day Priority membership codes. Check the giveaway page for details on how to enter.
Where are you in the leaderboard for the Ultimate KovaaK's challenge ? Let us know your answer on Twitter or in the comments below.
We aim to please. 🎯

Share your current #GFNUltimateChallenge high score below! 👇

— 🌩️ NVIDIA GeForce NOW (@NVIDIAGFN) August 16, 2023