The future of cloud gaming is available NOW, for everyone, with preorders closing and GeForce NOW RTX 3080 memberships moving to instant access. Gamers can sign up for a six-month GeForce NOW RTX 3080 membership and instantly stream the next generation of cloud gaming, starting today.
Snag the NVIDIA SHIELD TV or SHIELD TV Pro for $20 off and stream PC games to the biggest screen in the home at up to 4K HDR resolution.
Participate in a unique cloud-based DAF Drive, powered by GeForce NOW and Euro Truck Simulator 2.
And check out the four new titles joining the ever-expanding GeForce NOW library this week.
RTX 3080 Memberships Available Instantly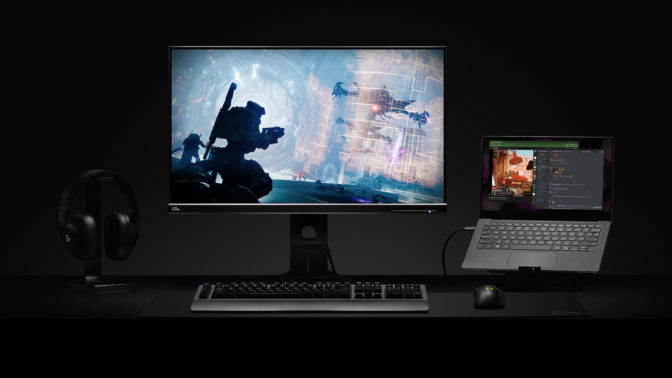 Make the leap to the newest generation of cloud gaming instantly. GeForce NOW RTX 3080 memberships are available today for instant access. Preorders poof, be gone!
The new tier of service transforms nearly any device into a gaming rig capable of streaming at up to 1440p resolution and 120 frames per second on PCs, native 1440p or 1600p at 120 FPS on Macs, and 4K HDR at 60 FPS on SHIELD TV, with ultra-low latency that rivals many local gaming experiences. On top of this, the membership comes with the longest gaming session length — clocking in at eight hours — as well as full control to customize in-game graphics settings, and RTX ON rendering environments in cinematic quality in supported games.
Level up your gaming experience to enjoy the GeForce NOW library of over 1,100 games with the boost of a six-month RTX 3080 membership streaming across your devices for $99.99. Founders receive 10 percent off the subscription price and can upgrade with no risk to their "Founders for Life" benefits.
For more information, check out our membership FAQ.
The Deal With SHIELD
The GeForce NOW experience goes legendary, playing in 4K HDR exclusively on the NVIDIA SHIELD — which is available with a sweet deal this holiday season.
Just in time for the holidays, give the gift of great entertainment at a discounted price. Starting Dec. 13 in select regions, get $20 ($30 CAD, €25, £20) off SHIELD TV and SHIELD TV Pro. But hurry, this offer ends soon! And in the U.S., get six months of Peacock Premium as an added bonus, to enrich the entertainment experience.
With the new GeForce NOW RTX 3080 membership, PC gamers everywhere can stream with 4K resolution and HDR on the SHIELD TV, bringing PC gaming to the biggest screen in the house. Connect to Steam, Epic Games Store and more to play from your library, find new games or check out the 100+ free-to-play titles included with a GeForce NOW membership.
Customize play even further with your preferred gaming controller by connecting SHIELD TV with Xbox One, Series X, PlayStation DualSense or DualShock 4 and Scuf controllers and bring your gaming sessions to life with immersive 7.1 surround sound.
Roll On Into the Ride and Drive
GeForce NOW is powering up new experiences with SCS Software by supporting a unique DAF Drive experience. It adds the New Generation DAF XF to the popular game Euro Truck Simulator 2 and gives everyone the opportunity to take a virtual test drive through a short and scenic route, streaming with GeForce NOW. Take the wheel of one of the DAF Truck vehicles, instantly, on the DAF virtual experience website.
Coming in tow is a free in-game content update to the full Euro Truck Simulator 2 game, which brings the 2021 DAF XF to players. Ride in style as you travel across Europe in the newest truck, test your skill and speed, deliver cargo and become king of the road, streaming on the cloud.
Moar Gamez Now & Later, Plz
Late last week a pair of games got big GeForce NOW announcements, GTFO and ARC Raiders.
GTFO is now out of early access. Jump on into this extreme cooperative horror shooter that requires stealth, strategy and teamwork to survive a deadly, underground prison.
ARC Raiders, a free-to-play cooperative third-person shooter from Embark Studios, is coming to GeForce NOW in 2022. In the game, which will be available on Steam and Epic Games Store, you and your squad of Raiders will unite to resist the onslaught of ARC – a ruthless mechanized threat descending from space.
Plus, slide on into the weekend with a pack of four new titles ready to stream from the GeForce NOW library today:
We make every effort to launch games on GeForce NOW as close to their release as possible, but, in some instances, games may not be available immediately.
Grab a Gift for a Gamer
Looking to spoil a gamer or yourself this holiday season?
Digital gift cards for GeForce NOW Priority memberships are available in two-, six- or 12-month options. Make your favorite player happy by powering up their GeForce NOW compatible devices with the kick of a full gaming rig, priority access to gaming servers, extended session lengths and RTX ON for supported games.
Gift cards can be redeemed on an existing GeForce NOW account or added to a new one. Existing Founders and Priority members will have the number of months added to their accounts.
As your weekend gaming session kicks off, we've got a question for you:
what game on GFN 𝙙𝙚𝙨𝙚𝙧𝙫𝙚𝙨 to be played in 4K HDR on a big screen? 📺

and yes, you're allowed to put a top 3-5 if needed

— 🌩️ NVIDIA GeForce NOW (@NVIDIAGFN) December 15, 2021
Shout at us on Twitter or in the comments below.