Hello, Operator.
This GFN Thursday brings the launch of Tom Clancy's Rainbow Six Extraction to GeForce NOW.
Plus, four new games are joining the GeForce NOW library to let you start your weekend off right.
Your New Mission, Should You Choose to Accept It
Grab your gadgets and get ready to game. Tom Clancy's Rainbow Six Extraction releases today and is available to stream on GeForce NOW with DLSS for higher frame rates and beautiful, sharp images.
Join millions of players in the Rainbow Six universe. Charge in on your own or battle with buddies in a squad of up to three in thrilling co-op gameplay.
Select from 18 different Operators with specialized skills and progression paths that sync with your strategy to take on different challenges. Play riveting PvE on detailed containment zones, collect critical information and fight an ever-evolving, highly lethal alien threat known as the Archaeans that's reshaping the battlefield.
Playing With the Power of GeForce RTX 3080
Members can stream Tom Clancy's Rainbow Six Extraction and the 1,100+ games on the GeForce NOW library, including nearly 100 free-to-play titles, with all of the perks that come with the new GeForce NOW RTX 3080 membership.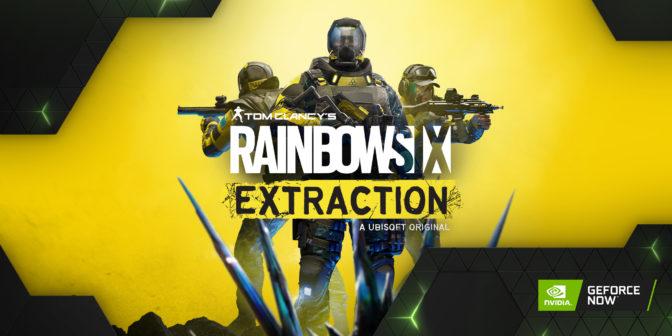 This new tier of service allows members to play across their devices – including underpowered PCs, Macs, Chromebooks, SHIELD TVs, Android devices, iPhones or iPads – with the power of GeForce RTX 3080. That means benefits like ultra-low latency and eight-hour gaming sessions — the longest available — for a maximized experience on the cloud.
Plus, RTX 3080 members have the ability to fully control and customize in-game graphics settings, with RTX ON rendering environments in cinematic quality for supported games.
For more information, check out our membership FAQ.
New Games Dropping This Week
The fun doesn't stop. Members can look for the following titles joining the GFN Thursday library this week:
We make every effort to launch games on GeForce NOW as close to their release as possible, but, in some instances, games may not be available immediately.
Finally, we've got a question for you and your gaming crew this week. Talk to us on Twitter or in the comments below.
~𝙬𝙝𝙤𝙡𝙚𝙨𝙤𝙢𝙚 𝙩𝙝𝙧𝙚𝙖𝙙~

tag a squadmate you're grateful for and tell them why

— 🌩️ NVIDIA GeForce NOW (@NVIDIAGFN) January 19, 2022