It's a thrilling GFN Thursday with GRID Legends racing to the cloud this week. It leads a total of eight new games expanding the GeForce NOW library. New content for Rainbow Six Siege is also now streaming.
Plus, two new cities are now online with GeForce RTX 4080 performance for cloud gaming. Chicago and Montreal have completed upgrades to RTX 4080 SuperPODs, delivering next-generation cloud streaming to GeForce NOW Ultimate members.
Shifting Up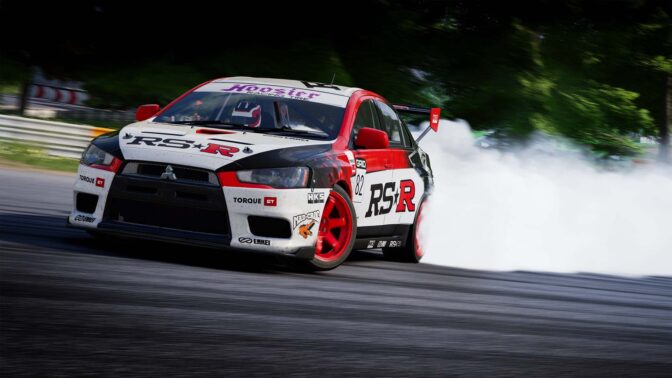 Jump into the spectacular action of GRID Legends, the racing game from EA with drama at every turn. Battle for glory with a variety of incredible cars on stellar tracks featuring iconic landmarks from the streets of London and Moscow.
Navigate the world of high-stakes racing as a rookie behind the wheel, with a documentary team capturing every sensational moment. Conquer hundreds of events and challenges, and create a dream racing team in the unique, cinematic story mode. Join up online with other legends and race against friends, or challenge them to a race designed in the Race Creator mode.
GeForce NOW members can experience it all with high dynamic range on PC, Mac and SHIELD TV for a smooth, ultra-crisp driving experience, even under intense racing conditions.
Upgrade Roll Call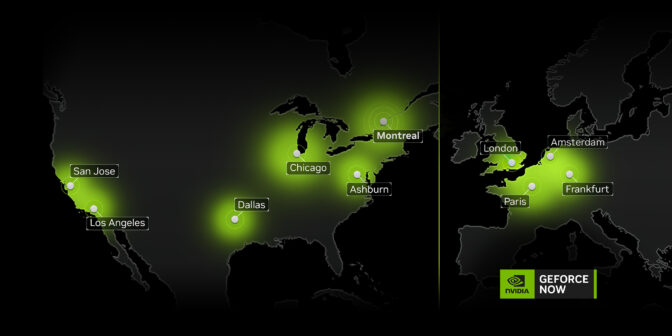 The RTX 4080 SuperPODs have been rolling out around the world for a couple months now, so it's time to check in with a RTX 4080 roll call.
Chicago and Montreal bring the number of cities on the server update map to 10, joining Ashburn, Dallas, Los Angeles and San Jose in the U.S., and Amsterdam, Frankfurt, London and Paris in Europe. Now past it's halfway point, the rollout is expected to be completed by mid-year.
Here's a few reasons to upgrade:
NVIDIA DLSS 3 technology is enabled for AI-powered performance boosts on supported games like HITMAN World of Assassination and Marvel's Midnight Suns. This means 4K streaming from the cloud results in the smoothest game play at up to 120 frames per second, even when settings are cranked to the max.
NVIDIA Reflex delivers ultra-low latency. Paired with DLSS 3, the technology enables Ultimate members to stream games like Rainbow Six Siege and Apex Legends at up to 240 fps on PCs and Macs, with as low as 35 milliseconds of total latency for a streaming experience that feels nearly indistinguishable from being on a local desktop.
Ultrawide resolutions are supported for the first time ever from the cloud, giving Ultimate members the most immersive game play in No Man's Sky, Cyberpunk 2077 and Assassin's Creed Valhalla.
Ultimate members in and around the 10 cities on the map are streaming with new performance today, and can take full advantage of these RTX technologies in the cloud. Level up to next-generation cloud streaming today for beyond-fast gaming.
Spring Forward With New Games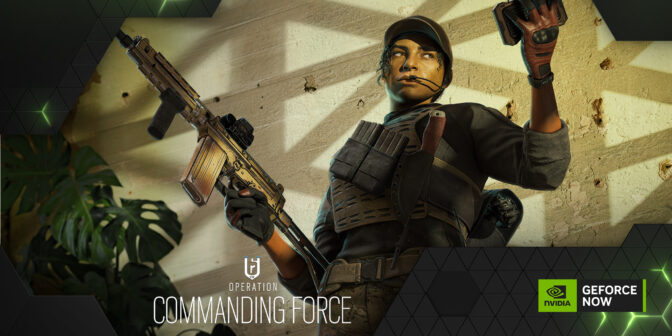 Operation Commanding Force is the newest season of Year 8 for Tom Clancy's Rainbow Six Siege, now available for members to stream. The update brings a new attacker named Brava, equipped with the Kludge Drone, a gadget that can disrupt enemy electronics devices and even take over some of them to turn the tides of battle.
That's on top of the eight games joining the cloud this week:
There's a whole lot of games streaming from the cloud, and we want to know your top three. Let us know in the comments below or on Twitter and Facebook.
What are your Top 3 games right now? GO! 👇

— 🌩️ NVIDIA GeForce NOW (@NVIDIAGFN) March 8, 2023