When it rains, it pours. And this GFN Thursday brings a downpour of news for GeForce NOW members.
The Logitech G CLOUD is the latest gaming handheld device to support GeForce NOW, giving members a brand new way to keep the gaming going.
But that's not all: Portal with RTX joins GeForce NOW in November, free for Portal owners. Find out more about this ray-traced reimagining of Valve's classic game, and more titles like A Plague Tale: Requiem and Warhammer 40,000: Darktide, streaming this fall.
Plus, conquer a breathtaking fantasy world and engage in colossal real-time battles as Creative Assembly's Total Warhammer series comes to GeForce NOW — included in the eight new titles joining the GeForce NOW library this week.
Finally, an update to the GeForce NOW app on PC and Mac begins rolling out this week with optimized streaming resolution support for 16:10 4K displays at up to 60 frames per second, perfect for RTX 3080 members streaming on Macbooks.
A New Way to Play
The just-announced G CLOUD is the latest way to stream your PC library from the cloud on GeForce NOW.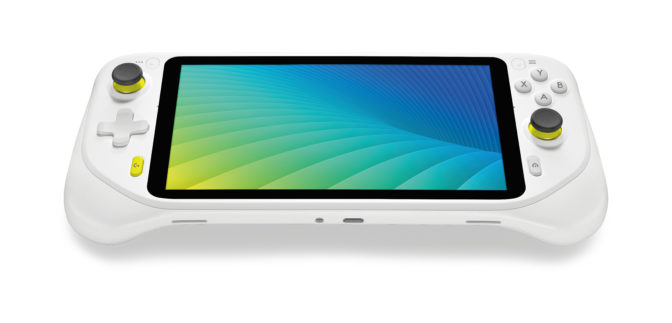 Developed in partnership with Tencent Games, the G CLOUD is an Android device with a seven-inch 1080p 16:9 touchscreen, fully customizable controls and support for GeForce NOW right out of the box.
Members can instantly stream GeForce NOW's library of 1,000+ games that support gamepad, using touch controls or G CLOUD's built-in, customizable precision gaming controls. Its lightweight design makes it a joy to hold during the most frantic action. And thanks to its 12+ hour battery life, the action can last all day.
The G CLOUD is available to preorder today at $299.99 for a limited time, with full availability in October for $349.99. Check out the device.
The Hottest Games, Streaming Soon
Get ready to play three new release titles coming to the cloud in the near future.
Portal with RTX releases in November as free downloadable content for all Portal owners, and will be streaming on GeForce NOW. It's a ray-traced reimagining of Valve's classic game, built using a revolutionary modding tool called NVIDIA RTX Remix.
In Portal with RTX, full ray tracing transforms each scene, enabling light to bounce and be affected by each area's new high-resolution, physically based textures and enhanced high-poly models. Every light is ray traced and casts shadows, global illumination indirect lighting naturally illuminates and darkens rooms, volumetric ray-traced lighting scatters through fog and smoke, and shadows are pixel perfect.
Wishlist the Portal with RTX DLC on Steam now to be notified the second it's released.
A tale continues when A Plague Tale: Requiem launches Tuesday, Oct. 18, enhanced with ray-traced effects.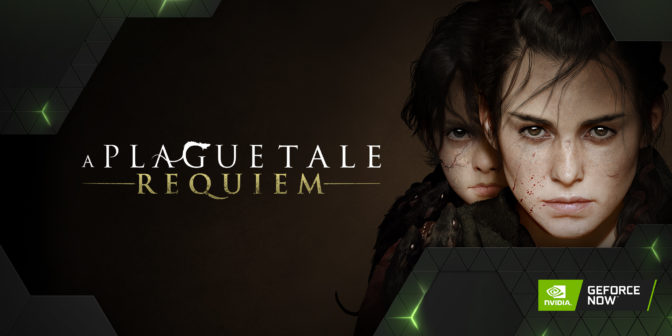 After escaping their devastated homeland in the critically acclaimed A Plague Tale: Innocence, siblings Amicia and Hugo venture south of 14th-century France to new regions and vibrant cities. But when Hugo's powers reawaken, death and destruction return in a flood of devouring rats. Forced to flee once more, the siblings place their hopes in a prophesied island that may hold the key to saving Hugo.
On Tuesday, Nov. 30, Fatshark leaps thousands of years into the future to bring gamers Warhammer 40,000: Darktide with NVIDIA DLSS and advanced ray-tracing effects.
Head to the industrial city of Tertium to combat the forces of Chaos, using Vermintide 2's lauded melee system and a range of deadly Warhammer 40,000 weapons. Personalize your play style with a character-creation system and delve deep into the city to put a stop to the horrors that lurk.
GeForce NOW members can stream all of these great games when they're released. RTX 3080 members can level up their gaming experience even further with 4K resolution and 60 frames per second on the PC and Mac apps, ultra-low latency, dedicated RTX 3080 servers and eight-hour sessions.
Charge Into the 'Total Warhammer' Series This Week
Make your move in the incoming additions from the Total War series by SEGA and Creative Assembly – Total War: WARHAMMER, Total War: WARHAMMER II and Total War: WARHAMMER III are streaming this week.
Explore and expand across fantasy lands in this Total War series. Combine turn-based civilization management and real-time epic strategy battles in this fantastic franchise, streaming from underpowered PCs, Macs and more. Command otherworldly troops, send forth ferocious monsters and harness powerful magic to pave your way to victory.
In addition, members can look for the following games streaming from the cloud this week:
With all of these new games streaming across GeForce NOW compatible devices, you can have your cake and eat it, too. Speaking of cake, we have a question for you. Let us know your answer on Twitter or in the comments below.
When is a cake not a cake? 🎂

— 🌩️ NVIDIA GeForce NOW (@NVIDIAGFN) September 21, 2022