The latest NVIDIA Studio laptops, powered by new NVIDIA GeForce RTX 30 Series Laptop GPUs, are empowering the next generation of creativity. And they bring a host of updates to change how fast creators work.
New models come equipped with up to 16GB of video memory, pixel-accurate displays with 1440p and 4K options, and GPU acceleration for ray tracing, AI and video encoding that allow artists to create in record time.
NVIDIA Studio laptops with new RTX 30 Series Laptop GPUs offer improved performance.
Built to Create, Anywhere
GeForce RTX 30 Series Laptop GPUs accelerate rendering performance by up to 2x and introduce third-generation Max-Q technologies. Max-Q helps manufacturers develop thin and light laptops that maintain great performance, enabling creators to conceptualize incredible pieces of content using hundreds of GPU-accelerated apps.
Creator workflows require multiple PC components — the GPU, GPU memory and CPU — to execute rapidly. New, AI-powered Dynamic Boost 2.0 intelligently shifts power among these components, improving performance so laptops run faster and longer.
NVIDIA Studio laptops are designed to provide the best performance and acoustics, but sometimes you need your laptop to be even quieter while giving a presentation or working in a public place. WhisperMode 2.0 uses AI-powered algorithms to dynamically manage the CPU, GPU and fan speeds to deliver great acoustics and the best possible performance.
Creators need to have pixel-accurate displays to preview with the maximum fidelity. NVIDIA Studio laptops use factory-calibrated displays with wide color gamuts and up to 4K resolution. And now, many NVIDIA Studio laptops offer 1440p configurations for the perfect balance between pixel density and performance.
The New 30 Series Studio Laptops
New Studio laptops with GeForce RTX 3060, 3070 and 3080 Laptop GPUs will start rolling out later this month. The first models announced include:
Asus ZenBook Pro Duo UX582 — featuring GeForce RTX 3070 graphics. Artists can create their best thanks to next-gen performance and a stunning dual display, giving them new ways of using a laptop.
MSI Creator 15 — offering GeForce RTX 3060, 3070 and 3080 variants. MSI's built-for-creators laptop delivers blazing-fast performance with hushed tones as it leverages both Dynamic Boost 2.0 and WhisperMode 2.0.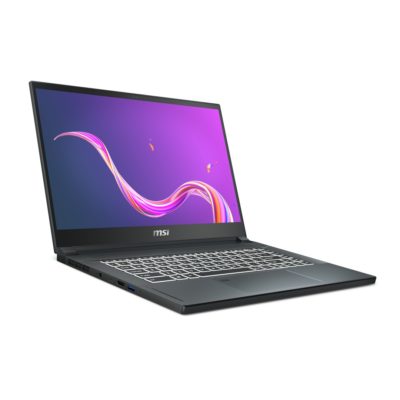 Gigabyte Aero 15 and Aero 17 — with multiple screen sizes to choose from and configurable with GeForce RTX 3060, 3070 or 3080 graphics. The Aero 15 features Dynamic Boost 2.0, WhisperMode 2.0 and Advanced Optimus (on the 1080p display) to deliver peak performance while on the go. The larger format Aero 17 also features Dynamic Boost 2.0.
Razer Blade 15 and Blade Pro 17 — offer stunning 1440p and 4K display options in an elegant, high-quality chassis. The Blade 15 Base model is configurable with a GeForce RTX 3070 and a 1440p display; the Razer Blade Advanced model with GeForce RTX 3070 or 3080 and 1440p or 4K displays; the Blade Pro 17 with a GeForce RTX 3080 and 4K 120Hz display.
Accelerating Creativity
GeForce RTX 30 Series Studio laptops give video editors mobile access to edit up to 8K HDR RAW footage, use AI to simplify workflows, and reduce encode times by up to 75 percent with the NVIDIA Encoder. When connected to an external G-SYNC display — an NVIDIA technology that synchronizes the display to content — editors can preview their content at the exact frame rate it will be exported and played back.
Artists can get up to 16GB of graphics memory to work with huge assets and across multiple apps at the same time.
AI-Powered Workflows
NVIDIA Studio laptops take advantage of industry-leading creative apps to empower creators with AI.
Adobe Photoshop recently introduced Neural Filters, which use AI to quickly make complex edits to photographs.
Blackmagic Design's Davinci Resolve 17 implements a new Magic Mask feature that uses AI to speed up mask creation and tracking.
The free NVIDIA Broadcast app turns any room into a home studio by enhancing your microphone, speakers and webcam with AI-powered features such as virtual background effects, audio noise removal and webcam auto frame.
NVIDIA Optix AI denoising in Blender cleans up noise on the fly, quickly resolving 3D images.
And NVIDIA Omniverse Audio2Face uses AI to animate unrigged 3D characters, based solely on an audio source.
Studio Drivers
NVIDIA Studio laptops are supported with Studio Drivers that are built specifically to meet creators' needs for both performance and reliability. They're tested extensively against top creative apps and workflows.
The latest Studio Driver can be downloaded through GeForce Experience or from our driver download page.
New GeForce RTX 30 Series NVIDIA Studio laptops from ASUS, Gigabyte, MSI and Razer will begin rolling out later this month.
Read more about the GeForce RTX 30 Series laptop announcement, including additional options for gamers and creators starting at $999. Visit the GeForce Laptop website for even more information.
Learn more about NVIDIA Studio hardware and software for creators on the NVIDIA Studio website.
And stay up to date on the latest apps through the NVIDIA Studio YouTube channel, which features tutorials, tips and tricks by industry-leading artists.