When it comes to reimagining the next generation of automotive, NIO is thinking outside the car.
This month, the China-based electric vehicle maker introduced its lineup to four new countries in Europe — Denmark, Germany, the Netherlands and Sweden — along with an innovative subscription-based ownership model. The countries join NIO's customer base in China and Norway.
The models launching in the European market are all built on the NIO Adam supercomputer, which uses four NVIDIA DRIVE Orin systems-on-a-chip to deliver software-defined AI features.
These intelligent capabilities, which will gradually enable automated driving on expressways and urban areas, as well as autonomous parking and battery swap, are just the start of NIO's fresh take on the vehicle ownership experience.
As the automaker expands its footprint, it is emphasizing membership rather than pure ownership. NIO vehicles are available via flexible subscription models, and customers can access club spaces, called NIO Houses, that offer a wide array of amenities.
International Supermodels
NIO's lineup sports a premium model for every type of driver.
The flagship ET7 sedan boasts a spacious interior, with more than 620 miles of battery range and an impressive 0-to-60 miles per hour in under four seconds. For the mid-size segment, the ET5 is an EV that's as agile as it is comfortable, borrowing the same speed and immersive interior as its predecessor in a more compact package.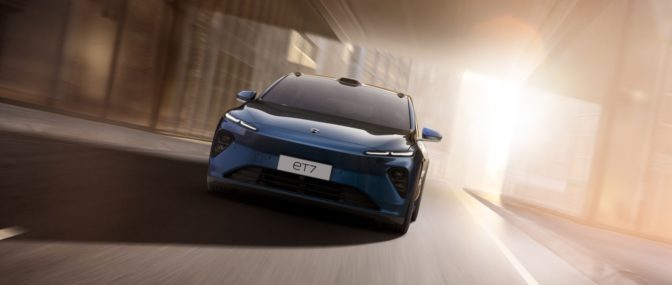 Finally, the ES7 — renamed the EL7 for the European market  — is an electric SUV for rugged and urban drivers alike. The intelligent EV sports 10 driving modes, including a camping mode for off-road adventures.
All three models run on the high-performance, centralized Adam supercomputer. With more than 1,000 trillion operations per second of performance provided by four DRIVE Orin SoCs, Adam can power a wide range of intelligent features, with enough headroom to add new capabilities over the air.
Using multiple SoCs, Adam integrates the redundancy and diversity necessary for safe autonomous operation. The first two SoCs process the 8GB of data produced every second by the vehicle's sensor set.
The third Orin serves as a backup to ensure the system can operate safely in any situation. And the fourth enables local training, improving the vehicle with fleet learning and personalizing the driving experience based on individual user preferences.
While NIO's models vary in size and design, they all share the same intelligent DNA, so every customer has access to the cutting edge in AI transportation.
A NIO Way Forward
The NIO experience doesn't end when the drive is over — it aims to create an entire lifestyle.
Customers in new markets won't be buying the vehicles, they'll sign for leases as long as 60 months or as short as one month. These subscriptions include insurance, maintenance, winter tires, a courtesy car, battery swapping and the option to upgrade battery services.
The purpose of the business model is to offer the utmost flexibility, so customers always have access to the best vehicle for their needs, whatever they may be and however often they may change.
Additionally, every customer has access to the NIO House. This community space offers co-working areas, cafes, workout facilities, playrooms for children and more. NIO Houses exist in more than 80 places around the world, with locations planned for Amsterdam, Berlin, Copenhagen, Düsseldorf, Frankfurt, Gothenburg, Hamburg, Rotterdam and Stockholm.
Deliveries to the expanded European markets are scheduled to start with the ET7 sedan on Sunday, Oct. 16, with the EL7 and ET5 set to ship in January and March of 2023, respectively.