With GeForce NOW, over 5 million gamers are playing their favorite games in the cloud on PC, Mac, Chromebook, NVIDIA SHIELD TV, Android and iOS devices.
With over 800 instantly available games and 80+ free-to-play games, there's something for everyone. And there are multiple ways to build your library.
We'll review how to sync your Steam game catalog, search for games, add games to your library, and explain the difference between Instant Access and Single Session games.
Start with a Steam Sync
GeForce NOW members, on average, have about 50 games in their Steam catalog. The quickest and easiest way to find all the instant access games you already own is by using the Game Sync option.
Simply launch GeForce NOW, select the Sync Your Games tile and log in to Steam. Now all your GeForce NOW supported Steam games appear in your GeForce NOW library.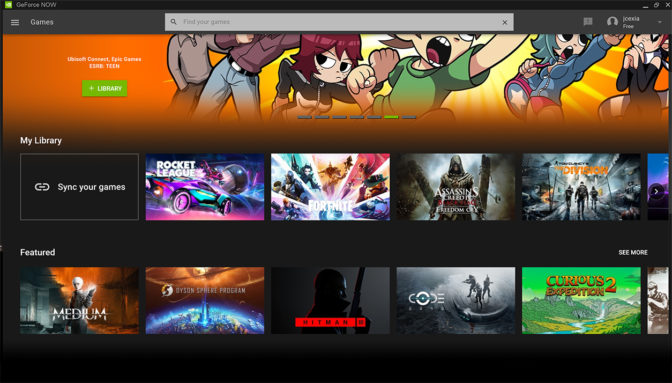 Sync your entire Steam game library in about one minute.
Members can also sync their Steam library by going to Settings > Game Sync.
Once your Steam account is authorized, you can update your GeForce NOW library from Settings > Game Sync every time you purchase a new Steam game. It's the easiest way to keep your games catalog up to date in the GeForce NOW app.
Discover Games on GeForce NOW
The complete GeForce NOW games list is available online, including the latest releases.
Members can also find games in GeForce NOW using the search function, a powerful tool that lets you search by game title, developer, publisher, genre or keyword. Try searching for "kittens" and see what you find.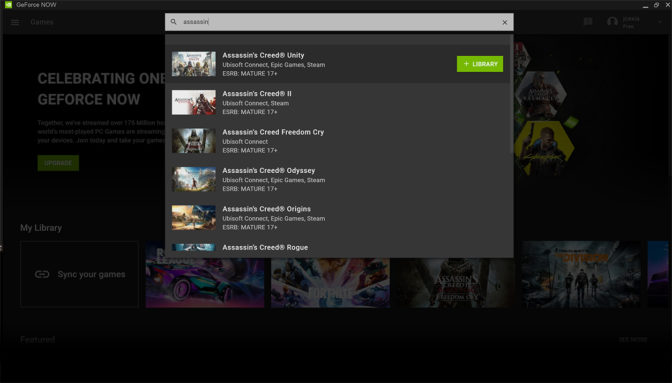 GeForce NOW expands its games library each week. The latest games are available day-and-date, while back catalog games are added every Thursday. Check back regularly to see what's new.
Add Your Games to Your GeForce NOW Library
Owners of games from Ubisoft Connect, Epic Games Store (looking at you, Fortnite fans) or custom game launchers can search for games and manually add them to My Library by clicking +LIBRARY.
After that, click PLAY and if it's the first time playing that game, just sign in to your account, when prompted, and you're ready to game.
Suddenly your games are available on all the devices you own.
Buying Games to Play with GeForce NOW
GeForce NOW is a powerful gaming PC in the cloud — not a store.
Even though it's not a store, members can still buy Steam games while in the app. There are two ways to do this. Add the game to your library, click PLAY, log in to Steam and purchase as you normally would. Or launch Steam to browse and make purchases.
For other game stores, or custom game launchers, you can purchase a supported game through the respective store, then go back into the GeForce NOW app to add it as outlined above.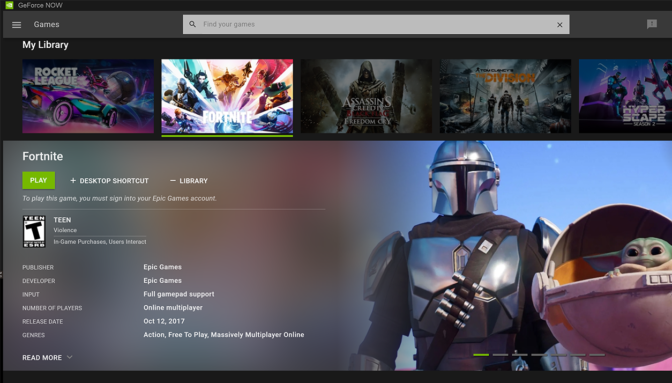 Discover a game you want to play? Find which store it's supported on in the game page.
Featured GeForce NOW supported games are "Instant Access." These appear within the app and can be added to your GeForce NOW library in less than a minute, all with streaming optimizations applied automatically for optimal graphics settings.
Don't forget to check out weekly free games on the Epic Games Store, which are often supported on GeForce NOW.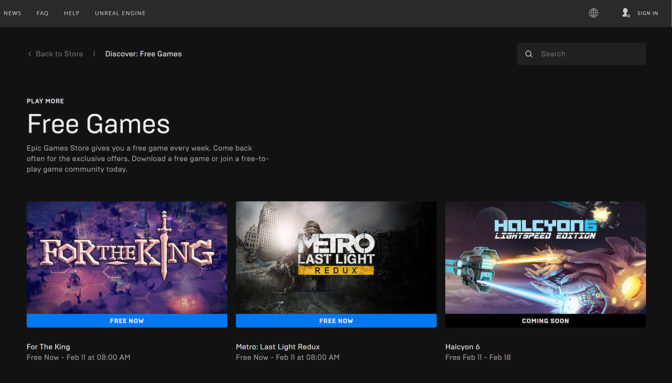 Game Selection Explained
It's important to remember how new cloud gaming is to NVIDIA and, especially, game publishers. Adding games to a new platform is a critical decision for publishers. Remember what Netflix was like when it first launched? Sending DVDs through the mail? Bold, but undeniably forward-thinking.
GeForce NOW uses an opt-in process to make it easy for developers and publishers to join the service. NVIDIA signs an agreement with every game developer before publishing their titles on GeForce NOW. There is no cost for developers — games just run without difficult porting requirements — helping them reach millions of players who don't have game-ready PCs.
Now, Get YOUR Game On
GeForce NOW supports more than 800 games in total. More than 80 of those games are free-to-play. That's a great way to start building your library, especially for members who are new to PC gaming.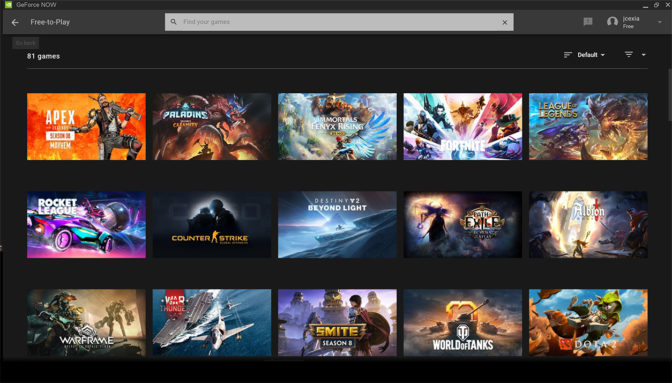 Members can build their library with +80 (and counting) free-to-play games.
Sign up, download the app, browse a wide selection of titles, click the game of your choice and begin your cloud gaming journey with GeForce NOW.
Editor's note: This is the second in a series on the GeForce NOW game-streaming service, how it works and where it's going next. To learn more about cloud gaming, and the origins of GeForce NOW, read part one: GeForce NOW Explained: What is Cloud Gaming?
In our next blog, we'll talk about latency, what it is and tips to improve your GeForce NOW experience.
Follow GeForce NOW on Facebook and Twitter and stay up to date on the latest features and game launches.