Acclaimed artist Ian Spriggs has created characters for leading visual effects studios such as Mr. X and ILM, for films such as Batman v Superman: Dawn of Justice and Harry Potter and the Deathly Hallows: Part 1. Currently, he's working on projects for Neill Blomkamp's Oats Studios.
A portrait is not just an artistic representation of a person. A portrait tells a complete story about them.
Maybe that's why Ian Spriggs' digital portraits transfix us — they tell such surprising tales.
You'll find warmth and openness in the countenance of an unsmiling man sporting a full complement of tattoos. Or power and poise in a portrait of the artist's mother.
The story behind these stories: a suite of modern tools that let Spriggs use old techniques of lighting and composition with a fluidity past generations of artists could only dream about.
"In 10, 20 years, I don't want you to look at these and say 'those aren't very good computer graphics,'" Spriggs said during an interview from his Vancouver home, where he works with a Lenovo workstation powered by an NVIDIA Quadro GPU. "I want them to feel alive."
Portraiture, of course, is an art form dating back thousands of years, from statues of pharaohs to busts of Greek and Roman kings and conquerors.
Renaissance and Baroque paintings by Rembrandt, Raphael, Holbein and Rubens portrayed nobility and the wealthy.
Artists like Vermeer began to portray middle-class life. Later in the 19th century, artists began depicting the working class and the poor.
All the while, the repertoire of techniques available to artists kept growing. The loose gestural style of Impressionists like Degas and Renoir gave new life and vibrancy to portraiture. Artists like Cassatt broke new ground by depicting the intimate bond between mother and child.
Today, the medium is digital, and few artists have mastered the art of the portrait quite like Spriggs.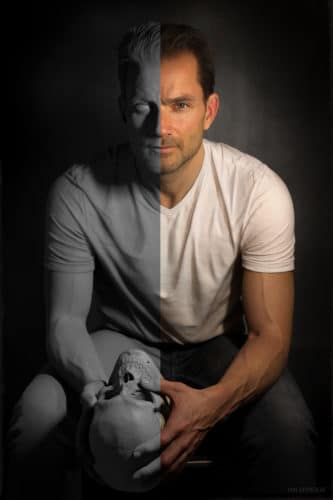 You've almost certainly seen his work before. Spriggs, 38, has created computer-generated characters for films such as Batman v Superman: Dawn of Justice, Harry Potter and the Deathly Hallows: Part 1 and Warcraft: The Beginning for visual effects studios such as Oats Studio, Mr. X and Industrial Light and Magic.
Currently, Spriggs is the lead character modeler at Image Engine. But while he's created images of might and magic for movies with budgets in the millions, lately it's the artist's intimate, computer-generated portraits of friends, family and personal heroes that have been getting attention.
His latest portrait of artist Scott Eaton tells the story of Eaton's own pioneering work in digital sculpture and human anatomy.
It's a process that begins with a shoot of 200 to 300 photos with different poses, angles and light scenarios. Spriggs then takes the most telling details from these images to create sophisticated 3D models.
He uses Autodesk Maya as the primary 3D application, Autodesk Mudbox for sculpting, Chaos Group V-Ray for GPU rendering, a little Adobe Photoshop for editing textures and some image composition work.
It's work that moves quickly, thank to his Lenovo workstation, NVIDIA graphics and Chaos Group's V-Ray GPU-accelerated renderer, even if he fusses over every detail.
"It used to be I'd change, say, a color, then render it, and I wouldn't be able to get back to work for 20 minutes," Spriggs says. "Now I can do all of that in less than 30 seconds — it's really helped me out."
Spriggs uses a Wacom Intuos Pro tablet for better control when sculpting and painting, and generally starts with a pre-rigged base mesh in Maya to pose the subject. He then sculpts in Mudbox, as well as doing a lot of texturing. He then hand-paints the images in Mudbox and Photoshop, before switching back to Maya for lookdev, a skin shader.
Then he gets quickly gets back to rendering in V-Ray. Thanks to GPUs, Spriggs will now do as many as 10,000 iterations of a portrait, where before he could only do one-tenth as many.
The result: portraits that are packed with telling details that mirror the warmth and humanity of old masters, with the supernatural realism that only modern tools can offer.