Editor's note: This post is part of our weekly In the NVIDIA Studio series, which celebrates featured artists, offers creative tips and tricks, and demonstrates how NVIDIA Studio technology accelerates creative workflows. 
This week In the NVIDIA Studio, we welcome Yangtian Li, a senior concept artist at Singularity6.
Li is a concept designer and illustrator who has worked on some of the biggest video game franchises, including Call of Duty, Magic: the Gathering and Vainglory. Her artwork also appears in book illustrations and magazines.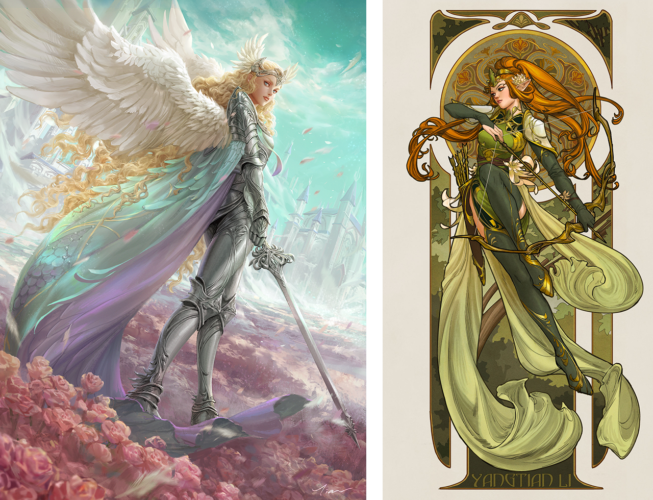 Li's impressive portfolio features character portraits of strong, graceful, empowered women. Their backstories and elegance are inspired by her own life experiences and world travels.
Now based in Seattle, Li's artistic journey began in Chengdu, China. Her hometown serves as the inspiration behind her extraordinary portrait, Snake Witch. This unique and provoking work is based on tribal black magic from Chinese folklore. Li drew and painted the piece, powered by a GeForce RTX GPU and the NVIDIA Studio platform.
Snake Witch is a product of Li's fascination with black magic, or "Gu," where tribal witch doctors would gather toxic creatures, use their venom to make poison and practice the dark arts. "I always thought the stories were fascinating, so I wanted to do a take," Li said. "Snakes are more appealing to me, and it helps to create some interesting compositions."
After primarily working in 2D, Li moves to 3D to support her concept process. She adds, "having a high-end GPU really helps speed up the process when it comes to using Blender, Zbrush and so on." These speed-ups, she says, are particularly noticeable with GPU-accelerated rendering in Blender Cycles 3.0, achieving results that are over 5x faster with a GeForce RTX laptop GPU compared to a MacBook Pro M1 Max or CPU alone.
With the Snake Witch's character foundation in a good place, Li used the Liquify filter to subtly distort her subject's facial features.
Liquify is one of over 30 GPU-accelerated features in Adobe Photoshop, like AI-powered Neural Filters, that help artists explore creative ideas and make complex adjustments in seconds.
"The more life experiences you have, your understanding of the world evolves, and that will be reflected in your art."
Li uses adjustment layers in the coloring phase of her process, allowing for non-destructive edits while trying to achieve the correct color tone.
If unsatisfied with an adjustment, Li can simply delete it while the original image remains intact.
Finally, Li adjusts lighting, using the Opacity feature to block light from right of the image, adding a modicum of realistic flair.
Remaining in a productive flow state is critical for Li, as it is for many artists, and her GeForce RTX GPU allows her to spend more time in that magical creative zone where ideas come to life faster and more naturally.
Li goes into greater detail on how she created Snake Witch in her Studio Session. This three-part series includes her processes for initial sketching, color and detail optimization, and finishing touches.
Check out Li's portfolio and favorite projects on Instagram.
Accelerating Adobe Creators In the NVIDIA Studio
More resources are available to creators seeking additional NVIDIA Studio features and optimizations that accelerate Adobe creative apps.
Follow a step-by-step tutorial in Photoshop that details how to apply a texture from a photo to a 3D visualization render.
Learn how to work significantly faster in Adobe Lightroom by utilizing AI-powered masking tools; Select Subject and Select Sky.
Follow NVIDIA Studio on Facebook, Twitter and Instagram, access tutorials on the Studio YouTube channel, and get updates directly in your inbox by joining the NVIDIA Studio newsletter.