Editor's note: This post is part of our weekly In the NVIDIA Studio series, which celebrates featured artists, offers creative tips and tricks, and demonstrates how NVIDIA Studio technology accelerates creative workflows. 
Concept artist Pablo Muñoz Gómez dives In the NVIDIA Studio this week, showcasing artwork that depicts a fantastical myth.
Gómez, a creator based in Australia, is equally passionate about helping digital artists, teaching 3D classes and running the Zbrush guides website with his creative specialties: concept and character artistry.
"For me, everything starts with a story," Muñoz Gómez said.
His 3D Forest Creature contains a fascinating myth. "The story of the forest creature is rather simple … a very small fantasy character that lives in the forest and spends his life balancing rocks, the larger the stones he manages to balance and stack on top of each other, the larger he'll grow and the more invisible he'll become. Eventually, he'll reach a colossal size and disappear."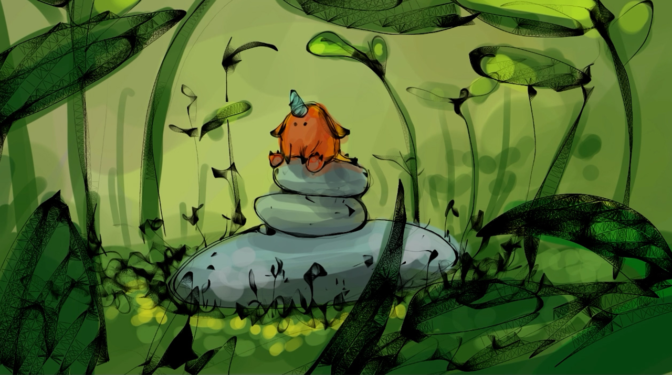 Gómez begins his journey in a 2D app, Krita, with a preliminary sketch. The idea is to figure out how many 3D assets will be needed while adding a little bit of color as reference for the palette later on.
Next, Gómez moves to Zbrush, where he uses custom brushes to sculpt basic models for the creature, rocks and plants. It's the first of multiple leaps in his 2D to 3D workflow, detailed in this two-part 3D Forest Creature tutorial.
Gómez then turns to Adobe Substance 3D Painter to apply various colors and materials directly to his 3D models. Here, the benefits of NVIDIA RTX acceleration shine. NVIDIA Iray technology in the viewport enables Gómez to edit in real time and use ray-traced baking for faster rendering speeds — all accelerated by his GeForce RTX 3090 GPU.
"Since I switched to the GeForce RTX 3090, I'm simply able to spend more time in the creative stages."
Seeking further customization for his background, Gómez downloads and imports a grass asset from the Substance 3D asset library into Substance 3D Sampler, adjusting a few sliders to create a photorealistic material. RTX-exclusive interactive ray tracing lets Gómez apply realistic wear-and-tear effects in real time, powered by his GPU.
3D workflows can be incredibly demanding. As Gómez notes, the right GPU allows him to focus on content creation. "Since I switched to the GeForce RTX 3090, I'm simply able to spend more time in the 'creative stages' and testing things to refine my concept when I don't have to wait for a render or worry about optimizing a scene so I can see it in real time," he said.
Gómez sets up his scene in Marmoset 4, critically changing the denoiser from CPU to GPU. Doing so unlocks real-time ray tracing and smooth visuals in the viewport while he works. This can be done by accessing the Lighting then Ray Tracing selections in the main menu and changing the denoiser from CPU to GPU.
With the scene in a good place after some edits, Gómez generates his renders.
He makes final composition, lighting and color correction in Adobe Photoshop. With the addition of a new background, the scene is complete.
More 3D to Explore
Gómez has created several tutorials demonstrating 3D content creation techniques to aspiring artists. Check out this one on how to build a 3D scene from scratch.
Part one of the Studio Session, Creating Stunning 3D Crystals, offers an inside look at sketching and concepting in Krita and modeling in Zbrush, while part two focuses on baking in Adobe Substance 3D Painter and texturing in Marmoset Toolbag 4.
Generally, low-polygon models for 3D workflows are great to work with on hardware that can't handle high-poly counts. Gómez's Studio Session, Creating a 3D Low-Poly Floating Island, demonstrates how to build low-poly models like his Floating Island within Zbrush and touch up in Adobe Photoshop.
However, with the graphics horsepower and AI benefits of NVIDIA RTX and GeForce RTX GPUs, 3D artists can work with high-polygon models quickly and easily.
Learning how to create in 3D takes ingenuity, notes Gómez: "You become more resourceful making your tools work for you in the way you want, even if that means finding a better tool to solve a particular process." But with enough practice, as seen from the variety of Gómez's portfolio, the results can be stunning.
Gómez is the founder of ZBrushGuides and the 3DConceptArtist academy. View his courses, tutorials, projects and more on his website.
Follow NVIDIA Studio on Facebook, Twitter and Instagram. Access tutorials on the Studio YouTube channel and get updates directly in your inbox by subscribing to the NVIDIA Studio newsletter.