A record number of interns calls for a record-sized celebration.
In our largest contingent ever, over 1,650 interns from 350+ schools started with NVIDIA worldwide over the past year.
Amidst busy work days tackling real-world projects across engineering, automation, robotics and more, the group's also finishing up a three-day celebration, culminating today with National Intern Day. Events ranged from tech demos to virtual meditation and yoga classes to an exclusive Q&A with NVIDIA founder and CEO Jensen Huang.
The three stories below highlight the meaningful work of our interns — who are roughly half undergrads, half grad students — and the connections they've been forging.
Bailey Tinkers His Way Into Computer Engineering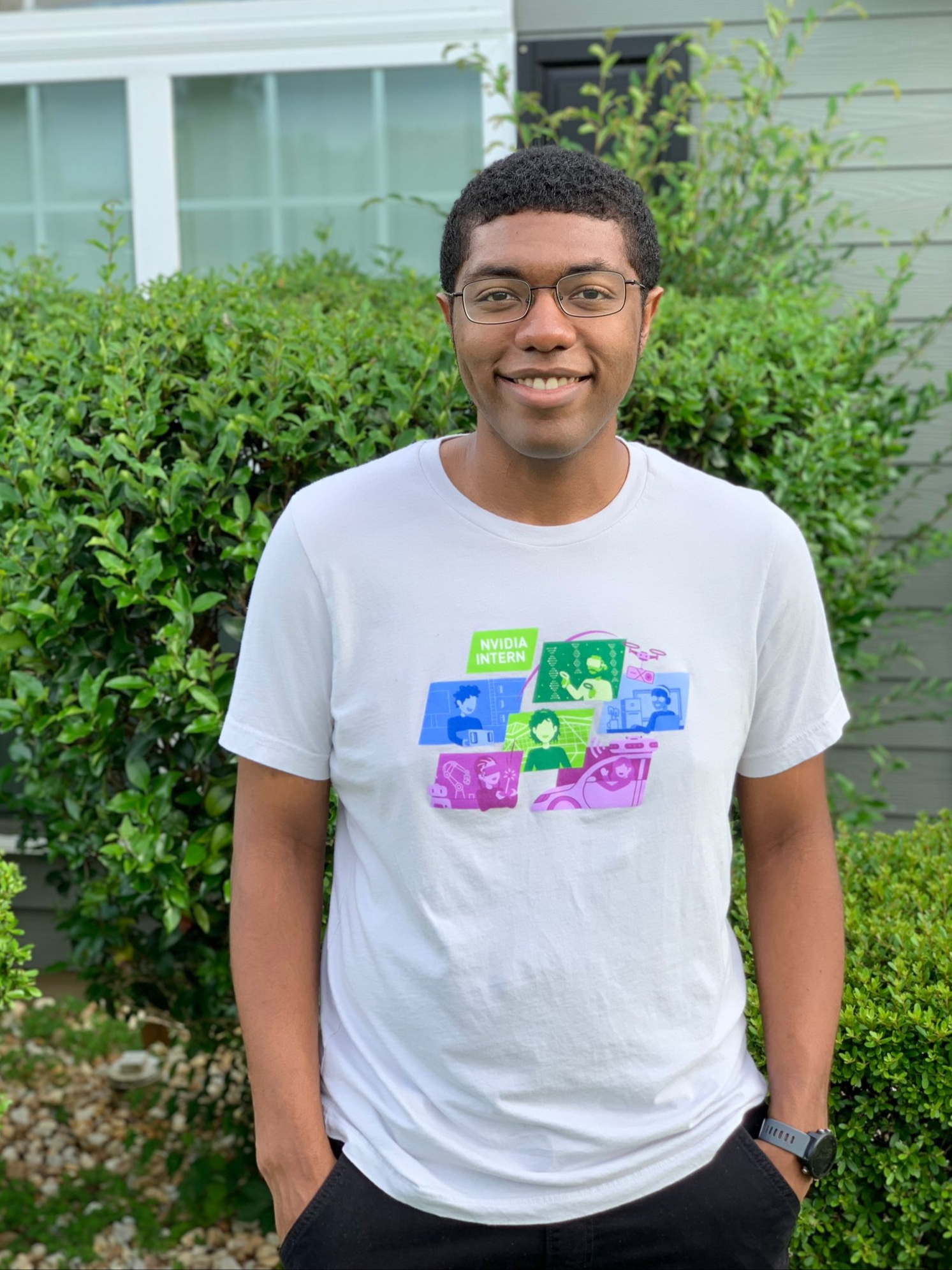 Ever since he started tinkering with PC parts at age 12, Darryl Bailey — a computer engineering student at Georgia Tech — knew he wanted to work with computers.
He's doing just that this summer as an ASIC verification intern on the Compute Express Link team, which ensures bug-free pre-silicon design across multiple GPUs. So far, he's worked on a dashboard that will simplify the workflows of design verification engineers.
"This project specifically has a high impact because the script is going to be used by all design verification engineers at NVIDIA," he said. "It's a really cool feeling to have my code out there in action."
Bailey hasn't just been gaining technical skills here. He's also honed his work style and learned how to use soft skills to most effectively wield the hard skills he's acquired at school.
"The most important thing I've gotten out of this internship is that we're all just one big team," he said. "I realized that as much as I want to learn and dive into everything related to computers, it's also okay to just focus on one thing, because we're all working together towards the final goal."
Kulkarni Pioneers a Path in Engineering
This summer, Seema Kulkarni, an electrical and computer engineering student at the University of Texas at Austin, joined NVIDIA as a software R&D intern working on NVIDIA Omniverse, a virtual world simulation and collaboration platform for 3D workflows.
Kulkarni comes from a background with limited early exposure to careers in tech. Her academic journey initially suggested a future in finance and marketing. But, wanting to make a more tangible impact, she switched over to engineering.
"I really loved sitting in on the Women's Leadership Panel hosted by the University Recruiting team because it felt inspiring to know that even as a woman, you can stay in technical fields for a long time and love it," she said. "Seeing these female leaders drive innovation here at NVIDIA affirmed that no matter where you're at, there's always room to flourish."
So far, Kulkarni has been working on projects like building asset validators that will simplify user interface for NVIDIA Omniverse users and debugging Universal Scene Description code to resolve critical issues. It's taught her to be a better software engineer because it's challenged her to think in the way that the engineers that came before her did.
Kim Kicks Off Her Second Round in Technical Writing
Writing may not be the first thing that comes to mind when one thinks about an internship at NVIDIA.
But as JJ Kim, a marketing major from Boston University, points out, communication is key in any business, even in tech.
This summer, Kim's returning for her second stint on the enterprise marketing team as a technical writing intern. She's assisted with SIGGRAPH preparations and is churning out explainer blogs, which break down technical concepts in a digestible, approachable way.
"I always feel like I'm learning new things when I write these explainer blogs because they do such a good job of helping someone like me — who has limited technical knowledge — understand what it is that NVIDIA technology does and the impact that it's making," she said.
Kim says what's brought her back for a second internship is NVIDIA's inclusive, welcoming culture.
"Everyone is so willing to help, which makes work feel like such a safe environment," she said. "I'm not afraid to try new things out or ask questions because I have such an amazing team of experienced people to work with."
Read more about NVIDIA's internship program. Applications are accepted year-round.