Deep learning is used by scientists to further our understanding of the universe, the DNA in our bodies and everything in between.
But sometimes scientists just want to have a little fun. And at the MIT Media Lab, a group of researchers has been overseeing a variety of creative AI-human collaborations.
It's all part of "How to Generate (Almost) Anything," an ongoing project (and offshoot of the institute's popular "How to Make (Almost) Anything" class) that seeks to determine whether AI can inspire humans to create things they never would've come up with otherwise.
Whether that means a hat made from a graduation cap or a pizza that combines shrimp and jam, the group of scientists and artists is creating something outside of the box every week and sharing it on the project site.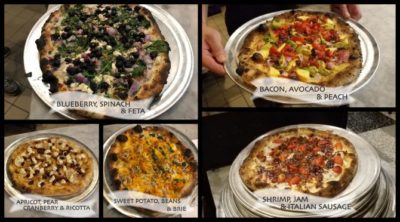 In its first weeks, the team generated AI-human collaborated music compositions, pizza recipes, dress designs, perfumes and graffiti. One of the latest collaborations took aim at chocolate truffles with unusual flavor combinations such as pumpkin and matcha, and meat and gingerbread.
Upcoming efforts involve generating protein structures of viruses, mixing AI-generated cocktails and designing tattoos.
Keep in mind: These are not AI creations, like chipper celebrity faces. They're truly collaborations in which the AI serves not as a blueprint, but as creative inspiration.
"We don't want to just take what AI created and bring it to life," said Pinar Yanardag, a postdoctoral research associate in the media lab and creator of the project. "We want to use our own knowledge and bring our own contributions into reality."
Bringing Fun into AI
The AI-human collaboration project fits into the theme of Yanardag's previous work, which appears to be focused on fun. She was the force behind the Nightmare Machine, a site that creates AI-generated horror imagery, and Shelley, an AI engine that collaborates with people to write horror stories.
Yanardag and her team have to acquire datasets for each weekly collaboration, which places limitations on an effort with no real budget. For the music collaboration, they found a site that enabled them to obtain 60,000 vintage video game songs, used them to train a model, and then combined it with a composition written by AI pioneer Marvin Minsky, who also founded the media lab.
(The entire project was launched in conjunction with what would have been Minsky's 91st birthday. He died in January 2016.)
The team writes crawlers to pull more difficult-to-find data, such as dress patterns and pizza recipes, off of public websites. Sometimes the human part of the collaboration is a professional. A Boston-area chef collaborated with (and sometimes overruled) the AI on the pizzas, and a local artist worked with the AI on the graffiti.
The project's generative adversarial network models were trained on an NVIDIA Tesla V100 GPU, with CUDA and cuDNN supporting the deep learning process.
AI as Inspirational Partner
As to whether the AI really does inspire the human, Yanardag said her first-hand experience with the music composition AI suggested the answer is yes. She was proud enough of the results to post several samples on the project site.
"I actually mixed pretty decent songs, but I could never have created stuff like this without AI collaboration," said Yanardag.
Ultimately, Yanardag and her team hope to spur people to see beyond the fears surrounding AI. They envision a future in which AI and humans work together rather than one in which AI takes over. AI might even help people discover talents they didn't know they had.
"AI is something they shouldn't be afraid of," she said. "It's just an algorithm they can collaborate with and be inspired by."