Many business leaders know their company's future is intertwined with the successful adoption of AI, but struggle with how to operationalize the technology at scale. Transitioning from experimentation into business-impacting models deployed in production can be a real challenge.
NetApp and NVIDIA are making it simple for enterprises to deploy AI fast, with new ONTAP AI integrated solutions that come in pre-configured sizes and are pre-tested and optimized for the scale of AI resources a business might need. It's the simplified model of converged infrastructure now applied to AI.
More so than talent or even budget, the top inhibitor to deploying AI scale is often concerns around platforms. For those in this infrastructure dilemma, common challenges include:
The complexity of designing AI infrastructure, including optimizing the balance of compute, storage and networking in support of the unique demands of data analytics, model training and production model-serving.
Deploying a platform involves a multilayered stack of hardware and software (much of it open source), followed by an intense amount of troubleshooting as data science teams find themselves taking on the role of systems integrators.
Upskilling IT teams to understand the tools required to operationalize and manage high performance computing, scheduling jobs and pinpointing where in the technology stack lies a performance-impacting problem that might straddle multiple vendors.
A Proven Approach to Infrastructure, Applied to AI
The world of AI and machine learning is not the first domain to need a better approach to systemizing IT infrastructure to ease implementation. Just over a decade ago, IT witnessed the rise of integrated infrastructure solutions that offered enterprises an easier alternative to the highly engineered, bespoke systems approach that was so common then.
NetApp has long been at the forefront of converged infrastructure solutions, offering simpler deployments with pre-integrated, modularized versions of proven reference architectures, packaged in orderable units. These were pre-assembled and tested in a system house before shipping to customers.
Onsite installation was faster with a single expert team putting it all together, inclusive of compute, storage and networking. And the post-deployment experience was even easier with a single point of contact for all support, and coordinated engagement across all participating vendors.
Introducing NetApp ONTAP AI Integrated Solution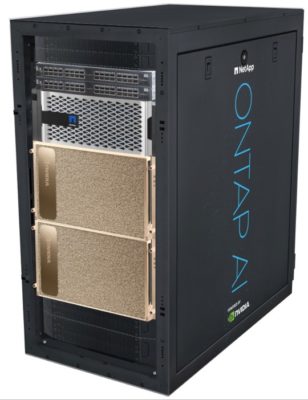 NetApp ONTAP AI has proven itself as a valuable platform on which enterprises can scale AI. NVIDIA and NetApp are now making it easier for organizations to adopt this reference architecture that uses NVIDIA DGX A100 systems and NetApp All Flash storage.
With this new ONTAP AI integrated solution, NetApp and NVIDIA are bundling DGX A100 with NetApp All Flash Storage and NVIDIA networking in three prescriptive configurations that follow the original ONTAP AI reference architecture. Long-time NVIDIA and NetApp partner Arrow Electronics provides the business, technical and operational services needed to deploy the solution, including:
Single SKU per configuration
Assembly and testing at Arrow's integration center
Pre-installation site survey to capture environment details
Shipment to customer location, with onsite installation by Arrow's Professional Services engineers
With ONTAP AI integrated solution, businesses not only benefit from a streamlined ordering and deployment process, but also a simplified, unified support model. NVIDIA provides first-line support that's coordinated with NetApp to ensure the fastest path to resolution of any issues.
ONTAP AI – Delivered Two Ways
Organizations that need AI infrastructure have two ways to acquire ONTAP AI. They can use the turnkey, integrated solution for fast deployment and simplified support. Or, they can follow the reference architecture on which the integrated offering is based, working with their choice of approved ONTAP AI partner to put it together, customized the way they prefer.
Learn more about ONTAP AI integrated solution:
In the meantime, contact your NetApp reseller to learn more about ONTAP AI integrated solution, which is currently available in North America.