Is this the real life? Is this just fantasy?
That's what an audience of 500 leading deep learning researchers were asking themselves Tuesday night when we announced we're giving away TITAN RTX GPUs to 10 lucky attendees.
The randomly chosen developers will be among the world's first to get their hands on the first TITAN GPUs built with NVIDIA's Turing architecture. Nicknamed T-Rex, TITAN RTX is the most powerful GPU for the PC ever, delivering faster training and inferencing speeds, plus twice the memory of previous-generation TITAN GPUs. They provide tremendous performance for AI research and data science.
Held in Montreal at the Conference on Neural Information Processing Systems (known as NeurIPS), the gathering also featured an original AI-composed tune — inspired by Queen and performed live by a tribute band.
Celebrating AI Pioneers at NeurIPS
The reception took place at the former Dalhousie Train Station in the heart of Old Montreal, now home to contemporary circus company Cirque Éloize. Attendees picked up plates of québécois specialties like poutine and smoked meat, taking in the green-and-black lit room.
Researchers mingled with some of AI's leading lights, including NVIDIA Chief Scientist Bill Dally, Google AI head Jeff Dean, Montreal-based deep learning pioneer Yoshua Bengio and Google Brain's Ian Goodfellow, the inventor of GANs.
The evening kicked off with Bryan Catanzaro, NVIDIA's vice president of applied deep learning research, presenting Pioneer Awards to seven members of our NVIDIA AI Labs program.
The NVAIL program supports AI innovation at leading universities and research institutes worldwide — many of which are presenting at NeurIPS this week.
"It's a growing community," Catanzaro said. "We're happy to celebrate all of that with you today."
Spanning research areas from reinforcement learning to adversarial example detection, the award recipients hailed from UC Berkeley, University of Washington, Carnegie Mellon University, MIT, NYU, the Montreal Institute for Learning Algorithms and the Swiss AI lab IDSIA.
"It feels really great," said award recipient Kurtland Chua, a student researcher at the Berkeley Artificial Intelligence Research lab advised by Assistant Professor Sergey Levine. "As an undergrad, I wouldn't expect ever getting here."
"We're honored that NVIDIA supports our research," added his collaborator Roberto Calandra.
Then came a titanic surprise.
TITAN Meets Turing
"Have you guys heard we launched a new GPU yesterday?" Catanzaro teased. "It's gold and it's heavy and it's awesome. We're going to give away a bunch of these tonight."
Anticipation built as attendees checked their wristbands under black lights to see if they had a golden ticket: a glowing letter "T." The 10 winners will be sent our just-announced TITAN RTX GPUs.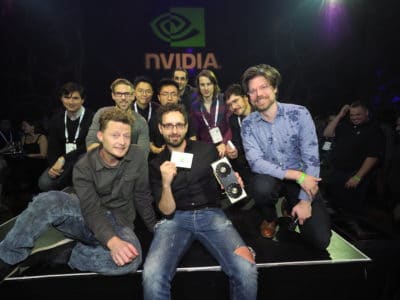 T-Rex transforms a PC into a supercomputer, offering 130 teraflops of deep learning performance and 11 GigaRays of ray-tracing performance.
It's designed for a broad range of demanding applications — from computationally intensive AI and data science workloads to real-time ray tracing, VR and high performance computing.
Caltech Ph.D. student Guanya Shi was excited to use the new GPU for his robotics and machine learning research. Xavier Bouthillier, Ph.D. student at the Université de Montréal, said he looks forward to using T-Rex for his optimization work using deep neural networks.
Don't Stop Me Now: AI-Composed Music Caps Off Evening
To top it all off, a Canadian rock group called Simply Queen played an original song composed by AI in the style of Queen.
Those who listened closely could catch lines like "Let the GeForce pull you in," which were written by the band's lead singer and drummer.
"There are some little touches in there, definitely," said Rick Rock, the band's frontman, who took to the stage in a Freddie Mercury-style yellow leather jacket. "Ultimately, it's a collaboration with the AI."
The neural networks behind the tune were developed by Luxembourg-based startup AIVA and trained on NVIDIA GPUs. After initial training on a database of hundreds of rock songs, the models had a second round of training on 50 Queen tracks to learn the musical style of the legendary band.
Rock music has more repetition in its rhythm than classical music, presenting a challenge for training the algorithm to capture Queen's unique sound without overfitting to any particular song, said Pierre Barreau, AIVA's CEO. "We had to make sure that it's making something original while also respecting the style."
"Me and my sister grew up watching my dad's old videos of Queen concerts, so it was great — I really enjoyed it," said Sarah Poole, data scientist at Verily Life Sciences. "You could definitely tell it was Queen's style."
As the night continued, the band serenaded the audience with Queen hits, including "Bohemian Rhapsody," "Another One Bites the Dust" and, of course, "We Will Rock You."
The crowd gathered by the stage, singing along, cheering and jumping up and down to the music.
"It was like the real Queen," said Ahmed Touati, Ph.D. student at the Montreal Institute for Learning Algorithms.
The band concluded their set with a rousing rendition of "We Are the Champions" — a fitting tribute for this gathering of deep learning champions.