The coronavirus pandemic has shifted the way content is created and consumed. Work now often involves teams dispersed across the globe, working remotely on high-resolution content while using multiple workloads and requiring massive compute resources.
NVIDIA is helping professionals address these challenges and tackle enterprise workloads, from the desktop to the data center, with the new NVIDIA RTX A6000 and NVIDIA A40. Built on the NVIDIA Ampere architecture, the GPUs feature new RT Cores, Tensor Cores and CUDA cores that accelerate graphics, rendering, compute and AI significantly faster than previous generations.
The GPUs provide the speed and performance to enable engineers to develop innovative products, designers to create state-of-the-art buildings, and scientists to discover breakthroughs from anywhere in the world.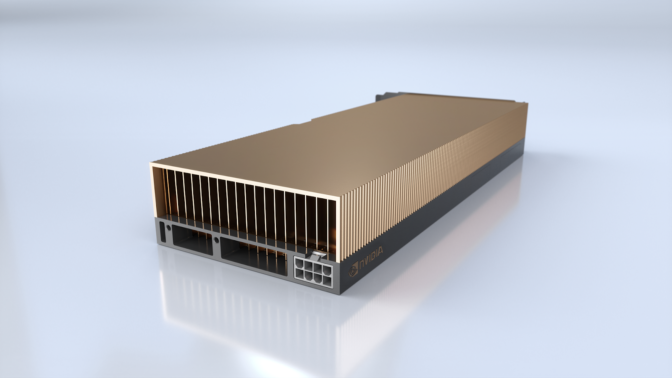 Customer Adoption Worldwide
Among the first to tap into the power of the RTX A6000 is Kohn Pedersen Fox Associates, one of the world's largest architecture firms, which notes the ability to triple resolution and accelerate real-time visualization of complex building models.
"The ability to double or triple the resolution and vastly accelerate our real-time visualization of massive, complex building models in cityscapes with the NVIDIA RTX A6000 is super impressive," said Paul Renner, visualization manager at KPF.
Digital Domain, an Academy Award-winning visual effects company, notes the importance of real-time ray tracing and machine learning for digital humans.
"Digital Domain leads the industry in pioneering real-time, photo-realistic digital humans," said Darren Hendler, director of the digital human group at Digital Domain. "Working with Epic Games and NVIDIA, we have continuously pushed the limits of technology. The new NVIDIA RTX A6000 lets us completely redefine what's possible with real-time ray tracing and machine learning."
Groupe Renault is one of the world's largest car manufacturers and a leading player in the emerging technology field of e-mobility.
"Creating the next generation of passenger cars requires design perfection and a relentless pursuit of aesthetic beauty," said Guillaume Shan, who works in Computer Graphics and Visualization Solutions at Groupe Renault. "The Renault design team constantly pushes the boundaries to use every tool at our disposal. We have always relied on NVIDIA technology to review design concepts in ray-traced photorealism. The new NVIDIA RTX A6000 has exceeded our expectations and shown performance gains of over 2x with ray-traced exterior scenes. It's quite impressive."
Other early adopters, including some of the world's leading architecture, manufacturing, and media and entertainment companies, are using RTX A6000 to power new content:
Predator Cycling, which specializes in custom carbon bicycles and builds them by hand in the U.S., is evalutating the NVIDIA RTX A6000 to accelerate every aspect of their process. Performance gains of 2-6x across a number of key applications give the team the power to simultaneously run analysis, modeling and screen-sharing on a video call.
HKS, Inc., a leading architectural design firm, has seen the potential of the RTX A6000 to receive near instantaneous feedback on design changes while running simulations in real time. This gives them the ability to bring real building simulation down from days and weeks, to minutes or hours.
Framestore, an Academy Award-winning animation and visual effects company in the U.K., can do real-time ray tracing on massive datasets in a remote workstation environment, which is made possible by the new RTX A6000, HP ZCentral and NVIDIA Omniverse.
Second-Generation RTX Accelerates Professional Workloads
The NVIDIA RTX A6000 and NVIDIA A40 deliver enhanced performance with groundbreaking technology, including:
Second-Generation RT Cores: Delivers up to 2x the throughput of the previous generation, plus concurrent ray tracing, shading and compute.
Third-Generation Tensor Cores: Provides up to 5x the throughput of the previous generation, up to 10X with sparsity, with support for new TF32 and BF16 data formats.
New CUDA Cores: Delivers up to 2x the FP32 throughput of the previous generation for significant increases in graphics and compute.
48GB of GPU Memory: The largest memory available in a single GPU, expandable to 96GB using NVLink to connect two GPUs.
Virtualization: With the addition of NVIDIA virtual GPU software such as the NVIDIA Virtual Workstation we can support graphics workloads and powerful virtual workstation instances at scale for remote users, enabling larger workflows for high-end design, AI, and compute workloads.
PCIe Gen 4: Provides twice the bandwidth of the previous generation, accelerating data transfers to the GPU for data-intensive workloads like data science, hybrid rendering and video streaming in PCIe Gen 4-enabled servers and workstations such as the Lenovo ThinkStation P620.
NVIDIA Ampere GPUs Deliver Incredible Performance
The NVIDIA Ampere GPU architecture provides incredible performance compared to the previous generation. Early testing by software partners like Blackmagic, Chaos Group and Luxion showcases performance gains that users will experience with these new GPUs.
"We were impressed with the significantly better performance we measured on NVIDIA RTX A6000 than the prior generation of GPUs, both with general grading functions as well as our recent AI-based tools. Its 48 gigabytes of main memory greatly enhances Blackmagic RAW 8K and 12K camera workflows, making editing and grading performance fluid," said Dan May, president at Blackmagic Design.
"NVIDIA Ampere is a boon to all our GPU ray tracing, more than doubling the performance of V-Ray GPU and Project Lavina when comparing the RTX 3080 to the RTX 2080," said Phillip Miller, vice president of product management at Chaos Group. "Now our users can have real-time, 100-percent ray tracing at HD resolutions using a single card."
Luxion, makers of the popular KeyShot product visualization tool, is seeing close to triple the performance using the NVIDIA Ampere architecture. The integrated benchmark in the free KeyShot Viewer gave 34.7 on the NVIDIA RTX 6000 and 88.8 on the NVIDIA RTX A6000. In the upcoming KeyShot 10 release the performance on the A6000 was even better at 95.6 — that means the A6000 is 95.6x faster than the CPU baseline.1
NVIDIA RTX A6000 and NVIDIA A40 Available in New Systems 
A wide range of NVIDIA RTX A6000-based workstations are expected from the world's leading systems manufacturers, including BOXX, Dell, HP and Lenovo.
A wide range of NVIDIA A40-based servers are expected from the world's leading systems manufacturers, including Cisco, Dell, Fujitsu, Hewlett Packard Enterprise and Lenovo.
Availability
The NVIDIA RTX A6000 will be available from channel partners including PNY, Leadtek, Ingram Micro, Ryoyo and on nvidia.com starting in mid December. The NVIDIA RTX A6000 and NVIDIA A40 will be available from OEM workstation and server vendors worldwide starting early next year. Check with OEM vendors for details on availability.
Support for NVIDIA virtual GPU software, including NVIDIA Virtual Workstation, will be available early next year.
1Reference system CPU: Intel Core i7-6900K CPU @3.20GHz, 8 Cores. Scores based on reference system performance, i.e., score of 1 is the same as reference system, score of 2 is 2x performance of reference system, etc.