NVIDIA is America's best place to work, according to Glassdoor's just-issued list of best employers for 2022.
Amid a global pandemic that has affected every workplace, NVIDIA was ranked No. 1 on Glassdoor's 14th annual Best Places to Work list for large US companies. The award is based on anonymous employee feedback covering thousands of companies.
Other companies ranked highly by current and former employees include tech companies Google and Salesforce, and fitness wear retailer Lululemon. NVIDIA ranked second on the list last year.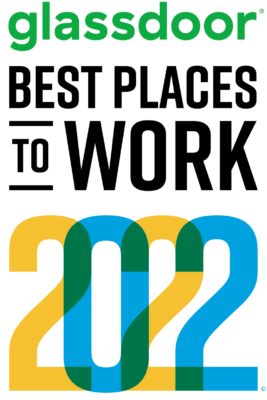 Half of the top ten large US company winners are tech firms and 40 percent of the entire list of top 100 employers are tech companies.
"The world of work is rapidly evolving, fueled by the pandemic and now millions of workers re-evaluating their expectations from employers," Glassdoor CEO Christian Sutherland-Wong said. "This year's Best Places to Work winners are leading the way by listening and responding to employee feedback and reimagining the employee experience to truly put their people first."
NVIDIA employees consistently give the company high marks on Glassdoor's survey.
95 percent would recommend NVIDIA to a friend. The same proportion say the company has a positive business outlook. And 98 percent approve of the CEO, Jensen Huang.
"NVIDIA's a place where folks who love working hard and enjoy tough challenges will feel at home," one anonymous employee wrote on the site, which gets 67 million views each month.
"Leaders walk the talk with culture and values," another wrote. "Everyone is genuinely helpful to train and ramp new employees, decision making is fast, title and hierarchy is never in the way of doing what is right."
"The best workplace I have witnessed to date," another noted.
The reviews from current and former employees capture an authentic look at companies.
When sharing a company review on Glassdoor, employees are encouraged to rate their satisfaction with the company overall and key workplace factors such as career opportunities, compensation and benefits, culture and values, diversity and inclusion, senior management, and work-life balance.
In addition, employees are asked to describe the best reasons to work at their companies and any downsides.
Glassdoor's Best Places to Work were determined using company reviews from U.S.-based employees from Oct. 20, 2020, to Oct. 18, 2021.
Want to leave a review of your own? First, you'll need to join our team. Check out our careers hub at https://www.nvidia.com/en-us/about-nvidia/careers/.
For the complete list of the Glassdoor Best Places to Work winners, visit https://www.glassdoor.com/Award/Best-Places-to-Work-LST_KQ0,19.htm