NVIDIA Omniverse, a computer graphics and simulation platform that makes it possible for artists to work seamlessly in real time across software applications on premises or around the world via the cloud, is now available for early access customers in the architecture, engineering and construction (AEC) market.
NVIDIA CEO Jensen Huang made the announcement during the GTC 2020 keynote, where he previewed an update of Omniverse highlighting simulation and real-time GPU rendering. He showcased "Marbles," a playable game environment displaying real-time physics with dynamic lighting and rich physically based materials, as well as the platform's latest "AEC Experience" feature set, which provides seamless connectivity between CAD applications with real-time visualization.
Real-Time Collaboration for Real-Time Creativity 
Creating visual effects, architectural visualizations and manufacturing designs typically requires multiple people collaborating across teams, remote work locations and various customer sites for reviews. 3D assets take shape using an assortment of software tools.
But seamless data transfers across applications have long been the challenge for millions of artists, designers, architects, engineers and developers globally. Using Pixar's Universal Scene Description and NVIDIA RTX technology, Omniverse allows people to easily work with applications and collaborate simultaneously with colleagues and customers, wherever they may be.

For years, collaborating in visual effects has been through exporting and importing large datasets and scene files. In 2010, Lucasfilm and Sony Pictures Imageworks joined together to create Alembic, an open computer graphics interchange framework that helped multiple studios ensure consistency and accuracy when working on the same project.
Pixar developed USD to provide the interchange of assets and enable collaboration on 3D scenes that may be intricately composed from many elemental assets. With a single scene graph and consistent API, USD delivers a rich toolset for reading, writing, editing and rapidly previewing 3D geometry and shading.
Omniverse benefits from the flexibility and consistency of the USD interchange format and builds upon it with synchronized workflows. Entire studio teams around the world can collaborate in real time as they create, with version control support needed to ensure production stays on track.
In Omniverse, the Portals connection module unites top industry tools into a collaborative space for users to work seamlessly on real-time modeling, shading, animation, lighting, visual effects and rendering, introducing incredible new opportunities for creativity and production.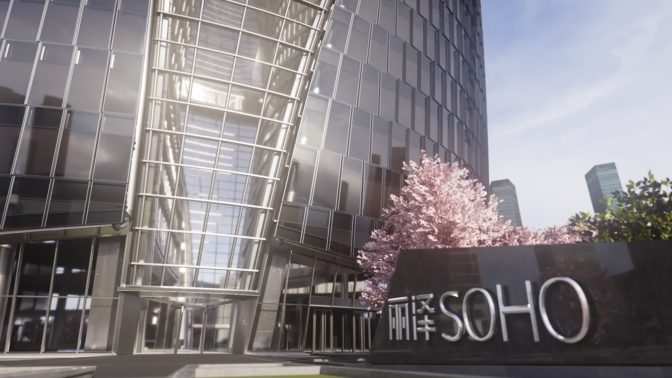 Omniverse View with RTX: New Class of Renderer Blends Real-Time Speed and Offline Quality 
Up until now, there have been two types of renderers. Real-time rendering is geared toward producing images at 30 or 60 frames per second and adheres to the lowest device targeted for use. Offline rendering focuses on delivering photorealistic final images or scenes that take hours per frame to render with a CPU. To achieve top speeds, many corners often get cut — from simplifying geometry to baking lighting and normal maps — and this can reduce image quality.
To overcome this, Omniverse introduces a new type of rendering with Omniverse View. This module is accelerated by multiple NVIDIA RTX GPUs and built for extreme scalability on arrays of GPUs to provide high-quality, real-time output, even on very large scenes.
Omniverse View displays the 3D content aggregated from different applications inside Omniverse, or directly in the 3D application being used. It's also designed to support commercial game engines such as Unreal Engine and Unity as well as offline renderers.
Software Partners Empower Real-Time, Collaborative Creativity 
Many industry software leaders are integrating their applications into Omniverse so artists can work collaboratively through the 3D creative process.
Omniverse's Portals is made possible by using Omniverse Kit, a software development kit that enables RTX View capability to be directly integrated into the software partner's application interface. This gives their product an ultra-high-quality, real-time, ray-traced application viewport.
Since Omniverse is a software-defined platform, vendor applications can also benefit from NVIDIA RTX acceleration or other technologies, like PhysX, as soon as new features become available. NVIDIA has been working closely with companies like Epic Games, Autodesk, Pixar, Adobe, Trimble, McNeel & Associates, and Teradici, with other partner announcements coming soon.
"Epic Games has had a long-standing partnership with NVIDIA," said Miles Perkins, business development at Epic Games. "Unreal Engine continues to set the standard for the world's most open and advanced real-time 3D tool for creators, and with NVIDIA's Omniverse platform we are seamlessly connected, enabling an even broader set of third-party products to work with our technology providing cutting-edge photorealistic content, new collaborative workflows, and immersive virtual worlds for games, enterprise, or any discipline dependent on visualization."
"We've been working with NVIDIA's Omniverse team and our mutual customers in AEC who have been testing and providing real-world feedback as this pioneering platform is being developed," said Amy Bunszel, senior vice president of Design and Creation Products at Autodesk. "This technology can give our customers access to immersive, interactive and collaborative experiences across industries. So we're thrilled that even more customers will have early access with the expansion of the program announced today at the GTC keynote."
"NVIDIA Omniverse is a new environment that integrates with Rhino and extends our customers' ability to distribute 3D content," said Scott Davidson, vice president of marketing at McNeel & Associates. "We look forward to partnering more with NVIDIA and continuing to support this technology as it develops."
"We are thrilled to partner with the NVIDIA Omniverse team and leverage this technology to increase the pace of collaboration for our customers," said Prakash Iyer, senior vice president of Software Architecture and Strategy at Trimble Inc. "This tool is very promising for SketchUp customers and the AEC industry."
"Teradici is thrilled to enable Omniverse 3D creators across M&E, AEC and manufacturing industries to remotely access the NVIDIA RTX platform through Cloud Access Software, powered by PCoIP technology," said Ziad Lammam, vice president of product management at Teradici.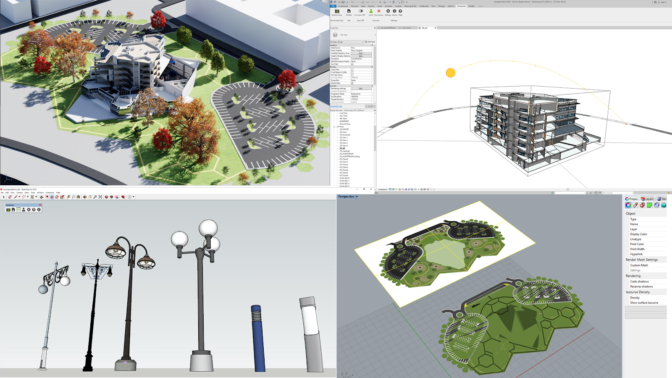 Early Access Customers Provide Real-World Testing 
During the GTC keynote, Huang shared how some of our customers across various industries are working with the early access version of Omniverse. Industrial Light & Magic is exploring Omniverse in its advanced visual effect productions.
"Omniverse has really shown its versatility by seamlessly integrating with the typical DCC applications used for visual effects, along with embracing open standards for truly portable assets by leveraging USD and integrating MaterialX with MDL for a collaborative experience that was never possible before," said Francois Chardavoine, vice president of Technology at Lucasfilm & Industrial Light & Magic. "It's now easier than ever to leverage Omniverse for high-end visual effects workflows."
NVIDIA has also been working with Lockheed Martin, Foster & Partners and Volvo Cars.
Volvo Cars is testing Omniverse in its research and development workflows. "We immediately saw the opportunity for real-time collaboration for our design workflow using Omniverse," said Mattias Wikenmalm, senior visualization expert at Volvo Cars. "It's something we have been striving for throughout our efforts to optimize our design and development process."
Additional customers are putting Omniverse to the test in areas such as visual effects, AR/VR, manufacturing, architectural design and robotics. Each of these verticals has workflows that rely on collaboration, yet were stuck with the traditional process of exporting and importing data. As USD gains wider adoption across the applications, Omniverse will solve key challenges for creative companies worldwide.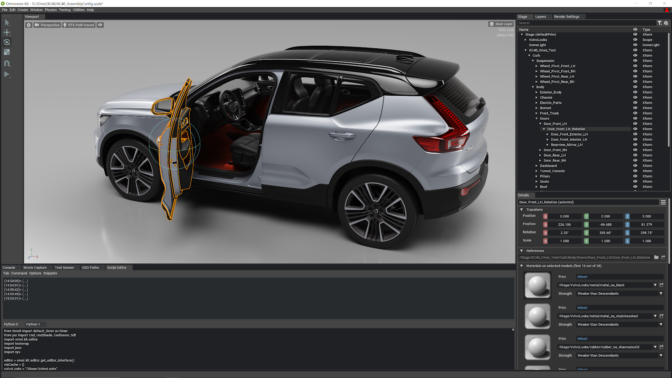 A New Experience for AEC on RTX Server 
The Omniverse early access program is now available to customers that purchase the RTX Server configuration for AEC. They'll have the ability to be a part of the Omniverse AEC Experience program, which provides the full platform with Portal connections to Autodesk Revit, McNeel Rhino and Trimble SketchUp.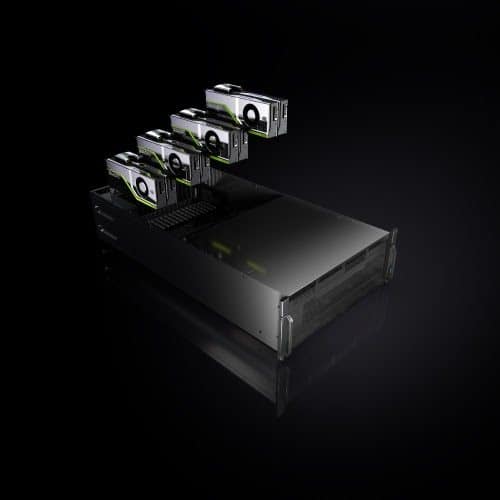 What's Next
Omniverse development will continue with early access customers and ISVs. If you're interested in integrating your applications into Omniverse or would like to learn more about how it could fit into your production workflow, visit NVIDIA Omniverse Developer Site.