Ask any design team at an architecture firm and they'll tell you about iterating on concepts under tight deadlines to deliver amazing 3D models to demanding clients. They'll share stories about rushing to submit compelling renders for urgent bid proposals.
Coming up with creative and innovative ideas is challenging. And it's not made easier when collaborating with colleagues using different design software tools or having to communicate designs quickly with photorealistic renders.
NVIDIA Omniverse is a real-time graphics and simulation platform based on NVIDIA RTX GPUs and Pixar's Universal Scene Description. Omniverse's AEC Experience feature set provides firms with a collection of tools to improve the conceptual design process.
One of the key breakthroughs Omniverse achieves is the ability to move among Autodesk Revit, McNeel Rhino or Trimble SketchUp with just one click. There's no need for data preparation or decimation to view huge models with supported photorealistic rendering software. This eliminates costly delays in translation and errors between software tools, which results in substantial time savings.
Omniverse introduces a new type of rendering with Omniverse View. This module is accelerated by multiple NVIDIA RTX GPUs and built for extreme scalability on arrays of GPUs to provide high-quality, real-time output, even with huge 3D models. Omniverse View displays the 3D content aggregated from different applications inside Omniverse, or directly in the 3D application being used. It's also designed to support commercial game engines and offline renderers.
Omniverse also eases design reviews and helps teams communicate their designs more effectively by sharing high-fidelity, ray-traced models with one click for internal colleagues and clients to view on a phone, tablet or browser.
Initially, the Omniverse AEC Experience is aimed at enhancing conceptual design workflows to improve and speed up the beginning of the building design process. The functionality offered helps design teams overcome many of the obstacles that hinder effective collaboration among geographically dispersed contributors to a project.
For instance, a team iterating on concepts might have an architect making changes to the building model using Revit, while a designer in another office simultaneously adds or modifies design elements using Rhino or Trimble SketchUp. All team members, and even their client, can view these changes in real time in Omniverse as they work together and exchange feedback.
Using Omniverse View, they can pan, zoom and rotate a photorealistic model in the viewport to immediately assess how light reflects off surfaces or the appearance of physically based materials such as wood and stone under various lighting conditions. This is a tremendous help in accelerating design decisions, which leads to more time for ideating on innovative concepts and faster bid preparation.
NVIDIA Omniverse AEC Experience with RTX Server
For the ultimate Omniverse experience, AEC firms can deploy NVIDIA RTX Server — a highly configurable reference design, available from global OEMs, that tackles multiple graphics and compute workloads and fundamentally transforms the creative process for design professionals.
RTX Server brings the power and performance of NVIDIA RTX technology to the data center to support architects, designers and engineers who need to work efficiently in the office, on the road or at home. Powered by industry-leading Quadro RTX 6000 and RTX 8000 GPUs in combination with NVIDIA Quadro Virtual Data Center Workstation (Quadro vDWS) software, RTX Server provides access to the Omniverse platform through virtual machines that enable remote collaboration and deliver all the features of the Omniverse AEC Experience.
RTX Server also serves as a multi-workload appliance that supports multiple high-end virtual workstations for graphics and compute workloads with NVIDIA GPU virtualization software. AEC firms can run their CAD and rendering workloads during the day and then crunch compute workloads such as computational fluid dynamics for wind simulation at night.
With RTX Server and NVIDIA Virtual Compute Server software, even highly compute-intensive workloads like data science, deep learning and machine learning can be virtualized. As well as driving exceptional collaboration and simulation workflows in Omniverse, RTX Server is a rendering powerhouse and a cornerstone for streaming augmented and virtual reality experiences at the edge.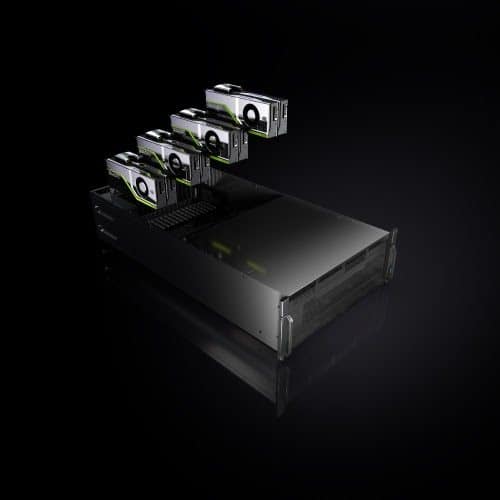 Using Quadro vDWS software, RTX Server can also be partitioned to provide multiple, easy-to-manage virtual workstations, or any combination of virtual workstations and dedicated render server instances. IT departments at AEC firms can spin up new virtual workstations on the fly, suspend them when they're no longer needed and spin up new render nodes.
With NVIDIA GPU virtualization software, IT managers can maximize resource utilization and streamline management with orchestration features such as live migration support. All this functionality and power comes at a fraction of the cost, space and power requirements of a CPU-based data center setup.
Users can connect to Omniverse using almost any device, such as a thin client or a tablet, and benefit from the platform's collaboration capabilities. However, with a Quadro RTX GPU-powered desktop or mobile workstation, architects, designers and engineers can also take full advantage of Omniverse View for a highly accurate, interactive viewport into the shared scene.
Discover a New World of Building Design and Simulation
Several leading global architecture firms have been evaluating NVIDIA Omniverse over the past few months.
"NVIDIA Omniverse is the first design collaboration platform we have seen built from the ground up to leverage modern GPU power to visualize the built environment," said Robert Cervellione, design technology manager at Woods Bagot. "Omniverse will allow a new immersive and fully connected ecosystem for model federation and visualization of complex projects sourcing from multiple software."
"Real-time visualization with NVIDIA Omniverse allows live links to our various design applications using real-time ray tracing to ensure physical correct visualization at the highest fidelity," said Cobus Bothma, director of applied research at Kohn Pedersen Fox Associates "This new technology will allow the AEC industry to adopt some of the best workflows to accelerate overall design and project productivity."
As NVIDIA Omniverse evolves, new features and functionality will enable broader workflows for design and simulation. It's not unusual these days to find, for example, a team with an architect in London, a lighting expert in San Francisco and an acoustics consultant in New York City collaborating on a building design for a client in Shanghai.
With Omniverse, remotely located architects, designers and engineers will be able to work seamlessly in real time across software applications on premises or across the globe via the cloud to transform how buildings are designed, predictably visualized and accurately simulated prior to construction.
A wide range of NVIDIA RTX GPU solutions is available from our server and workstation OEM partners.
Learn more about NVIDIA Omniverse AEC Experience.