As its name suggests, Orbital Sidekick is creating technology that acts as a buddy in outer space, keeping an eye on the globe using satellites to help keep it safe and sustainable.
The San Francisco-based startup, a member of the NVIDIA Inception program, enables commercial and government users to optimize sustainable operations and security with hyperspectral intelligence — information collected from across the electromagnetic spectrum.
"Space-based hyperspectral intelligence basically breaks up the spectrum of light so it's possible to see what's happening at a chemical level without needing an aircraft," said Kaushik Bangalore, vice president of payload engineering at Orbital Sidekick, or OSK.
Founded in 2016, OSK is among the first to use hyperspectral intelligence to detect hydrocarbon or gas leaks. These are some of the world's most pressing energy issues — 6,000 U.S. pipeline incidents from 2002-2021 resulted in over $11 billion in damages.
"Previous industry-standard ways of detecting such issues were unreliable as they used small aircraft and pilots looking out the window for leaks, depending on the trained eye rather than sensors or other technologies," said Bangalore.
OSK operates a constellation of satellites that collect hyperspectral imagery from space. That data is processed and analyzed in real time using the NVIDIA Jetson edge AI platform. Then, insights — like the type of leak at a GPS point, its size and its urgency — can be viewed on a screen by users of OSK's SIGMA Monitor platform.
The technology accomplishes what a pilot would, but much more quickly, objectively and with higher accuracy, Bangalore said.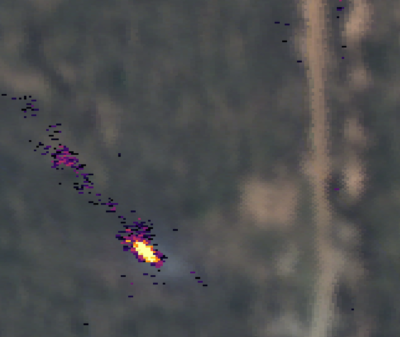 Sustainable Operations
OSK technologies have so far monitored more than 20,000 kilometers of pipelines for various customers, according to Tushar Prabhakar, its founder and chief operating officer.
The platform has detected nearly 100 suspected methane leaks, 200 suspected liquid hydrocarbon leaks or contamination issues, and more than 300 intrusive events related to digging or construction activities, Prabhakar added. OSK helped eliminate the potential for these events to become serious energy crises.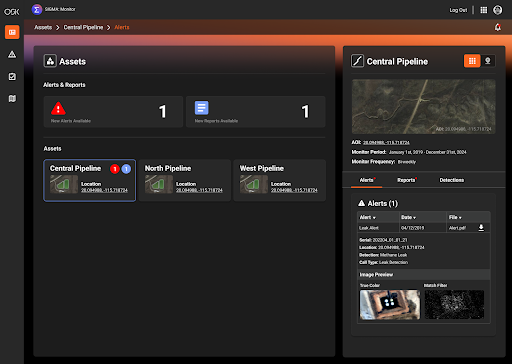 "We're taking hyperspectral intelligence to the finest commercial resolution that the world has ever seen to make the Earth a more sustainable place," Bangalore said. "The biggest challenge with hyperspectral imagery is dealing with huge amounts of data, which can be up to 400x the size of 2D visual data. NVIDIA technology helps process this data in real time."
OSK uses the NVIDIA Jetson AGX Xavier module as an AI engine at the satellites' edge to process the hyperspectral data collected from various sensors and crunch algorithms for leak detection.
The module, along with the NVIDIA CV-CUDA and CUDA Python software toolkits, have sped up OSK's analysis by 5x, according to Bangalore. This acceleration enhances the platform's ability to detect and recognize anomalies from space — then project the data back to Earth.
"There are around 15 sun-synchronous orbits per day," Bangalore said. "With NVIDIA Jetson AGX Xavier, we can process all the data taken onboard a satellite in an orbit within that same orbit, enabling continuous data capture."
In 2018, OSK's previous-generation system was launched on the International Space Station. Its data was analyzed using the NVIDIA Jetson TX2 module.
In addition, OSK uses the next-generation NVIDIA Jetson AGX Orin module for an aerial version of the platform that collects hyperspectral imagery from airplanes. Compared to the previous-generation module, the Jetson AGX Orin — with upgraded memory and speed — can run larger amounts of map data streamed in real time to pilots, Bangalore said.
"We chose the NVIDIA Jetson platform because it offers off-the-shelf products for industrial applications with extended shock, vibration and temperature, and software that has been optimized for the NVIDIA GPU architecture," Bangalore said.
And as a member of NVIDIA Inception, a free, global program for cutting-edge startups, OSK received technical support to optimize the team's use of such safety features and SDK acceleration.
Versatile Use Cases
Hyperspectral intelligence offers a multitude of applications. For this reason, the OSK platform is deployed across a broad range of customers, including the U.S. Department of Defense and energy sector.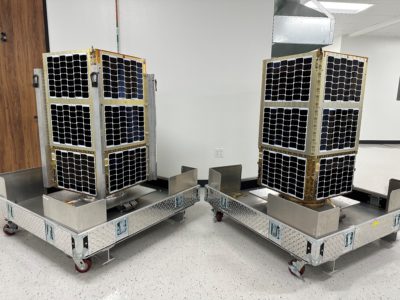 Energy Transfer, a major pipeline operator, will use OSK's GHOSt constellation for asset monitoring.
For the commercial oil and gas industry, OSK technology helps detect gas and hydrocarbon leaks, allowing pipeline operators to quickly halt work and fix issues.
To accelerate the energy transition, the platform can enhance exploration of lithium, cobalt and more, display a hyperspectral index of areas on a map that have signals of the elements, and differentiate between these materials and soil.
Creating sustainable supply chains for battery materials like lithium is key to advancing the global energy transition and scaling electric vehicle adoption, as lithium-ion batteries power the majority of EVs. The EV battery market is projected to reach over $218 billion in 2027, and EV sales are estimated to reach up to 50 million units by 2030.
"Our tech can help discover lithium, and prevent methane or greenhouse gasses from being let out into the atmosphere," Bangalore said. "It's a very direct impact, and it's what the planet needs."
Read more about innovative energy startups, including MinervaCQ, which is using speech AI to coach contact-center agents in retail energy, and Skycatch, which is building digital twins to make mining and construction sites safer, more efficient and sustainable.
Learn more about NVIDIA's work in energy and apply to join NVIDIA Inception.