Streaming video on PCs through Google Chrome and Microsoft Edge browsers is getting a GeForce RTX-sized upgrade today with the release of RTX Video Super Resolution (VSR).
Nearly 80% of internet bandwidth today is streaming video. And 90% of that content streams at 1080p or lower, including from popular sources like Twitch.tv, YouTube, Netflix, Disney+ and Hulu.
However, when viewers use displays higher than 1080p — as do many PC users — the browser must scale the video to match the resolution of the display. Most browsers use basic upscaling techniques, which result in final images that are soft or blurry.
With RTX VSR, GeForce RTX 40 and 30 Series GPU users can tap AI to upscale lower-resolution content up to 4K, matching their display resolution. The AI removes blocky compression artifacts and improves the video's sharpness and clarity.
Just like putting on a pair of prescription glasses can instantly snap the world into focus, RTX Video Super Resolution gives viewers on GeForce RTX 40 and 30 Series PCs a clear picture into the world of streaming video.
RTX VSR is available now as part of the latest GeForce Game Ready Driver, which delivers the best experience for new game launches like Atomic Heart and THE FINALS closed beta.
The Evolution of AI Upscaling
AI upscaling is the process of converting lower-resolution media to a higher resolution by putting low-resolution images through a deep learning model to predict the high-resolution versions. To make these predictions with high accuracy, a neural network model must be trained on countless images at different resolutions.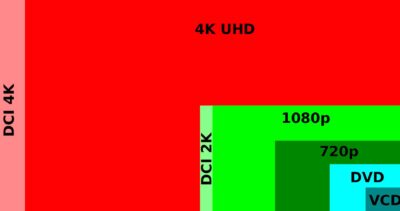 The deployed AI model can then take low-resolution video and produce incredible sharpness and enhanced details that no traditional scaler can recreate. Edges look sharper, hair looks scruffier and landscapes pop with striking clarity.
In 2019, an early version of this technology was released with SHIELD TV. It was a breakthrough that improved streamed content targeted for TVs, mostly ranging from 480p to 1080p, and optimized for a 10-foot viewing experience.
PC viewers are typically seated much closer than TV viewers to their displays, requiring a higher level of processing and refinement for upscaling. With GeForce RTX 40 and 30 Series GPUs, users now have extremely powerful AI processors with Tensor Cores, enabling a new generation of AI upscaling through RTX VSR.
How RTX Video Super Resolution Works
RTX VSR is a breakthrough in AI pixel processing that dramatically improves the quality of streamed video content beyond edge detection and feature sharpening.
Blocky compression artifacts are a persistent issue in streamed video. Whether the fault of the server, the client or the content itself, issues often become amplified with traditional upscaling, leaving a less pleasant visual experience for those watching streamed content.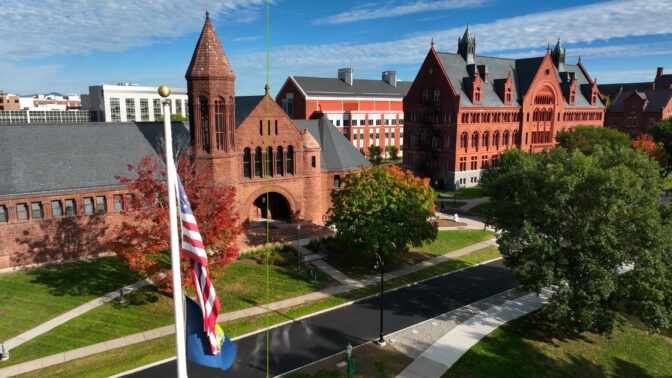 RTX VSR reduces or eliminates artifacts caused by compressing video — such as blockiness, ringing artifacts around edges, washout of high-frequency details and banding on flat areas — while reducing lost textures. It also sharpens edges and details.
The technology uses a deep learning network that performs upscaling and compression artifact reduction in a single pass. The network analyzes the lower-resolution video frame and predicts the residual image at the target resolution. This residual image is then superimposed on top of a traditional upscaled image, correcting artifact errors and sharpening edges to match the output resolution.
The deep learning network is trained on a wide range of content with various compression levels. It learns about types of compression artifacts present in low-resolution or low-quality videos that are otherwise absent in uncompressed images as a reference for network training. Extensive visual evaluation is employed to ensure that the generated model is effective on nearly all real-world and gaming content.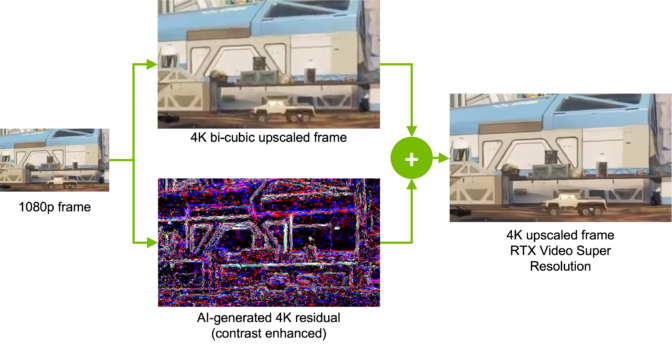 Getting Started
RTX VSR requires a GeForce RTX 40 or 30 Series GPU and works with nearly all content streamed in Google Chrome and Microsoft Edge.
The feature also requires updating to the latest GeForce Game Ready Driver, available today, or the next NVIDIA Studio Driver releasing in March. Both Chrome (version 110.0.5481.105 or higher) and Edge (version 110.0.1587.56) have updated recently to support RTX VSR.
To enable it, launch the NVIDIA Control Panel and open "Adjust video image settings." Check the super resolution box under "RTX video enhancement" and select a quality from one to four — ranging from the lowest impact on GPU performance to the highest level of upscaling improvement.
Learn more, including other setup configurations, in this NVIDIA Knowledge Base article.